The TimeLine Experience
TimeLine takes care to choose entertaining plays, then mounts with a combination of panache and physical dynamism that I find altogether irresistible.
– Terry Teachout, The Wall Street Journal
Enjoy an entertaining night out at TimeLine! Our productions—a mix of new and classic plays, including many Chicago premieres—invite you to explore stories inspired by history performed by some of the finest actors in Chicago, directed and designed by the city's top established and emerging artists, and presented in an intimate theater where you are never too far from the action.
But the TimeLine experience isn't just about what you see on stage! You can also indulge your curiosity with a wide range of additional resources designed to enhance your time with us.
Here are a few things you can explore before, during and after a TimeLine show:
---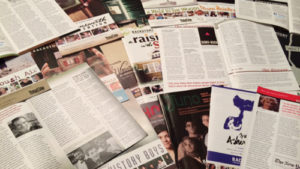 Backstory Magazine
TimeLine's behind-the-scenes magazine with historical context, artist interviews and more is available in advance for TimeLine FlexPass subscribers, and is included with your program book when you attend the theater. You can also find, download and read past issues of Backstory via the Explore & Learn pages of past productions.
---
Lobby Experience
Love, love, love the wonderful lobby displays! Each and every time. One is better than the next! – TimeLine patron
We hope you'll arrive early and stay late to explore the experience just off stage of every performance at TimeLine! In our lobby—transformed to create a custom environment—you're likely to find historical information and exhibits, ways to share your thoughts on themes of the show, and maybe even an interactive game or two!
---
Discussion Events
We always try to give you something to talk about, and so every TimeLine production features a series of discussion events—pre- and post-show discussions with members of the cast and production team, a special discussion with TimeLine's Company Members, and one expanded Sunday Scholars panel discussion with experts on the themes of the play. Peruse our Calendar or visit individual production pages to see a schedule of upcoming discussion events.

---
Behind the 'Line blog
Our blog is the place for "backstage musings on yesterday's stories and todays topics"! You'll find artist interviews, personal reflections from cast and staff members, news about TimeLine happenings, and more behind-the-scenes access. Find articles related to a specific production on each show's page, or peruse the entire Behind the 'Line blog at any time.
---
FREE TimeLine App
Visit your Apple or Android store and search "TimeLine Theatre" to extend our immersive and interactive theatrical experience to your mobile device! With access anytime and anywhere, you'll be able to get updates and tickets for current productions, benefit from exclusive deals and offers, watch our latest videos, learn about special programs and events, enjoy behind-the-scenes features, and much more! PLUS you can explore our custom "At the Event" section, specially designed to enhance your experience seeing TimeLine productions.
---
Be Social!
TimeLine is active on Facebook, Twitter, Instagram and YouTube at the handle TimeLineTheatre. We regularly post information related to our current, past and upcoming productions, as well as behind-the-scenes details, information on the activities of our family of artists, and much more. Join the conversation online, and don't forget to tag us when you post!
---
Productions at TimeLine are a 'getaway' for the mind.
– TimeLine patron
Save
Save
Save
Save
Save
Save
Save
Save
Save
Save
Save
Save
Save