Our 2019-2020 Season
---
EXPLORING TODAY'S ISSUES THROUGH THE LENS OF THE PAST
Exceptional theatre is more than two hours in a seat. It will move you. Change you. Even inspire you to act. That's our passionate belief, and the guiding force in creating theatre experiences at TimeLine that are like no other.
Our next season offers four plays all new to Chicago: The previously announced, Tony Award-winning Oslo presented at Broadway In Chicago's Broadway Playhouse; plus an acclaimed but rarely performed 100-year-old play named one of the best of the 20th Century; a powerful and provocative play described by the playwright as "an expressionistic buzz saw through the contemporary myth that 'all lives matter;'" and a world premiere developed through TimeLine's Playwrights Collective.
It is a season of riveting stories that link our past, present, and future. Join us!
Click for more information about each play:
---
SEE AND SAVE ON THE ENTIRE SEASON WITH A TIMELINE FLEXPASS
Every TimeLine subscription is a FlexPass! It's the most flexible, convenient, and affordable way to ensure you'll enjoy everything our 23rd Season has to offer—and you could save an average of 25% off regular ticket prices.
Get priority access to our in-demand shows, pick the dates you want, use admissions as you choose in any combination—plus enjoy free exchanges—with a FlexPass.
PLEASE NOTE: FlexPasses are no longer available for the 2019-20 Season.
---
by J.T. Rogers
directed by Nick Bowling
September 18 – October 20, 2019 (previews 9/10 – 9/17)
presented at Broadway In Chicago's Broadway Playhouse, 175 E. Chestnut St.
A remarkable story about the unlikely friendships, quiet heroics, and sheer determination that pushed two foes to reach something neither thought truly possible—peace.
When the Israeli prime minister and the chairman of the Palestine Liberation Organization shook hands on the White House lawn in 1993, the world had no idea what it took to orchestrate that momentous occasion. Behind the scenes, a Norwegian diplomat and her social scientist husband hatched an intricate, top secret, and sometimes comical scheme to gather an unexpected assortment of players at an idyllic estate just outside Oslo. Far from any international glare, mortal enemies were able to face each other not as adversaries, but as fellow human beings.
J.T. Rogers' Oslo is a humorous, surprising, and inspiring true story about the people inside politics, and the incredible progress that is possible when we focus on what makes us human—together.
This "riveting political thriller" (Associated Press) is "fast-paced and quick-witted" (The Independent) and "a disarmingly funny masterpiece" (Huffington Post). The Washington Post raved that "its account of intractable foes finding common ground is irresistible and, ultimately, deeply moving," and the New York Daily News wrote that Oslo is "smart, touching and spiked with spy-novel tension and wry humor." Variety called it "gripping, compelling, and compulsively watchable," and The New York Times declared that it is "the stuff of crackling theater."
"We are thrilled to further our relationship with J.T. Rogers, who has been a tremendous champion of TimeLine's work for many years," TimeLine Artistic Director PJ Powers said. "Following our 2013 production of his play Blood and Gifts, we were eager to follow wherever J.T. went next since his writing so beautifully aligns with TimeLine's exploration of today's issues through the lens of the past. Oslo blew us away just as it did audiences in New York and London, and we began a quest to premiere it in Chicago. What a beautiful pairing once again of J.T. and director Nick Bowling for a history-making TimeLine production."
TimeLine literally tore down a wall in their theater so they could stage my last play Blood and Gifts. And what a fine staging it was. I'm thrilled to be able to collaborate again with this splendid group of artists. – J.T. Rogers
TimeLine's Chicago production of Oslo is its Chicago premiere. It premiered in fall 2016 in a sold-out run at New York's Lincoln Center and opened on Broadway in April 2017. It then played at London's Royal National Theatre in September 2017 before transferring to the West End in October 2017.
Oslo received the 2017 Tony Award for Best Play, as well as New York Critics, Outer Critics, Drama Desk, Drama League, Lucille Lortel, and Obie awards—a sweep of the 2016-17 New York awards season—and was nominated for the Olivier and Evening Standard awards.
PLEASE NOTE: The Broadway Playhouse has reserved seating. TimeLine FlexPass Subscribers will be encouraged to choose dates for this production by July 1, 2019 in order to secure best available seating prior to tickets going on sale to the general public. Accessible seating requests will be accepted when you select a date. If you have any questions, please do not hesitate to contact the TimeLine Box Office for assistance.

---
by Githa Sowerby
directed by Mechelle Moe
November 14, 2019 – January 12, 2020 (previews 11/6 – 11/13)
presented at TimeLine Theatre, 615 W. Wellington Ave.
Named one of the "100 plays of the century" by the Royal National Theatre, Githa Sowerby's rarely produced family drama is a smart and absorbing twist on a woman's "place" in a male dominated society.
In the industrial north of England in 1912, the patriarch of the Rutherford family has spent decades building a respected glass works company to pass on to his children, without any say from them. Caught between passion, purpose, and expectation, John, Richard, and Janet struggle to break free from an oppressive and narrow-minded father dead set on writing their stories himself. Less entangled by these family expectations and with ambitions to give her son the life he deserves, John's young wife Mary is determined to upend the cycle, whatever it takes.
Playing on the conventions of the period with wit and creative edge, Rutherford and Son is a play ahead of its time, asking us to question if our "place" in life should be anything but what we ourselves determine it to be.
The Globe and Mail has called Rutherford and Son "engaging and splendid … works magic … as a family drama." And the Ottawa Citizen wrote that "the reason it continues to intrigue us is that it is first and foremost a study in character, an examination of how patriarchal despotism and the prevailing culture of the day can ensnare human beings."
Originally produced under the pen name K.G. Sowerby, Rutherford and Son premiered in 1912 at London's Court Theatre with four performances. It soon re-opened at London's Little Theatre, where it became a massive, critical success. Literary critic Barrett Harper Clark, writing in 1915, declared it "among the most powerful works of the younger generation" and Sowerby's writing was compared to that of Henrik Ibsen. It was also produced in New York, Canada and Australia, and translated into numerous other languages, including German, French, Italian, Russian, and Bohemian.
It was only later revealed that the author of the hit play was a woman, which may have been a factor in its fall into obscurity until the 1980s. It has since had successful productions including at the National Theatre in 1994 and New York's Mint Theatre in 2001, among others, and will be revived at the National Theatre again in May 2019. TimeLine's production will be the play's Chicago premiere and among only a handful of productions ever presented in the United States.
---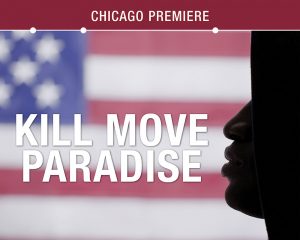 by James Ijames
directed by Wardell Julius Clark
February 20 – April 5, 2020 (previews 2/12 – 2/19)
presented at TimeLine Theatre, 615 W. Wellington Ave.
James Ijames' New York Times Critic Pick play is a powerful and provocative reflection on recent events, illustrating the possibilities of collective transformation and radical acts of joy.
Torn from the world they know without warning, Isa, Daz, Grif, and Tiny discover themselves stuck in a nebulous waiting room in the afterlife. While balancing the reality of their past and the uncertainty of their future, their souls try to find peace from senseless action and hope in the life they left behind.
Inspired by the ever-growing list of slain unarmed black men and women, Kill Move Paradise is a portrait of those lost—not as statistics, but as heroes who deserve to be seen for the splendid beings they are.
Playwright James Ijames has described his play as "an expressionistic buzz saw through the contemporary myth that 'all lives matter.'" Kill Move Paradise has been seen at National Black Theatre in Harlem, The Wilma Theatre in Philadelphia, and Know Theatre of Cincinnati, among others. The New York Times wrote that the work "radiates an urgent and hypnotic theatrical energy." Philadelphia Magazine called it "a deeply touching evening of theater" and wrote that "Ijames' writing is vividly, singularly his own [and] has something profound and important to tell us. You shall be moved." And the Cincinnati Inquirer advised audiences to "lean back and allow the impact of it all to wash over you."
---
by Tyla Abercrumbie
directed by Ron OJ Parson
May 14 – June 27, 2020 (previews 5/6 – 5/13)
presented at TimeLine Theatre, 615 W. Wellington Ave.
Developed through TimeLine's Playwrights Collective, this world premiere is a startling and vibrant look at the secrets we keep to protect the ones we love most.
After the death of their mother, two sisters return home to Philadelphia in 1919 to settle her estate. Annelle is a happy socialite desperate to return to the safe illusion of a perfect life with her husband in Boston. Janet is a single, professional nurse, determined to change history and propel black women to a place of prominence and respect. Upon discovering a series of diaries left by their late mother, they find themselves confronted with a woman they never really knew, exposing buried truths from the pasts that are chillingly, explosively Relentless.
Playwright and TimeLine Company Member Tyla Abercrumbie weaves a mother's past with her daughters' present in a complicated tale of family, legacy, and progress.
This world premiere play was developed through TimeLine's Playwrights Collective, launched in 2013 to support Chicago-based playwrights in residence and create new work centered on TimeLine's mission of presenting plays inspired by history that connect to today's social and political issues. Relentless is the second play developed through the Collective to receive a full production, following Brett Neveu's To Catch a Fish, which was presented at TimeLine in 2018. Relentless received its first public reading as part of TimeLine's inaugural First Draft Playwrights Collective Festival in December 2018.
---
Save
Save
Save
Save