TimePieces Play Reading Series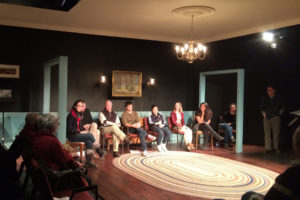 TimePieces is TimeLine's series of one-night only presentations designed to extend our mission beyond the four subscription series productions we offer each season.
This play reading series offers audiences a chance to hear new or rarely produced plays inspired by history that connect with today's social and political issues.
Each play reading is FREE (although donations are accepted) and includes a brief post-show discussion to give the audience a chance to reflect on the piece and the themes and issues it presents.
Reservations are strongly recommended for all TimePieces presentations, as seating is limited. For information and to request reservations, please email the TimeLine Box Office or call 773.281.8463 x6.
---
The 2018-19 TimePieces season is generously underwritten by an anonymous sponsor.
---
Upcoming
NAT TURNER IN JERUSALEM
by Nathan Alan Davis
directed by Company Member Wardell Julius Clark
Monday, November 12, 2018 at 7pm
TimeLine Theatre, 615 W. Wellington Ave., Chicago
In August 1831, Nat Turner led a slave uprising that shook the conscience of the nation. Turner's startling account of his prophecy and the insurrection was recorded and published by attorney Thomas R. Gray. Nat Turner in Jerusalem imagines Turner's final night in a jail cell in Jerusalem, Virginia, as he is revisited by Gray and they reckon with what has passed and what the dawn will bring. Woven with vivid imagery and indelible lyricism, Nat Turner in Jerusalem examines the power of an individual's resolute convictions and their seismic reverberations through time.
Starring Kai Ealy* and Josh Carpenter.
TICKET AVAILABILITY IS VERY LIMITED.
Reservations are strongly recommended and available on a first-come, first-served basis.
Reserve Your Complimentary Tickets Now
• • • • • • •
Already this season…
---
TimePieces Archive
See below for information about past seasons of TimePieces.
Save
Save
Save
Save
Save
Save
Save
Save