TimePieces Play Reading Series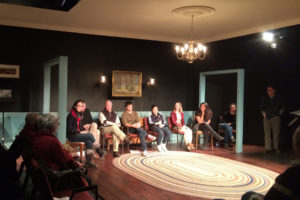 TimePieces is TimeLine's series of one-night only presentations designed to extend our mission beyond the four subscription series productions we offer each season.
This play reading series offers audiences a chance to hear new or rarely produced plays inspired by history that connect with today's social and political issues.
Each play reading is FREE (although donations are accepted) and includes a brief post-show discussion to give the audience a chance to reflect on the piece and the themes and issues it presents.
Reservations are strongly recommended for all TimePieces presentations, as seating is limited. For information and to request reservations, please email the TimeLine Box Office or call 773.281.8463 x6.
---
Upcoming
THE PAPER DREAMS OF HARRY CHIN
by Jessica Huang
directed by Helen Young

Tuesday, April 4, 2017 at 7pm

A haunting, poetic journey of secrets, identity, and family.
Near the end of the 1930s, Harry Chin, a Chinese national, emigrated to the U.S. through a loophole in the Chinese Exclusion Act. Haunted by the ghosts of his past and provoked by the curiosity of his daughter, Harry is forced to confront his buried secrets. Through leaps of time and space, we experience the abhorrent conditions at Seattle Immigration Station, Harry's longing for the life he left in China, and the complications of love in a new land. Jessica Huang's powerful new drama explores the personal and political repercussions of making a group of people "illegal."
Cast includes: Gordon Chow, Emily Marso, Amanda Powell, Christine Bunuan*, Joseph Foronda*, and Ricardo Vazquez*.
Reservations are strongly recommended! Seating is limited.
ORDER ONLINE or call 773.281.8463 x6

---
Previously this season
CARDBOARD PIANO
written by Hansol Jung
co-directed by TimeLine Company Member Mechelle Moe and Joel Ewing
presented in collaboration with The Yard

Monday, November 7, 2016 at 7pm
On the eve of the millennium in Northern Uganda, the daughter of an American missionary and a local teenage girl steal into a candlelit church to exchange vows in a secret wedding ceremony. But when an escalating civil war encroaches on their fragile union, they cannot escape its reach. Confronting the cost of intolerance, this powerful drama examines violence and the struggle to rebuild in its wake, as well as the human capacity for love and forgiveness.
AN EXPERIMENT WITH AN AIR PUMP
by Shelagh Stephenson
directed by TimeLine Company Member Mechelle Moe

Tuesday, February 7, 2017 at 7pm

On the eve of a new century in 1799, a Northern English house buzzes with scientific experiments, furtive romance, and farcical amateur dramatics. And in a present-day world of scientific chaos and genetic engineering, the same house reveals a dark secret buried for 200 years. The New York Times wrote that An Experiment with an Air Pump explores "such provocative concerns as the state of medical ethics, passion versus love, the evolving role of women and the aims of science at the dawning of eras nearly 200 years apart … suggesting that while the machinery has evolved, human impulses have changed not one whit."
---
TimePieces Archive
See below for information about past seasons of TimePieces.
Save
Save
Save
Save
Save
Save
Save
Save