TimePieces Play Reading Series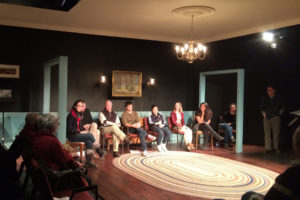 TimePieces is TimeLine's series of one-night only presentations designed to extend our mission beyond the four subscription series productions we offer each season.
This play reading series offers audiences a chance to hear new or rarely produced plays inspired by history that connect with today's social and political issues.
Each play reading is FREE (although donations are accepted) and includes a brief post-show discussion to give the audience a chance to reflect on the piece and the themes and issues it presents.
Reservations are strongly recommended for all TimePieces presentations, as seating is limited. For information and to request reservations, please email the TimeLine Box Office or call 773.281.8463 x6.
---
The 2019-20 TimePieces season is generously underwritten by an anonymous sponsor.
---
Upcoming
MARYS SEACOLE
by Jackie Sibblies Drury
directed by Regina Victor
Tuesday, December 10, 2019 at 7pm
TimeLine Theatre, 615 W. Wellington Ave., Chicago
Born in 1805 Jamaica, Mary Seacole is determined to live an extraordinary life. As she travels across oceans and centuries, through a Jamaican hospital, a Crimean battlefront, a contemporary nursing home, and everywhere in between, Mary moves through life with Herculean fortitude. But as her brazen spirit meets historical reality, Mary's world explodes, splitting, multiplying, and redefining her narrative. Based on the life of the famous nurse and entrepreneur, Marys Seacole is an examination of what it means to be a woman paid to care.
Featuring Janet Ulrich Brooks, Wydetta Carter, Sydney Charles, Laura T. Fisher, Nicole Michelle Haskins, and Kayla Raelle Holder

TICKET AVAILABILITY IS VERY LIMITED.
Reservations are strongly recommended and available on a first-come, first-served basis.
• • • • • • •
Later this season…
TimePieces Reading TBA
Monday, January 13, 2020 at 7pm
TimePieces Reading TBA
Monday, March 30, 2020 at 7pm
---
TimePieces Archive
See below for information about past seasons of TimePieces.
Save
Save
Save
Save
Save
Save
Save
Save