TimePieces Play Reading Series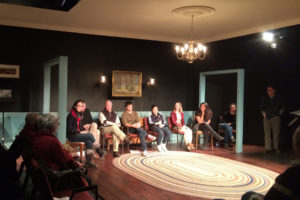 TimePieces is TimeLine's series of one-night only presentations designed to extend our mission beyond the four subscription series productions we offer each season.
This play reading series offers audiences a chance to hear new or rarely produced plays inspired by history that connect with today's social and political issues.
Each play reading is FREE (although donations are accepted) and includes a brief post-show discussion to give the audience a chance to reflect on the piece and the themes and issues it presents.
Reservations are strongly recommended for all TimePieces presentations, as seating is limited. For information and to request reservations, please email the TimeLine Box Office or call 773.281.8463 x6.
---
The 2017-18 TimePieces season is generously underwritten by an anonymous sponsor.
---
Upcoming
LIONS AND TIGERS
by Tanika Gupta
directed by Associate Artist Anish Jethmalani
Monday, June 4, 2018 at 7pm
TimeLine Theatre, 615 W. Wellington Ave., Chicago
Based on the true story of her great uncle and freedom fighter Dinesh Gupta, Lions and Tigers is a new play by leading playwright Tanika Gupta. This dramatically relevant and authentic story charts Dinesh Gupta's emotional and political awakening as this extraordinary 19-year-old pits himself against the British Raj. Culminating in actions that shook the foundations of the British Empire, Lions and Tigers challenges our assumptions about Indian independence and offers new insights into the battles between the British lions and the Bengal tigers, and the lives of the ordinary men and women struggling to achieve freedom.
Featuring Associate Artist Dennis William Grimes, Andy Nagraj, Bilal Dardai, Owais Ahmed, Johann George, Kamal Hans, Nina Jayashankar, Murtaza Kapasi, Ronnie Malley, Alka Nayyar, Siddhartha Rajan, Associate Artist Mark Richard, and Priyank Thakkar.
TICKET AVAILABILITY IS VERY LIMITED.
Reservations are strongly recommended and available on a first-come, first-served basis.
Reserve Your Complimentary Tickets
• • • • • • •
Already this season…
A SHAYNA MAIDEL
by Barbara Lebow
directed by Vanessa Stalling
Tuesday, February 13, 2018 at 7pm
TimeLine Theatre, 615 W. Wellington Ave., Chicago

A powerful, haunting, and poignant drama about two sisters who reunite after years of separation brought on by the aftermath of the Holocaust. Set in Brooklyn in 1946, this story explores the growing relationship between the sisters, when the younger one who escaped to America as a child is suddenly confronted by her older sister who was left behind and survived the horrors of war. Raised in such diverse environments that they may as well have come from different planets, their meeting provokes questions and reflections on identity, family, and self-worth.
Featuring Emily Berman, Emily Glick, Caroline Heffernan, Associate Artist Danica Monroe, Fredric Stone, and Michael Tepeli.
• • • • • • •
TOO HEAVY FOR YOUR POCKET
by Jiréh Breon Holder
directed by Lili-Anne Brown

Monday, December 11, 2017 at 7pm
Stage 773, 1225 W. Belmont Ave., Chicago
In this award-winning work about the personal costs of public crusades, 2016 Yale School of Drama graduate and Tennessee-born Jiréh Breon Holder takes us back to Nashville in the summer of 1961. The Freedom Riders are embarking on a courageous journey into the Deep South. When Bowzie Brandon gives up a life-changing college scholarship to join the movement, he'll have to convince his loved ones—and himself—that shaping his country's future might be worth jeopardizing his own.
Featuring Jalen Gilbert, Tiffany Renée Johnson, Kevin Patterson, and Camille Robinson.
---
TimePieces Archive
See below for information about past seasons of TimePieces.
Save
Save
Save
Save
Save
Save
Save
Save