TimeLine South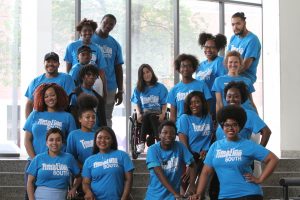 TimeLine South is a unique arts program that provides teens a safe space for self-expression, creativity, and ensemble building on the south side of Chicago. Teens have the opportunity to learn basic skills in theatre & performing arts from some of the most experienced and dynamic artists in the city, and explore topics that they feel a strong curiosity about and connection to. TimeLine South promotes leadership in the arts and teaches teens that theatre can also be a vehicle for social justice. TimeLine South is offered free of charge Monday through Friday for six weeks and includes field trips to Chicago arts organizations, various Bronzeville historic sites, and sessions with professional guest artists.
TimeLine South is part of TimeLine's Living History Education Program, which brings the company's mission to Chicago Public Schools through an arts-integration residency.
---
Applications are now open for TimeLine South 2021
TimeLine South returns for a fourth epic season!
July 5 – August 13, 2021
Meets daily on weekdays, 11am – 3pm
As we continue to live through history together, the TimeLine South team is preparing for its fourth summer of art-marking and community building in the most extraordinary of times.
TimeLine South teens engage in advocacy and community conversations through a variety of activities, using what they learn to create a final performance that demonstrates that the arts are an effective and unique vehicle for social justice and healing. As one student shared:
I loved my time at TimeLine and all the teaching artists taught me how to be more compassionate, more vocal, a better leader and director. Someone who isn't afraid to be himself and do what I want to do.
TimeLine South's six-week program is free of charge and open to teens age 14 to 19. This summer we are delighted to be offering each member of the teen ensemble a creative stipend.
Student and teaching artist wellness is centered in creating the curriculum. Last summer we added Falisa Byers to our team as the Ensemble Social Worker. Falisa added another layer of support to the ensemble: offering wellness sessions for the teens, support to the teaching artists and trauma-informed learning opportunities for everyone involved.
In the summer of 2020, TimeLine South was re-imagined as a virtual program, due to COVID-19. This summer we will continue navigating these challenging times and anticipate a hybrid of virtual programming with possibilities for in-person field trips, art making, and performance if safety guidelines permit. As always we will center joy, art, and community!
If you know a young person who may be interested in getting involved with TimeLine South this summer, please share our application with them! OUR DEADLINE HAS BEEN EXTENDED! Deadline to apply is June 30.

---
---
PAST TIMELINE SOUTH PRODUCTIONS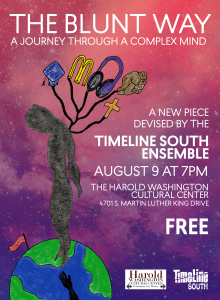 Each summer, the TimeLine South ensemble creates their own unique piece to produce and perform at the end of their six weeks together. Everything from the costumes to the sound, the staging to the dialogue are all created and cultivated by the students. In the first year of the program, the ensemble chose to explore issues of mental health. The piece they created, The Blunt Way, a Journey Through a Complex Mind was described as such:
A girl released from a youth mental health facility still finds herself in the midst of her struggles, and takes an unexpected journey through worlds beyond our grasping. However, it is not at all what she expected …
The final performance was presented on August 9, 2018 at the Harold Washington Cultural Center.
---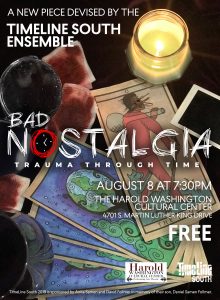 The ensemble during the second cycle of TimeLine South chose to explore themes of violence, trauma, andtheir effect on a person and those they love over time. Using a combination of scenes and spoken word poems, Bad Nostalgia (Trauma Through Time) asked the question "How do we heal from cycles of violence, when we hold the capacity to abuse and be abused?" The description of Bad Nostalgia was as follows:
A pathological sickness has plagued generations of a family, and violence is the disease. We venture through time to discover the patterns that feed it, and in the end hope to find serenity, or maybe for it to find us.
The final performance was presented on August 8, 2019 at the Harold Washington Cultural Center
---

TIMELINE SOUTH 2020
Even a global pandemic couldn't keep the TimeLine South team down. This year's program may have looked a little different, (in person rehearsals and team building exercises took place through a screen, Zoom meeting rooms replaced time on stage) but the ensemble of students and teaching artists still created a transformative summer arts program, and a brand new piece exploring themes of awakening and what that means to each person. Here's the description of Fulmination: Dear Dismal World, The Truth Awaits:
2020 has sparked a wave of outburst, outbreaks and outcries. A group of students are tasked with an activity to give voice to these issues that leads them on a bigger journey of taking action and fighting for justice. Together they will name the existence of the isms of the world while facing the incomparable enemy that they find within themselves and each other.
The final performance premiered August 14, 2020 on YouTube, with a discussion with the ensemble immediately following on Zoom.