TimeLine South
WE INVITE YOU TO JOIN US FOR THE WORLD PREMIERE
OF THIS NEW PLAY BY THE 2022 TIMELINE SOUTH ENSEMBLE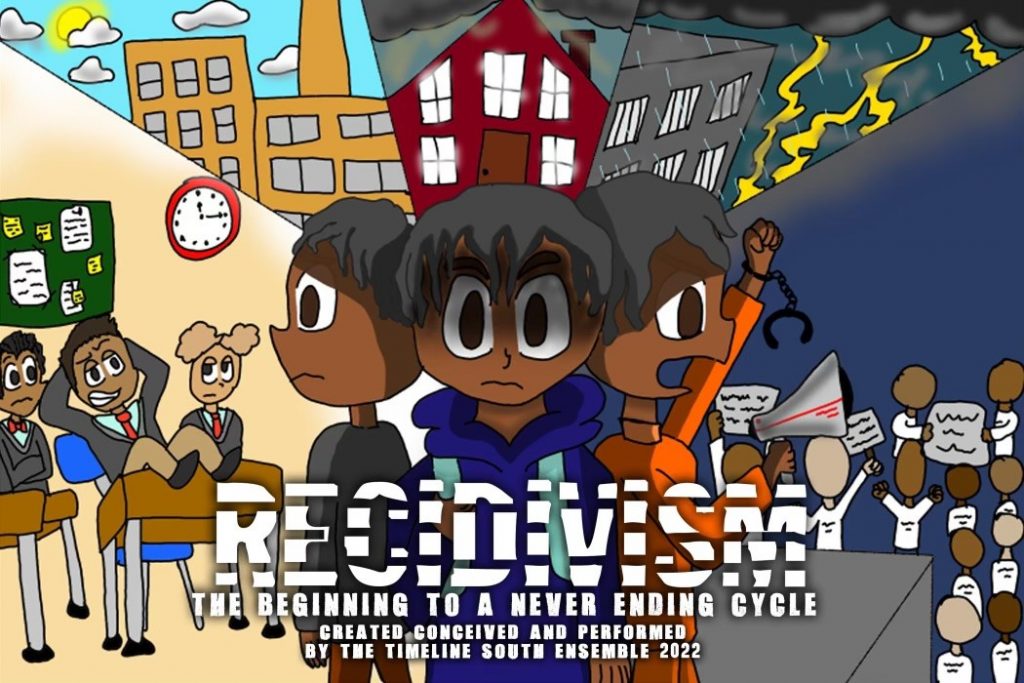 The students of Connor High are trying their best to navigate their school's new strict policies but when they learn that a prison is being built blocks away, it sparks a fire within the students to take action towards autonomy. In a battle to break oppressive cycles, they form an alliance to gain respect from those in authority and create a better future for their community.
Friday, August 12 at 7 pm
Saturday, August 13 at 2 pm
at the Reva and David Logan Center for the Arts at the University of Chicago, Theater West
915 E. 60th Street, Chicago
Please note for the health and safety of all that masks are recommended.
Tickets are FREE but reservations are strongly recommended as seating is limited.
or call the TimeLine Box Office at 773.281.8463 x6
Poster artwork by Yahir Lira
---

This presentation is presented in partnership with Theater and Performance Studies
and partially sponsored by The Reva and David Logan Center for the Arts.
TimeLine South is sponsored in part by the Walder Foundation.
---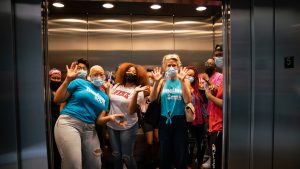 TimeLine South is a unique arts program that provides teens a safe space for self-expression, creativity, and ensemble building on the south side of Chicago. Teens have the opportunity to learn basic skills in theatre and performing arts from some of the most experienced and dynamic artists in the city, and explore topics that they feel a strong curiosity about and connection to. TimeLine South promotes leadership in the arts and teaches teens that theatre can also be a vehicle for social justice. TimeLine South is offered free of charge Monday through Friday for six weeks and includes field trips to Chicago arts organizations, various Bronzeville historic sites, and sessions with professional guest artists.
TimeLine South is part of TimeLine's Living History Education Program, which brings the company's mission to Chicago Public Schools through an arts-integration residency.
See below for recaps and opportunities to view presentations from past TimeLine South ensembles.
---
---
PAST TIMELINE SOUTH PRODUCTIONS:
TIMELINE SOUTH 2021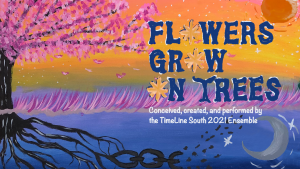 With the pandemic still a presence in the summer of 2021, TimeLine South's ensemble dove into the digital realm, meeting, rehearsing, and recording their entire final production through Zoom. Embracing the medium, the ensemble created a piece celebrating resilience, strength, and the hope we can find when we heal and create together.
About the piece:
When a group of young artists from diverse home environments get an opportunity to join their TimeLine South High support group, together they dive deeper into each others' stories, sharing layers of themselves normally hidden, and healing internal conflicts. This world premiere play, devised by the TimeLine South 2021 Ensemble, explores the moments of sunshine and rain that lead to beautiful transformations and how a journey toward mental and emotional freedom can be created through art and community. What does it take to achieve freedom from trauma?
The final film premiered on August 20, 2021 and was immediately followed by a live discussion featuring the students and some of the teaching artists. You can watch both on our YouTube channel or by clicking the buttons below.
WATCH FLOWERS GROW ON TREES WATCH THE DISCUSSION
---
TIMELINE SOUTH 2020
Even a global pandemic couldn't keep the TimeLine South team down. This year's program may have looked a little different, (in person rehearsals and team building exercises took place through a screen, Zoom meeting rooms replaced time on stage) but the ensemble of students and teaching artists still created a transformative summer arts program, and a brand new piece exploring themes of awakening and what that means to each person. Here's the description of Fulmination: Dear Dismal World, The Truth Awaits:
About the piece:
2020 has sparked a wave of outburst, outbreaks and outcries. A group of students are tasked with an activity to give voice to these issues that leads them on a bigger journey of taking action and fighting for justice. Together they will name the existence of the isms of the world while facing the incomparable enemy that they find within themselves and each other.
The final performance premiered August 14, 2020 on YouTube, with a discussion with the ensemble immediately following on Zoom. You can watch both on our YouTube channel or by clicking the buttons below.
WATCH FULMINATION WATCH THE DISCUSSION
---
TIMELINE SOUTH 2019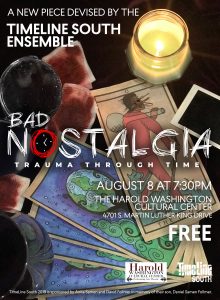 The ensemble during the second cycle of TimeLine South chose to explore themes of violence, trauma, and their effect on a person and those they love over time. Using a combination of scenes and spoken word poems, Bad Nostalgia (Trauma Through Time) asked the question "How do we heal from cycles of violence, when we hold the capacity to abuse and be abused?" The description of Bad Nostalgia was as follows:
About the piece:
A pathological sickness has plagued generations of a family, and violence is the disease. We venture through time to discover the patterns that feed it, and in the end hope to find serenity, or maybe for it to find us.
The final performance was presented on August 8, 2019 at the Harold Washington Cultural Center
---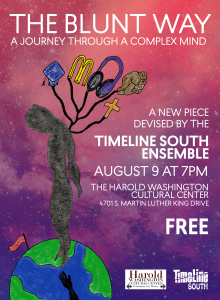 TIMELINE SOUTH 2018—Inaugural Ensemble
Each summer, the TimeLine South ensemble creates their own unique piece to produce and perform at the end of their six weeks together. Everything from the costumes to the sound, the staging to the dialogue are all created and cultivated by the students. In the first year of the program, the ensemble chose to explore issues of mental health. The piece they created, The Blunt Way, a Journey Through a Complex Mind was described as such:
A girl released from a youth mental health facility still finds herself in the midst of her struggles, and takes an unexpected journey through worlds beyond our grasping. However, it is not at all what she expected …
The final performance was presented on August 9, 2018 at the Harold Washington Cultural Center.