TimeLine South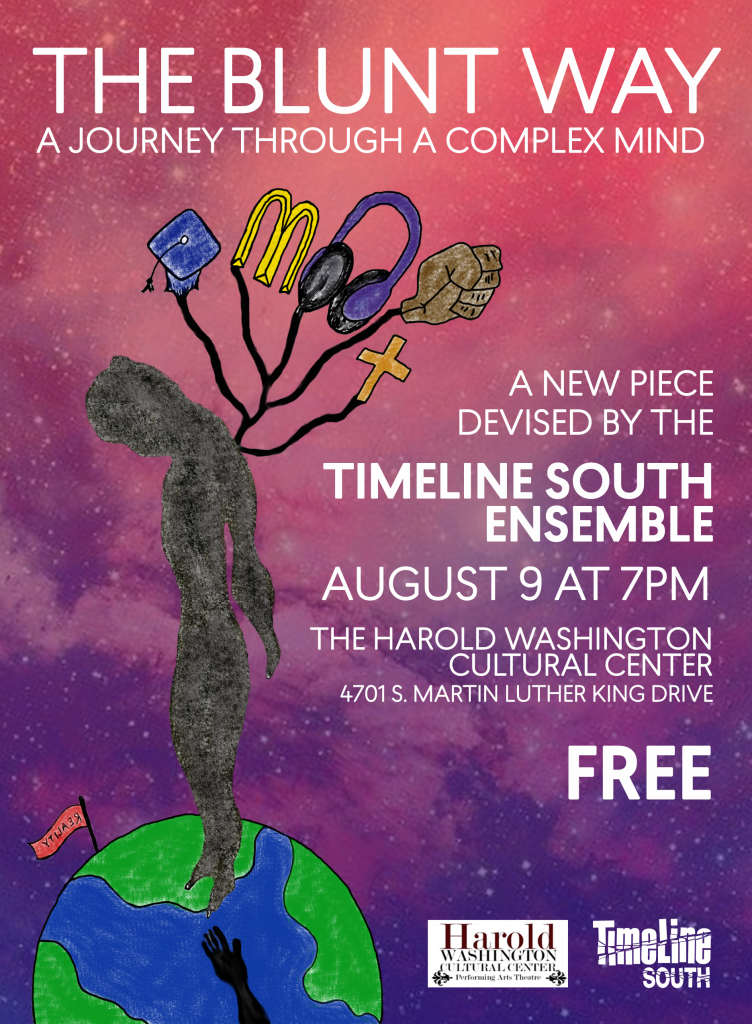 TimeLine Theatre Company in partnership with
the Harold Washington Cultural Center presents
THE BLUNT WAY: A JOURNEY
THROUGH A COMPLEX MIND
A new piece devised by the TimeLine South Ensemble
Thursday, August 9 at 7pm
The Harold Washington Cultural Center
4701 S. Martin Luther King Drive
A girl released from a youth mental health facility still finds herself in the midst of her struggles, and takes an unexpected journey through worlds beyond our grasping. However, it is not at all what she expected …
Tickets are FREE, although reservations are recommended and donations (see details via the purchase link) are accepted.
Come see what we've been working on — it will be an unforgettable night!
---
ABOUT TIMELINE SOUTH
TimeLine South is a unique arts program that provides teens a safe space for self-expression, creativity, and ensemble building on the south side of Chicago. Teens have the opportunity to learn basic skills in theatre & performing arts from some of the most experienced and dynamic artists in the city, and explore topics that they feel a strong curiosity about and connection to. TimeLine South promotes leadership in the arts and teaches teens that theatre can also be a vehicle for social justice. TimeLine South is offered free of charge Monday through Friday for six weeks and includes field trips to Chicago arts organizations, various Bronzeville historic sites, and sessions with professional guest artists.
TimeLine South is part of TimeLine's Living History Education Program, which brings the company's mission to Chicago Public Schools through an arts-integration residency.

.