Our 2023-2024 Season
---
LEGACY. TRUTH. INJUSTICE. CHANGE.
RIVETING STORIES THAT LINK PAST, PRESENT, FUTURE.
We're back with a 4-play subscription season—launching in September with the previously announced Chicago premiere of the internationally acclaimed The Lehman Trilogy presented at Broadway In Chicago's Broadway Playhouse. Then at our longtime home on Wellington, you can see two more Chicago premieres of plays widely acclaimed on Broadway and beyond, plus the world premiere of a new play developed through TimeLine's Playwrights Collective, which also incubated our recent hits Campaigns, Inc. and the Jeff Award-winning Relentless.
At the center of every one of these exciting premieres—every second of this season—is you. You're part of a community of audience members and supporters that we don't take for granted.
Our 27th Season brims with humor, poignance, outrage, and passion, and we hope you'll return to enjoy every moment of it!
---
ENJOY THE ULTIMATE IN FLEXIBILITY WITH A TIMELINE FLEXPASS!
Every TimeLine subscription is a FlexPass! It's the ultimate in flexibility, and the most convenient and affordable way to enjoy everything our 2023-24 Season has to offer—plus you'll save up to 20% off regular ticket prices.
The TimeLine FlexPass includes 4 tickets to use how you choose. See every show once, bring a new friend to two shows, or use three tickets for one favorite play and keep the fourth for a spontaneous visit.
Use your FlexPass your way, and create your own TimeLine.
---

The quintessential story of western capitalism rendered through the lens of a single immigrant family.
ON A COLD SEPTEMBER MORNING IN 1844, a young man from Bavaria stands on a New York dockside dreaming of a new life in the new world. He is soon joined by his two brothers, and an American epic begins. 163 years later, the firm they establish—Lehman Brothers—spectacularly collapses into bankruptcy, triggering the largest financial crisis in history. Weaving together nearly two centuries of family history, this epic theatrical event charts the humble beginnings, outrageous successes, and devastating failure of the financial institution that would ultimately bring the global economy to its knees.
Hailed as "a kaleidoscopic social and political metaphor" and "an intimate epic about the shifting definition of the American Dream" (The Guardian), The Lehman Trilogy has been met with extraordinary international acclaim throughout its production history. The play received five 2022 Tony Awards, including Best Play, plus Drama League and Outer Critics Circle awards, and was nominated for five Laurence Olivier Awards, including Best New Play.
The Lehman Trilogy runs September 27 – November 26, 2023 (previews 9/19 – 9/26) at Broadway In Chicago's Broadway Playhouse, 175 E. Chestnut St. Chicago.
---

A comedic showdown between truth and fact set in the world of non-fiction publishing.
JIM FINGAL IS AN EAGER YOUNG INTERN at a high-profile magazine hoping to impress his demanding editor-in-chief, Emily Penrose. When assigned the job of fact-checking legendary writer John D'Agata's essay about the city of Las Vegas, Jim discovers a huge problem: many of the essay's details were made up. As the publication deadline looms, a battle between truth and fact ensues in a gripping and fast-paced comedic showdown.
Drawing from true events surrounding real-life Jim Fingal's fact-checking of the John D'Agata essay "What Happens There," The Lifespan of a Fact has been praised as "a smart and engaging exploration of the nature of truth and the role of the media in society," (Chicago Tribune) and "a tightly written and expertly crafted play that keeps the audience riveted from start to finish" (The New York Times). The book on which the play is based, The Lifespan of a Fact, received critical attention from national media including NPR, The New York Times, and The Los Angeles Times. It was subsequently named a "Top 10 Most Crucial Book" by the editors of Slate, a "Best Book of the Year" by The Huffington Post, and an Editor's Choice by The New York Times Book Review. The stage adaptation opened on Broadway in 2018, starring Daniel Radcliffe, Bobby Cannavale, and Cherry Jones.
The Lifespan of a Fact runs November 9 – December 23, 2023 (previews 11/1 – 11/8) at TimeLine Theatre, 615 W. Wellington Ave.
---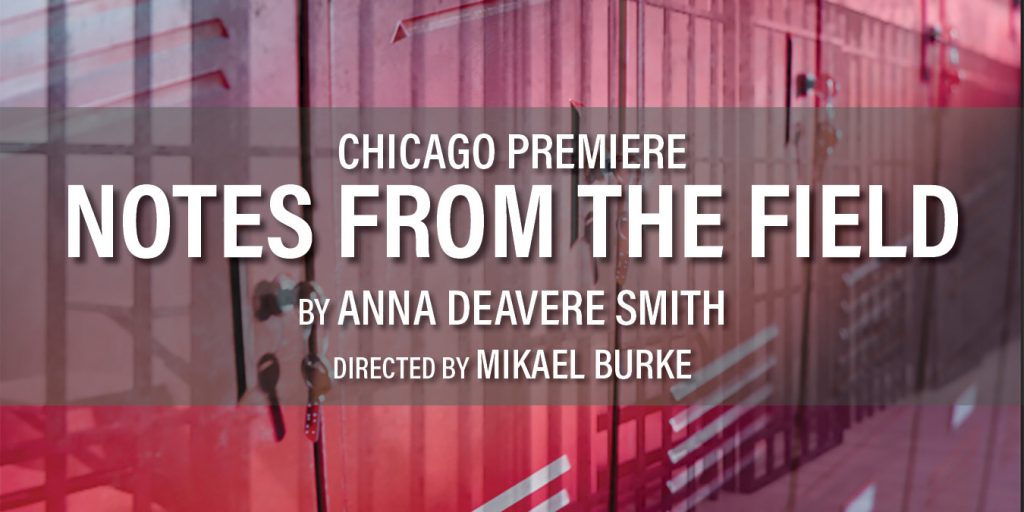 An innovative documentary piece that shines a spotlight on the stories of those caught in America's school-to-prison pipeline.
HAILED BY THE NEW YORK TIMES AS "A SEARING AND URGENT WORK that confronts some of the most pressing issues of our time with honesty, intelligence, and compassion," this innovative first-person documentary piece shines a light on the stories of those caught in America's school-to-prison pipeline. Utilizing verbatim dialogue pulled from more than 250 real accounts from students, faculty, prisoners, activists, politicians, and victims' families, Notes From the Field takes audiences on a powerful and emotional journey through the faults and systemic injustices of the American criminal justice system. Deeply human, profoundly moving, and full of moments of humor, compassion, and resilience, it's a masterful work that makes it impossible to look away from the urgent need for change.
Originally performed by creator Anna Deavere Smith as a one-woman show, this 2017 Obie Award-winning production was hailed by The Guardian as "captivating political theatre, a devastating document of racial inequality and the most rousing of rallying calls. Everyone should watch it, at least once."
Notes From the Field runs February 8 – March 24, 2024 (previews 1/31 – 2/7) at TimeLine Theatre, 615 W. Wellington Ave.
---

A startling look at conflicts of climate change, race, and gender in the days leading up to an infamous dust storm in 1930s Texas.
IT IS APRIL 1935 IN THE DUST STORM-RIDDLED PLAINS OF TEXAS and a family farm is struggling to keep afloat amidst a mounting series of environmental disasters. As Jesús, a new field worker, arrives in their midst, stubborn Pa refuses to believe his land is no longer viable, young Sunny dreams of a new life in bountiful California, and Ma starts having mysterious visions of the future. Developed through TimeLine's Playwrights Collective, this world premiere by Dolores Díaz offers a startling look at the conflicts surrounding climate change, race, and gender in the days leading up to an infamous dust storm known as Black Sunday.
This world premiere play was developed through TimeLine's Playwrights Collective—the fourth play developed through the Collective to receive a full production, following Brett Neveu's To Catch a Fish (2018); Tyla Abercumbie's Relentless (2022, Jeff Award for Outstanding New Work); and Will Allan's Campaigns, Inc. (2022). Black Sunday received its first public readings as part of TimeLine's First Draft Playwrights Collective Festival in December 2021.
Black Sunday runs May 16 – June 30, 2024 (previews 5/8 – 5/15) at TimeLine Theatre, 615 W. Wellington Ave.


HEALTH AND SAFETY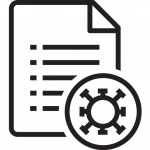 As the COVID-19 pandemic evolves, TimeLine continues to work to ensure the safety of artists, audiences, and staff through safety protocols at our performances. Masks will be required only at select public performances in our 2023-24 season, specifically at our Distanced Seating performances which are to be scheduled. While masking is no longer required at most performances, TimeLine supports an individual's choice to mask and will continue to make good quality masks available upon request.