The 2017 Step Into Time Auction
Thank you for your interest in the Step Into Time auction. We invite you to peruse these details. There's something for everyone!
All proceeds benefit the mission and programs of TimeLine Theatre Company.
---
Package F101
Luxury Sunset Yacht Cruise and 5-Course Dinner for 6
Enjoy spectacular water views of Chicago at sunset as you and 5 friends cruise on a private yacht. Complete your on board experience with drinks, a 5-course personalized menu, rare cigars, and VIP company.

Join the yacht owner (A Broadway, West End and Chicago theatrical producer & investor) for a once-in-a-lifetime Chicago evening aboard his 68-foot, Italian-made yacht, along with Eileen LaCario (Vice President of Broadway In Chicago) and PJ Powers (Artistic Director of TimeLine Theatre).
Cocktails begin at 6 pm for you and 5 friends on the Chicago River as you cruise your way toward the Chicago Locks to enter Lake Michigan. Once on the lake, the captain will drive around Navy Pier and find a spectacular place to anchor inside the calm protected waters of the Play Pen.
Once there, Chef Shane will create a wondrous five-course meal including fine wines specifically chosen for you. Menu will be agreed on beforehand and can be suited to accommodate food allergies and preferences. Watch the lights of Chicago come on as you drink and dine on a most memorable meal.
You'll make your way back to the river after dinner and cruise the South Branch all the way to Chinatown as we drink fine scotch and smoke very rare cigars (optional). All alcohol and food is included.
Donated by John Yonover
RESTRICTIONS: Date to be mutually scheduled for a weeknight in July, August, or September 2017.
---
Package F102
The Ultimate "Hamilton" Experience on 6/2/17 for 2
Don't just be in the room where it happens—go onstage, too! You'll have the ultimate Hamilton experience when you and a friend enjoy a preshow dinner, with a special visit from a member of the Chicago Hamilton cast, followed by Prime Orchestra seats at the show, an onstage photo op after the show, and a copy of Hamilton: The Revolution signed by authors Lin Manuel Miranda and Jeremy McCarter. Don't throw away your shot at this amazing opportunity!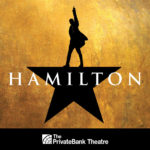 On Friday, June 2, 2017, you and a guest will attend the hit musical Hamilton, the sold-out Broadway hip-hop musical by Lin-Manuel Miranda that has taken the theatrical world by storm, in Prime Orchestra seats. Begin your evening across the street dining at the Grillroom, where you'll receive a special visit from a cast member of Hamilton. Following the show, you will be escorted onstage for a photo op. Complete your evening with an overnight stay at the Wyndham Grand Chicago Riverfront where you can curl up in bed with your very own copy of Hamilton: The Revolution, signed by authors Lin Manuel Miranda and Jeremy McCarter.
Donated by Broadway In Chicago and Wyndham Grand Chicago Riverfront
RESTRICTIONS: Date, time and location are non-negotiable.
---
Package F103
Dinner with Her Royal Highness for 8
Her Majesty, The Queen of TimeLine Theatre's upcoming production of The Audience, Janet Ulrich Brooks, invites you and seven friends to an exclusive dinner party.

Wine and dine with none other than the Queen herself at this elegant and exclusive dinner featuring special guest Janet Ulrich Brooks, who will star as the Queen in the Chicago premiere of The Audience by Peter Morgan, a compelling story about Queen Elizabeth II's weekly meetings with England's Prime Ministers through decades of history and political strife. Janet is a TimeLine Theatre Company Member and has appeared in more than 10 TimeLine productions, most recently Bakersfield Mist, and The Apple Family Plays: That Hopey Changey Thing and Sorry.
You and 7 friends will enjoy an elegant catered dinner party with perfectly matched wine pairings with Janet and TimeLine Artistic Director PJ Powers, hosted by TimeLine Board Alumna Anne Stockton and her husband Richard in their beautiful Roscoe Village home.
Your dinner will be catered by Chef Rick Spiros of The Bento Box and Artisan Catering. The Bento Box has made its mark as a not-to-be-missed destination featuring the highest quality ingredients and a chef with a passion for delivering a one-of-a-kind flavor experience. Chef Rick's made-from-scratch, hand-pounded curries and his signature dumplings have earned him a cult following among Asian food aficionados.
Plus, enjoy 2 tickets to the opening night of the Chicago premiere of The Audience in late August 2017.
Donated by Anne and Richard Stockton
RESTRICTIONS: Dinner date and time to be mutually agreed upon. Opening date to be determined.
---
Package F104
Two Amazing seats to the Indy 500 on 5/28/17
Experience one of the most exhilarating events of the year from remarkable seats at the 101st running of the Indianapolis 500.

You and a friend will see the final race of the 101st running of the Indianapolis 500 at the Indianapolis Motor Speedway in Speedway, Indiana, on Sunday, May 28, 2017.
This event, billed as The Greatest Spectacle in Racing, is considered part of the Triple Crown of Motorsport, the most prestigious event on the IndyCar calendar, and one of the oldest and most important automobile races in the entire world.
And you'll get to see all the action from these amazing seats, located in the front row of the Paddock Press Penthouse: Box 30, Row A, Seats 10, 11.  The Paddock Press Penthouse is two rows of seats that hang below the Front Straight Paddock Penthouse. It was the original Press Box, before they built the new, modern Press Box.
Donated by Anonymous
RESTRICTIONS: Event date and seat location non-negotiable.
---
F105
Autumn New York City Getaway
New York, New York! Enjoy the Big Apple in style with a stay at The Peninsula, Broadway tickets, dinner at 44 & X Hell's Kitchen, and lunch with Director Kimberly Senior before seeing her upcoming show.

This package features a 2-night stay in luxurious accommodations at The Peninsula New York on 5th Avenue. Spend a night out in "the city that never sleeps" with 2 tickets to the musical Wicked at The Gershwin Theatre and a $100 gift certificate to 44 & X Hell's Kitchen, within walking distance of Broadway and Theatre Row.
Complete your NYC experience lunching with acclaimed Broadway and Chicago direc­tor Kimberly Senior before seeing her upcoming show — Discord by Scott Carter — at Primary Stages, opening in October 2017. This New York premiere is a debate between three of history's most famous men – Thomas Jefferson, Charles Dickens, and Count Leo Tolstoy are trapped in a limbo where each believes their path to salvation depends on convincing the other two that they are wrong.
TimeLine Theatre Associate Artist Kimberly Senior began working with TimeLine in 2008. She has directed Inana, My Name is Asher Lev, All My Sons, and Dolly West's Kitchen at TimeLine, and her extensive career in Chicago has made her one of the city's most admired directors. She was also the director of the Pulitzer Prize-winning play Disgraced by Ayad Akhtar in its Chicago premiere, on Broadway, and beyond.
Donated by 321 Theatrical Management, The Peninsula New York, Primary Stages, Kimberly Senior, and Wicked, LLC
RESTRICTIONS: Hotel expires 3/10/18. Thurs. – Sat. arrival dates only. Blackout dates: 5/7 – 5/20; 9/8 – 9/30; 11/25 – 12/31; and 1/1/18; "Wicked" tickets valid for weekday performances (Tues. – Fri.) 3/14/17 – 11/1/17, subject to availability. Some restrictions apply. Some restrictions may apply to 44 & X Hell's Kitchen certificate; "Discord" tickets expire are subject to availability; Lunch with Kimberly Senior date and time to be mutually agreed upon.
---
Package F106
Powers Café
The bestseller is back! Artistic Director PJ Powers will personally prepare for you a truly one-of-a-kind dining experience. And at his dining room table, you'll get the ultimate insider scoop on all things TimeLine!

This prize may be TimeLine's most exclusive ticket! Enjoy a seven-course gourmet dinner for 6 at the home of TimeLine Artistic Director PJ Powers, hosted by PJ and his wife Shelley.
PJ (our resident culinary enthusiast) will create and prepare an elaborate menu with wines to match each course, and conversation is sure to include a unique peek behind the scenes of TimeLine. It'll be an evening you and your guests will never forget!
Donated by PJ and Shelley Powers
RESTRICTIONS: Date and time to be mutually agreed upon. Must be redeemed by February 2018.
---
Package F107
Premium Whiskey Tasting for 10
The whiskey tour you've been waiting for— impossible-to-find bottles and a chance to learn all about the spirits' history from our resident expert, Company Member Ben Thiem. The perfect pairing!

You and up to 9 friends could enjoy a private tasting of historic bourbons with TimeLine Company Member Ben Thiem—in your home or at the theatre. Sample rare and delicious drams of our American spirit from as far back as the 1960s to today and learn about the history of each brand and compare how they've changed over the years. Featuring impossible-to-find bottles from several distilleries including Buffalo Trace, Four Roses, Wild Turkey and more!
Donated by Ben Thiem
RESTRICTIONS: All participants must be 21 years of age or older. Date, time, and location to be mutually agreed upon. Tasting must take place within Chicago city limits. Expires 3/10/18.
---
Package F108
Seattle Getaway
Escape to splendid Seattle for 7 nights starting with a 2 nights at The Westin Seattle Hotel, located within walking distance of The Space Needle, Monorail, and more.

While in Seattle enjoy two VIP Paramount Club Seats to a concert, comedy, Broadway or dance performance at The Paramount Theatre, just a 7-minute walk from your hotel.
Then head out of the city to the resort at Snoqualmie Pass for 5 nights at a charming and cozy ski chalet that sleeps 11 in the beautiful Cascade Mountains just 45 minutes from Seattle and 25 minutes from the world-class resort town of Suncadia, offering multiple activities and attractions. With its gorgeous views of mountains and alpine trees, this chalet is the perfect spot to get away from the city for rest and relaxation.
Also just outside the city, enjoy a wine tasting for 2 at Pepper Bridge Winery & Amavi Cellars in Woodinville. Pepper Bridge Winery crafts elegant, balanced wines, focusing on their estate vineyard Cabernet Sauvignon, Merlot and a Bordeaux-blend honoring the three families owners.
Donated by Broadway Across America, Pepper Bridge Winery and Amavi Cellars – Woodinville, Anne and Richard Stockton, Tom and Renée Zipprich.
RESTRICTIONS: Cabin dates to be mutually agreed upon with prize donor. Broadway Across America tickets expire 8/31/18; all shows are subject to availability, excludes select shows: Disney's Aladdin, The Book of Mormon, Hamilton and The Phantom of the Opera; and some restrictions may apply. Westin dates to be mutually agreed upon and booked via prize donor.
---
Package F109
"Wait Wait … Don't Tell Me!" and Cocktails with Peter Sagal for 6
Quizzes and cocktails! Enjoy VIP seats to NPR's popular weekly quiz program plus cocktails with host Peter Sagal.

This prize features 6 premium tickets to a live taping of "Wait Wait … Don't Tell Me!" at Chicago's Chase Auditorium. Then you and your friends will toast the show at a nearby restaurant over cocktails with Peter Sagal.
Prior to becoming host of "Wait Wait" in 1998, Peter Segal had a varied career including stints as a playwright, screenwriter, stage director, actor, extra in a Michael Jackson video, travel writer, essayist, ghostwriter and staff writer for a motorcycle magazine.
Plus, at the taping take home a signed copy of Peter's Constitution USA DVD.
Donated by Peter Sagal
RESTRICTIONS: Date and time to be mutually agreed upon. Some restrictions may apply.
---
Package F110
Florida Family Getaway
Feel your stress melt away during a weeklong stay in a waterfront home in Madeira Beach, Florida. Beaches, restaurants, museums, shopping, or better yet, doing nothing at all —the perfect vacation!

Are you ready for some rest and relaxation? Watch the water from your own private dock during a 6-night, 7-day stay in this 3-bedroom, 2-bath stand-alone waterfront home in Madeira Beach, Florida.
Fit for a family, the master and second bedrooms have queen-size beds and the third bedroom has two twin-size beds. Enjoy easy access to the beach, miniature golf, tennis courts and restaurants, plus complimentary Wi-Fi and more. Nearby are attractions like the world-renowned Salvador Dali museum, theatres, music venues, The Florida Orchestra and historical locations. Shoppers will greatly enjoy the John's Pass Village in Madeira Beach!
The Gulf—a perfect vacation spot!
Donated by Eileen LaCario and Tony D'Angelo
RESTRICTIONS: Dates to be mutually agreed upon. Expires 3/10/18.
---
Package F111
Six incredible tickets for Cubs vs. Phillies on 5/2/17
Perhaps the only tickets in town that are as valuable as Hamilton are seats for the World Series Champs!

Enjoy six fantastic seats behind the Cubs dugout — Aisle 112, Row 7, Seats 101-106 — as they take on the Philadelphia Phillies at Wrigley Field on Tuesday, May 2, 2017 at 7:05pm. End your night with a home run at Bangers & Lace in Roscoe Village, a restaurant and bar with the feel of a Midwestern lodge, offering draft beers from around the world, in addition to an extensive bottle selection, boutique wines, and thoughtful cocktails.
Donated by CB2 Chicago
RESTRICTIONS: Dates, time and location non-negotiable.
---
Details as of 3/7/17
Save