BOULEVARD OF BOLD DREAMS
BlackOut Night!
Saturday, March 11 at 8pm
Join TimeLine this Oscar weekend to experience Boulevard of Bold Dreams—a show about, made, and performed by Black artists—on a night specially dedicated to and celebrating Black audience members.
If you are a Black-identifying individual and would like to be a part of this special evening, follow the link for tickets!
---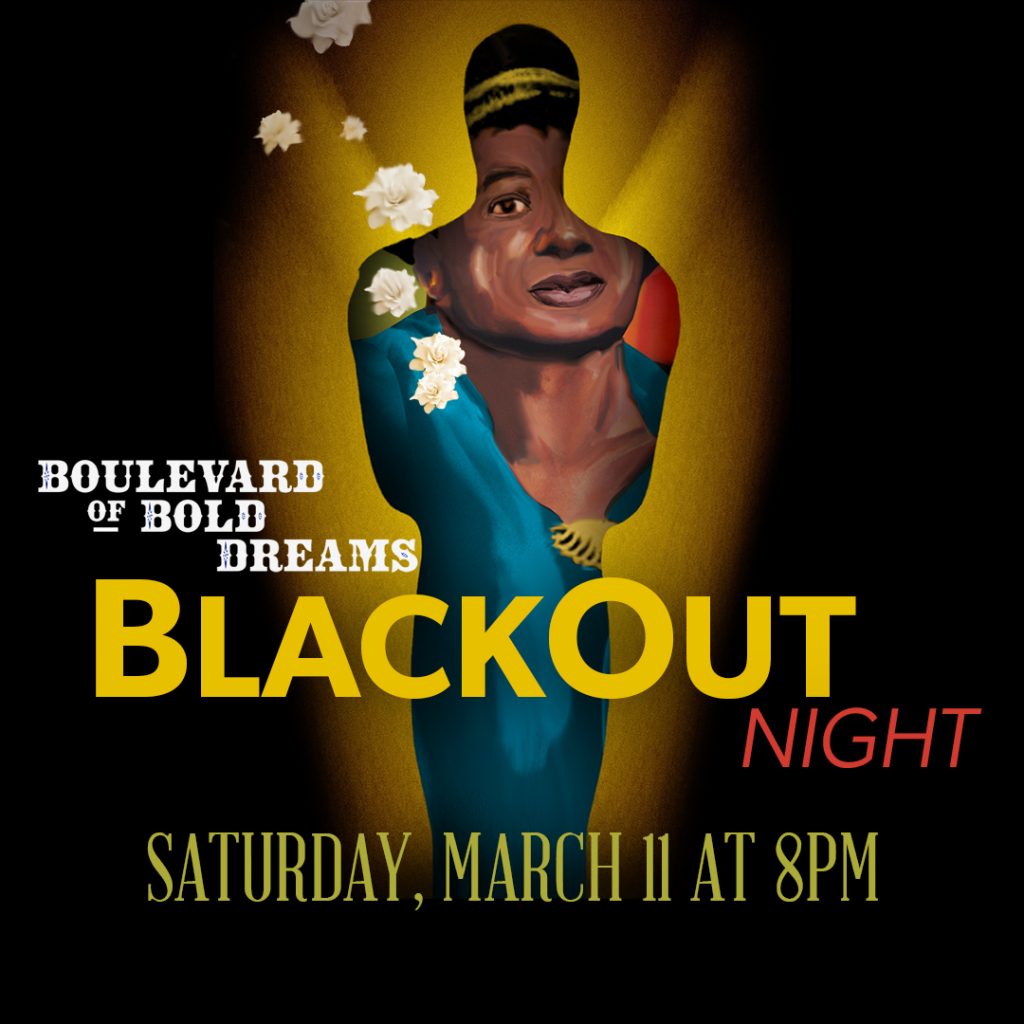 ---
What is BlackOut Night?
A BLACK OUT is the purposeful creation of an environment in which a Black-identifying audience can experience and discuss an event in the performing arts, film, athletic, and cultural spaces where they are the majority.
A concept birthed by Slave Play playwright Jeremy O. Harris, the inaugural BLACK OUT night took place on September 18, 2019. For the first time in history, all 804 seats of Broadway's Golden Theatre were occupied by Black-identifying audience members in communion, celebration, and recognition of Broadway's rich, diverse, and fraught history of Black work. Based on the success of the first BLACK OUT, Slave Play hosted a second BLACK OUT on January 8, 2020, to bookend its Broadway run. Since then, other BLACK OUT events have organically taken hold. Learn more at blackoutnite.com.
What can I expect when attending BlackOut Night?
The intention behind this performance is to provide a supportive, safe, judgment-free space for Black theatregoers to experience a show made by Black artists in a space reserved for the Black community. The audience will be comprised of a majority of Black audience members.
Are you excluding non-Black people from attending this performance?
The intention for this performance is to create a space for as many Black-identifying audience members as possible. We are not preventing or precluding anyone from attending, but hope that non-Black audience members will choose to experience the play at another performance. We thank you in advance for supporting these artists and TimeLine as we facilitate an opportunity for a community to celebrate and enjoy this special event.
Are there special ticket prices available?
Yes! We are offering three Pay-What-You-Will pricing options: $15, $25 and $49 (inclusive of all fees)—all discounts from our typical Saturday evening ticket price of $54.
If these price levels are a barrier to you, we do have a limited number of further-reduced tickets that TimeLine can make available to you. Please reach out to the Box Office to inquire via boxoffice@timelinetheatre.com or 773.281.8463 x6.
Will there be BlackOut Nights for future TimeLine shows?
TimeLine intends to continue to offer BlackOut performances for work by Black playwrights and artists in future seasons.