WHAT THE CONSTITUTION MEANS TO ME :: Online Lobby
Welcome to the What the Constitution Means to Me Online Lobby experience! Stay tuned for information to be added soon.
---
EXTENDED INTERVIEW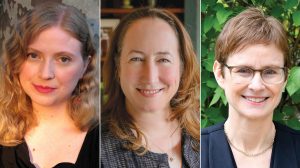 Itching to learn more from our Constitutional experts featured in the Backstory? US, TOO!
Dig into an extended version of Dramaturg Maren Robinson's interview with our two experts, Northwestern University history professors Joanna Grisinger and Kate Masur, as they talk all things Constitution.
READ NOW …
---
GET INVOLVED

What the Constitution Means to Me raises a number of key issues that are at stake for Americans. Explore resources and organizations related to various issues—please feel to explore, and get involved!
---
WATCH THE FULL LOBBY VIDEOS
Reel America: The Constitution of the United States
"The Preamble of the Constitution" from School House Rock
Discovery '67: The Constitution
"An Amendment to Be" from The Simpsons
---