KILL MOVE PARADISE Post-Show Discussion Performance Series
At these performances during the run of Kill Move Paradise, join us after the show for a brief performance by a guest artist, plus an informal discussion hosted by members of the Kill Move Paradise team.
The post-show performance and discussion will begin just a few minutes after the conclusion of the performance and will last a total of about 30 minutes.
---
Sunday, February 23
Featuring MOJDEH STOAKLEY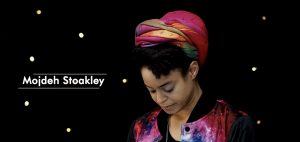 Mojdeh Stoakley is an award-winning writer, performer, and educator. They have performed and taught all over the United States, the United Kingdom, Europe, and most recently in Istanbul, Turkey! Mojdeh served as Education Director for Chicago Slam Works and Chicago Poetry Center and was the Director of the 29th National Poetry Slam. Mojdeh has been featured on Button Poetry, the BBC, SlamFind, WBEZ, and Vocalo. They're a current Pushcart Prize nominee, named a 2019 Writer to Watch by Guild Literary Complex, 2019 Elastic Arts' Dark Matter Resident, winner of a 2019 National Spoken Word Award, and 2019 nominee for "Best Spoken Word Artist" at the Chicago Music Awards. More importantly, Mojdeh is two parts social practice artist and one part space cadet! Follow on Instagram, Facebook, and Twitter at @themojdeh. For more info, visit mojdehstoakley.com.
---
Thursday, February 27
Featuring VICTOR MUSONI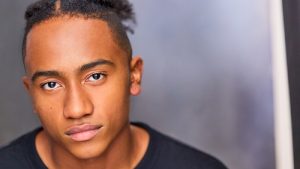 Victor Musoni is an actor and poet who has been a 1st and 3rd Place winner of the Louder Than a Bomb Poetry Slam and a semi-finalist at the Brave New Voices Poetry Slam, as well as a finalist in both the Battle of the Bard Shakespeare Slam and the August Wilson Monologue Competition. Chicago theatre credits include La Havana Madrid (The Den); Luck of the Irish, The Q Brother's Rome Sweet Rome, and Back The Night (UIC); Fun Harmless War Machine (New Colony); No Child (Definition); Blood at the Root (Jackalope); Columbinus (Steppenwolf/The Yard); and The Toilet (Haven). Television/film credits include Chicago Med and 6×9. Victor will next appear on stage in James Ijames' The Most Spectacularly Lamentable Trial of Miz Martha Washington (Steppenwolf). Victor is represented by Paonessa Talent Agency.
---
Sunday, March 1
Featuring THE AFRO+NAUT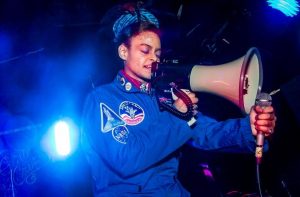 The Afro+naut is a slave from the past and the future that has taken residence in the present with hopes of altering the otherwise inevitable effects of repeating history. The Afro+naut and the Afro-nots is a highly collaborative and interactive Afro-futurist spoken word and music project which generates social discourse through experimental hip hop and musical poetry and is a part of The Afro+naut Lab, a multi-medium Social Practice Artist initiative selected to be incubated through Elastic Arts' 2019 Dark Matter Residency in Chicago (US), generating film, narrative fiction, new media, visual art, and educational resources and workshops for colleges and universities.
@afronautlab on instagram + facebook + twitter
@themojdeh on instagram + facebook + twitter
---
Wednesday, March 4
Featuring guest artists from the AUGUST WILSON MONOLOGUE COMPETITION
The August Wilson Monologue Competition (AWMC)—a partnership between the University of Illinois at Chicago School of Theatre & Music (STM), the UIC CHANCE Program, The League of Chicago Theatres, and the Goodman Theatre—is a national acting competition open to high school freshman, sophomores, juniors, and seniors. The goal of the Chicago competition is to promote literacy by encouraging the study of works by African American playwright August Wilson. To participate, students perform a 2-3 minute monologue from one of the 10 plays in August Wilson's Century Cycle. Around 500 hundred students participate annually and around 85% of participants are of African American or Latin descent. STM recognizes this opportunity to serve Chicago's underrepresented communities by encouraging participants to consider college enrollment and to provide support services that positively impact the retention and graduation rates of students of color.
---
Wednesday, March 25
Featuring guest artists from KUUMBA LYNX
Kuumba Lynx is an urban arts youth development organization committed to safe spaces that challenge students and their communities to deeply engage and listen, critically observe and react, and creatively speak with one another. Kuumba Lynx presents, promotes, and preserves positive Hip Hop as a tool to re-imagine and demonstrate a more just world. For almost two decades, Kuumba Lynx, alongside many of Chicago's artists, activists, educators, and youth communities, has honed WE GET FREE, an approach to urban education.
---
Thursday, April 2
Featuring guest artists from GLOBAL GIRLS
Global Girls is an organization for young African American women that uses the performing arts to teach critical skills of communication, self-expression, and social responsibility. It serves more than 2,000 young women annually.
---
PLEASE NOTE: Our post-show discussions are opportunities for us all to listen, learn, and engage—to listen to perspectives that are different from our own, to learn from others' perspectives, and to engage respectfully in response. We ask that every participant in the discussion speak only from their own perspective, with the understanding that we are each an expert on our own lived experience, but no one else's. Keep in mind that no participant on stage offers a single authoritative viewpoint on the production, but each can share their personal thoughts if they are comfortable offering them.