During rehearsals, TimeLine's Associate Artistic Director (and director of The Last Wife) Nick Bowling (NB) caught up with playwright Kate Hennig (KH).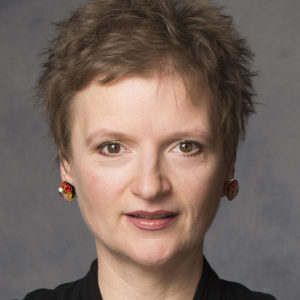 (NB) You are a well-known actress, particularly for your work at the Stratford Festival and throughout Canada. I know you have been writing plays for a long time as well. I believe your inspiration for this play came from recent news events. Could you tell me what specifically inspired you?
(KH) In February 2011 when the Arab Spring began in a series of tumultuous political events, I was in Toronto playing the dance teacher in Billy Elliot. (I had just come from Broadway to join the company that transferred from Chicago!) As I watched the unfolding uprising against authoritarian leadership, imperialism, and political corruption, I wondered: where are the women? Something historic is happening here, and where are the women? Surely these dictators have wives? Daughters? What becomes of them in the ensuing chaos? What does the conversation look like when the autocrat comes home and says, "pack up the children, the dog, and the station wagon, you're gonna love the beaches in Argentina"?
However, the Arab Spring was not a story for me to write. So I looked for my own cultural ties with absolute authority and patriarchy to find the women behind the men. It didn't take long to see that the second Tudor king, with the six wives he ploughed through in search of a male heir, fell very close to that tree. So that's where I began, and pretty soon things began to deviate from my initial point of inquiry.
(NB) Every one of Henry VIII's wives has an interesting story. Did you feel particularly drawn to Katherine Parr?
(KH) Oh yes. She's the last wife: divorced, executed, died, divorced, executed, SURVIVED. Who was the woman who survived this obese, gout-ridden, misogynistic prize of his dynastic breeding? As soon as I began to research the current thinking it became clear to me that much of the story we have been passed down about this remarkable woman was distorted.
I don't know about you, but I was taught that she was a matronly nursemaid; in television dramas I remember from childhood she was depicted as a white-haired, sexually retired woman. Imagine my surprise when I found out she was beautiful, fashionable, and 31; that she was the first woman to have her own writing published in the English language under her own name; that she had a huge and tangible influence on the first and second reigning queens of England.

(NB) Having it premiere at the Stratford Festival must have been a dream come true. Is there a special story about how that happened?
(KH) It's hardly an entry-level production for a playwright, right?
I have indeed had many "pinch me" moments over the last two years since Antoni Cimolino first called me to secure the rights. He and Stratford took a huge chance on me, no doubt. But the creative force behind the play development lies at the feet of two men: Andy McKim, who has been my dramaturg for 15 years, and Bob White, who is the Head of New Plays at the Stratford Festival. They were both amazing in their confident shepherding of my writing, and in their guidance of this play's process.
(NB) How has the writing of plays affected your acting, and vice versa?
(KH) I think differently about plays now. When you're an actor you focus almost exclusively on your own character and her relationships. It is a very subjective experience. As a writer I am far more structure-driven. It has allowed me to see my place in any given play more objectively when I am acting, and I think that makes me a far more satisfied actor.
(NB) The Last Wife is a Tudor drama using modern costumes and language, but you don't use specific modern cultural references, or even telephone calls and emails. Why did you want to update it, and why did you avoid some of those specific trappings?
I prefer to think of the play as a contemporary drama with a historic context, rather than a Tudor drama with modern accoutrements. That gives me room to really write a play about feminism and its recurring place in our history.  – Kate Hennig
(KH) I prefer to think of the play as a contemporary drama with a historic context, rather than a Tudor drama with modern accoutrements. That gives me room to really write a play about feminism and its recurring place in our history.
I wanted our play-going public to have clear access to empathy for these people and their situations—to be familiar with them. I think … I hope, that my play allows them a fresh perspective on their own lives as well as the lives of these historic characters.
(NB) In fact, you leave a lot of questions concerning the specific setting of scenes unanswered, choosing phrases like "in private" or "in public." What was your thinking about that?
(KH) Those scene descriptors set the tone and stakes for the actors in the scenes, but I feel very strongly about leaving a great deal of room for the director and designers to use their creativity in the production elements of the piece. We are all artists in the theatre, and I so enjoy watching other artists work their magic.
(NB) This is a play about three very powerful women leaders in early Western history. We in the U.S. have never had a woman president (at the time of this interview at least!). Canada and many other countries have beat us on that front. Are you trying to tell us something?
(KH) I'm very curious about women and political leadership. Do women really see power—specifically political power—as a position from which things actually get done? Is part of the reason that women are not taking more leadership roles because the patriarchal structure upon which our political systems are based is ineffectual and more can be done by taking the reigns of NGOs and not-for-profit charities? It's a question I grapple with. Is the grass-roots in fact a more powerful platform for change?
(NB) Was there any part of the Tudor history that you had to leave out or later wished you had added?
(KH) I'll say no, although there is so much fascinating material to comb through. My purpose though, as I stated above, was to write a contemporary story about feminism and feminine influence on young women. So I really stuck to the historic material that helped me tell that story.
(NB) There are many famous powerful women throughout history, like Kate Parr, who have been the "wife behind the leader." Do you have any favorites?
(KH) It's curious: I certainly started to research with that bent in mind, but as I learned more about Katherine Parr I became more interested in the aspects of historic women that are overlooked by the predominance of male historians. So now I'm finding myself more interested in women's accomplishments in their own right than in the men that eclipsed them.
(NB) What were your favorite sources? Did you avoid the well-known HBO drama?
(KH) I have avoided all television and film materials, and I can't wait to read the Hilary Mantel series which came out just after I started research. I know when I finally get to it I will find it vastly entertaining. But I wanted to keep my point of view very clear and therefore stuck to as much original source material as I could.
The greatest source for this is the amazing University of Chicago scholar, Janel Mueller. She is the ultimate expert on Katherine Parr, and also has co-edited the complete writings of Elizabeth I. Talk about a zeitgeist coincidence: I began researching in February 2011, and Janel Mueller published the Complete Works of Katherine Parr in May of that year!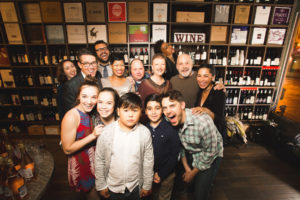 (NB) I love that you name each of your scenes very specifically, like "Whack-a-Mole" and "Three-way." Tell me more about that.
(KH) Oh. That's just my sense of humor. You know how sometimes in rehearsal a director will mark out beats in a scene and name them? That's my purpose here: to find the essence of a scene, and to name it in a whimsical, non-literal way. My favorite one is probably: Burn the Playhouse Down.
(NB) Perhaps the most exciting news is that The Last Wife is just a beginning. There are other plays to follow! Will you give us an update regarding those plays?
(KH) Sure. I didn't know when I began writing The Last Wife that I would continue to write about the women of this period, but I just seemed to loop around in the Tudor landscape.
The second play picks up Elizabeth's story after Henry's death. It is the little-known story of her relationship with Thomas Seymour, Katherine Parr's last husband. It's juicy. And completely different in tone than The Last Wife. It is called The Virgin Trial, and will receive its world premiere at the Stratford Festival in June 2017.
I began the third play in residency at The Banff Centre last February. It is in very early stages, but picks up Mary's story as she becomes the first queen of England. Elizabeth is a strong presence in this play, as is Lady Jane Grey, the nine-day queen. And a younger Henry makes several appearances as well. I hope to finish a first draft of this play, Father's Daughter (working title) this fall/winter.
Then I start to think about a separate play for Lady Jane Grey … maybe one for Mary Stuart murdering her husband so that she can marry another man … maybe the Empress Maude who was the first woman to be the legal heir to the English throne … ah, I smell a history cycle!!
(NB) And what else is in the cards for you? More performing, I hope?
(KH) Oh yes. I'm shooting a film this fall that I can't really talk about yet. Some teaching at the Birmingham Conservatory at the Stratford Festival. And then it's off to Winnipeg, to the Royal Manitoba Theatre Centre to play Margaret Thatcher in Peter Morgan's play, The Audience. That will then transfer to the Royal Alexandra Theatre in Toronto for a six-week run. Should be fun!
There are five productions of The Last Wife going on this 2016-17 season, and in addition to The Virgin Trial at Stratford next summer, I am adapting Oscar Wilde's children's stories for the Shaw Festival. Wilde Tales will also make its debut in June 2017. So, all in all, a busy camper.
Save
Save