My name is Mariam and I am going into my junior year at Westinghouse College Prep High School. During my last month as a sophomore, I and my fellow classmates were granted the opportunity to work with TimeLine Theatre as they put on Paradise Blue by Dominique Morisseau. During the few weeks we were together, my classmates and I were allowed a glimpse into the "behind-the-scenes" life of the actors and others involved in this production.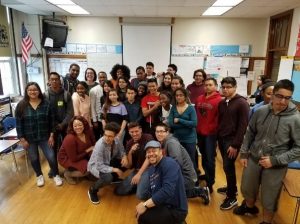 In the classroom, we had a lot of fun. I had never had such an experience where people who know the hands-on stuff come in and talk about it, and the fact that they go through so much to get this production the way we see it is mind blowing. We were able to talk to the dramaturg, Jared, and he gave us a background on the play. He explained why it's so important for coming generations to know that though these stories are being forgotten, through Paradise Blue the history isn't being forgotten; it's given a light that we can connect with. Jared also told us about how unique it was for someone to write a play about being Black, in a majority Black neighborhood, and having a mental disorder. Because [the main character] Blue's story is personal to me, I can say that I felt that this play did justice to this topic and for this, I highly recommend going to see it.
Another thing we did in the class was perform scenes of the play in front of our peers. This was scary for me because despite being outgoing to others, I have terrible stage fright. However, when I performed one of the scenes with my classmates, I felt that I could overcome this fear. I'm glad that I was given that opportunity because I have not taken a drama class but I plan on taking one based on that experience. Overall, I can say that being in the class with people that are straight from TimeLine was a great opportunity and I can't wait to do this again next year!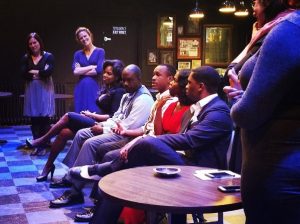 When it came time to see the show however, I wasn't able to see it with my class. I was confused when the cast came back [to my school] for a Q&A but I was determined to see it. After a long (not really) wait and much encouragement from my friends, I went to see Paradise Blue and I was blown away. There was so much sincerity and genuineness in the entire experience. The emotion and passion was so genuine that I felt as if I was looking into the life of an actual person as opposed to a set of fictional characters. The chemistry between the actors is so real and it was present throughout their many interactions in the play. Every laugh was genuine, each tear was dropped with a purpose, and this made the up close and personal feeling even more real. The intimacy of the theatre gives even more life to the play because all of it is literally happening right before your eyes. I may just be a 16 year old kid, but Paradise Blue is worth the eyes of those who can understand how important this story is not only for the African-American community but for all Americans as well.