Tonight we open the second production of TimeLine's 21st Season, Sarah Ruhl's funny and beautiful In the Next Room or the vibrator play.
We couldn't be happier to have Sarah's work on our stage, at long last, after years admiring her artistry.
I admit, however, that I came later to the party than I should have.
Back in 1999, soon after I became Artistic Director of TimeLine, we had just gotten the keys to our new home on Wellington Avenue. Working feverishly around the clock, our small team had about a month to get the theatre ready for Gaslight, our first show in the space, while also rehearsing and working other day jobs.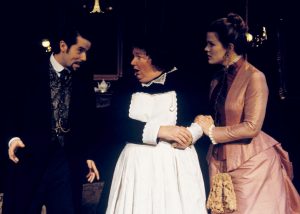 In the midst of all this, a wonderful actress appearing in Gaslight, whom I had only recently met, mentioned that her daughter was pursuing an MFA in playwriting. Perhaps I could read one of her plays, she wondered? And she graciously presented me with a script.
I now have the cruel benefit of hindsight, looking back at my overwhelmed younger self, who had much yet to learn. To say that I now regret not giving that script the attention it richly deserved would be the ultimate understatement.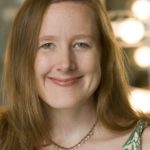 The actress in the story is Kathy Ruhl, and the script she gave me was an early draft of Sarah's remarkable Passion Play.
18 years later, I still have that script in my office, as a reminder to always have open eyes, ears, and time for the next astonishing talent, who can appear anywhere, recommended by anyone.
Happily for the American theatre, there were plenty of others in Chicago and beyond who immediately noticed and championed Sarah's skill, catapulting her to international acclaim, a MacArthur Foundation Fellowship, and a slew of other deserved awards and accolades.
Our Company read In the Next Room or the vibrator play in 2009, and we were blown away by how smart, hilarious, and insightful it is. It was no surprise that it became a finalist for the Pulitzer Prize and a Tony Award nominee for Best Play. We tipped our hat to our friends at Victory Gardens Theater when they snagged the rights for its Chicago premiere, while I still hung my head in shame for my folly a decade earlier.
But sometimes there are such things as second chances.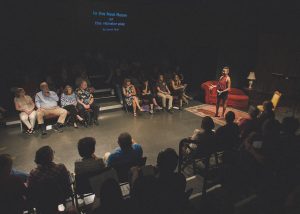 Last year, TimeLine Company Member Mechelle Moe proposed that we look at the play anew for a special staged reading we were planning in collaboration with The Chicago Inclusion Project. Launched by Emjoy Gavino, TCIP's play reading series features contemporary classics presented by a diverse group of actors in roles for which they might not traditionally have been considered—pointing out that default assumptions are too often made about a character's race, gender identity, or physical ability, when not specifically stipulated in the script. The Inclusion Project shines a light on these presumptions and blind spots. To learn more about their work, visit thechicagoinclusionproject.org.
Enthusiastically supported by Sarah, our August 2016 reading of In the Next Room… made clear not only that the play was well-served by a more inclusive approach to casting, but also demonstrated just how much this play has to say.
Through the lens of today, the play's humor remains abundant, as does its insight into liberation and progress. It illuminates not only the struggles of the play's Victorian setting, but the ways our society has regressed since the play premiered eight years ago.
I and this production owe gratitude to a host of remarkable, progressive, and inspiring women. Particularly to Mechelle and Emjoy, for leading us back, with fresh eyes, to this play at a time when it needs to be seen once again. And to Sarah and Kathy, for years of generosity to TimeLine—even forgiving the cloudy vision 18 years ago of a guy who failed to see something extraordinary, right in front of him.
And to you, for joining us in the next room …