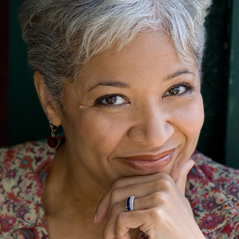 To finish out the run of our world premiere of To Catch a Fish, we asked our actors to share their thoughts about the events in the play and their experiences with the show. Today we finish out our series with Linda Bright Clay (Brenda Cameron), and her thoughts on love, vulnerability, and the intimacy of performing in TimeLine's 99-seat space.
---
To Catch A Fish is based on the story of Chauncey Wright, a man suffering from brain damage who was tricked into illegal activity by federal agents. You can read more about the history behind the play in our Backstory magazine. Playwright Brett Neveu creates a fictionalized account of Chauncey's story using the character of Terry Kilbourn—who, like Chauncey, suffers from brain damage and is unknowingly tricked into illegal gun sales by ATF agents.
She had to be tough, but it was a tough love.
Linda plays Brenda Cameron, Terry's grandmother. "My favorite part of portraying Brenda is her take-no-prisoners attitude towards her intimates and interlopers, alike," she said, "The most difficult part [is] finding the dimensions of her personality, grounding her in the genuine care and love she had for her family. She had to be tough, but it was a tough love."
Love is one of the main themes explored in the play: How do we love the people in our lives? How can love be received? Who gets to decide how love is expressed? "I think my favorite 'moments' are whenever one of the characters reveals vulnerability," said Linda, "there's a lot of masking going on with all of them out of necessity, so when the mask slips and we see some of their true selves, we see the beauty and pain of what it means to be human under terrible circumstances."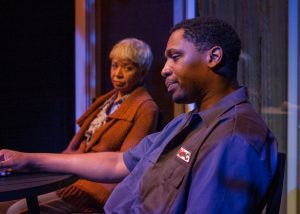 Vulnerability is also a central force in the actors' performances, as they use their own experiences to help fuel their character's emotions and drive. A couple of years ago, Linda was driving in Oklahoma with family and friends when she was pulled over in a small town. "[We were] breaking no laws [and got] pulled over for questioning: were we lost, why were we there, etc. A classic example of DWB: Driving While Black." Issues like this exemplifying systemic racism are also explored in To Catch A Fish—the agents' attempts to catch illegal gun sales set up the play's lower income individuals, many of whom are African American, for arrest.
At its best, theatre requires a certain amount of vulnerability from its audience, too—and TimeLine's 99-seat theatre creates the perfect opportunity for an intimate theatre experience. "The audience is literally at your elbow or feet, so in that sense, they're incorporated even more into your performance, and I imagine they feel it in that way too," Linda said, "Ron [OJ Parson], our director, said the audience is going to 'feel' your performance rather than just watch it. We can feel the audience's shock, anger, surprise."
After seeing To Catch A Fish, Linda hopes audiences leave the show understanding more about how love works and what it means to the play's characters: "I hope they will see the cost of love to both Terry and Brenda, in terms of sacrifice and the situation they find themselves caught in."