TimeLine is proud to be part of a very special new public art project that launched this week: Rooted in Greatness—a first-of-its-kind video art exhibit showcasing and honoring noteworthy Illinoisans.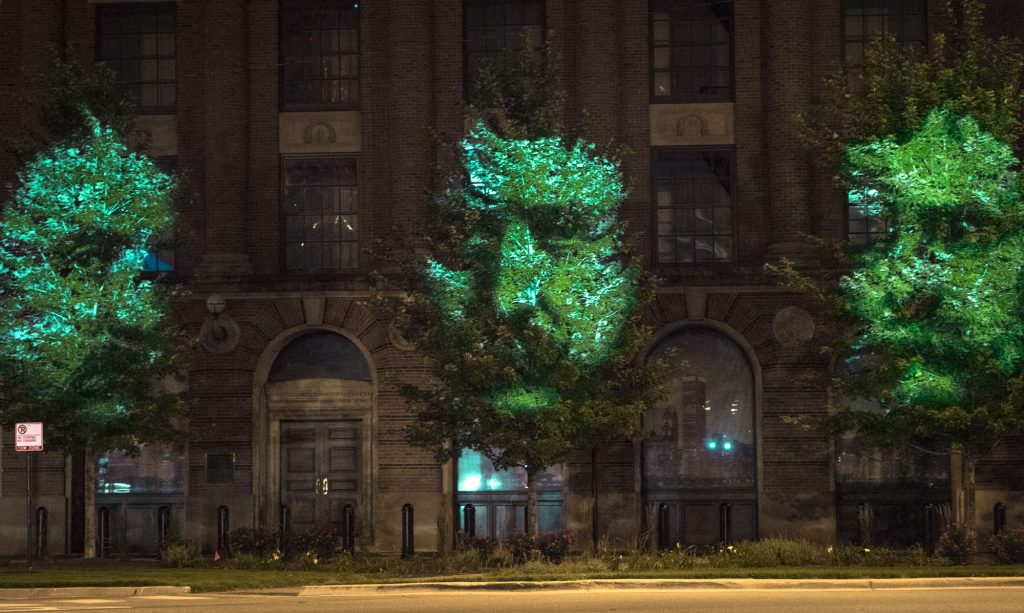 Since Illinois' inception 200 years ago, countless individuals have made their mark on the state. To celebrate Illinois' bicentennial, Rooted in Greatness honors individuals who have made strides in the state and have had a worldwide influence. From talented artists, musicians, and politicians to inventors, scientists, architects and community activists, Rooted in Greatness celebrates noteworthy individuals who have meant so much to Illinois' success.
TimeLine's role was to produce the historic narrative for Rooted in Greatness, including the video and audio content. Working with acclaimed Chicago artists—playwright Lydia Diamond, video designer Mike Tutaj, composer and sound designer Andre Pluess, dramaturg Maren Robinson, and voiceover artists Peter Sipla, Donna Steele, Ginneh Thomas and Jonah Winston—and produced and directed by TimeLine Artistic Director PJ Powers and Associate Artistic Director Nick Bowling, we collaborated with Next/Now to bring the art installation to life outside of McCormick Place on Cermak Road. There it will be seen not only by countless residents of Chicago and Illinois but also by tens of thousands of visitors from all over the world who are coming to McCormick Place this year.
This video and audio installation is unlike anything TimeLine has done before—or seen elsewhere. It blends history, spectacle, nature and technology into an awe-inspiring 20-minute narrative that celebrates some of the most prominent people who have made a mark in our great state. – Nick Bowling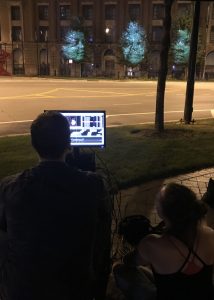 Video of the faces of those selected is now being projected into the trees at the corner of Cermak and Calumet on the McCormick Square campus every evening from sundown to 11 pm, and the accompanying audio shares a brief biography of each individual. Viewers of the exhibit might be surprised to learn that some of the famous names featured had been born or lived in our state prior to attaining fame. Traversing politics, sports, social justice, entertainment and business, the icons you'll see in Rooted in Greatness represent pioneers and trailblazers whose impact extended far beyond Illinois, reaching national and international acclaim.
TimeLine was honored to be invited to contribute to the celebration of the Bicentennial of Illinois. It's a perfect fit for our mission of exploring history and making connections between the past and present, and it gave us the opportunity to stretch our storytelling beyond our theatre … beyond a stage … to reach a wider audience. – PJ Powers
Sponsors of the project are LUMA8, Broadway In Chicago, The Metropolitan Pier and Exposition Authority, and the Illinois Bicentennial Commission.
Audio can be accessed while viewing the images on the sidewalk at the corner of Cermak and Calumet, or via RootedInGreatness.com.
The installation is currently scheduled to run through February 2019. We hope you will stop by and check it out!