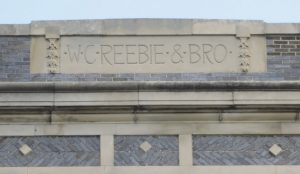 The building located at 5035 North Broadway in Chicago, purchased in December 2018 to be the site of TimeLine's future home, was built in the 1910s by W.C. Reebie & Brother, a moving and storage company. This was the third of five storage facilities built by the company. The company, now known as Reebie Storage & Moving Co., still operates today at 2325 N. Clark, a widely recognized example of Egyptian Revival architecture designed by architect George Kingsley (1870‐1956) and sculptor Fritz Albert. 2325 N. Clark was named to the National Register of Historic Places on March 21, 1979 and designated a Chicago Landmark on September 1, 1999. It is likely that Kingsley and Albert also worked on the 5035 N. Broadway building, although no documentation has been found to confirm this.
The building structure is reinforced concrete frame construction with columns bays of 16'‐4" by 15'–8". Floor slabs are solid concrete of 6 to 7‐inch rated (as posted) for 100 pounds lbs per square foot loading. The roof structure is also a 6‐inch concrete slab. A large freight elevator services floors 1 – 5. Based upon a history of storage facilities during the early 1900s, at one time the freight elevator may have also accommodated automobiles. Window openings only occur along the west façade facing North Broadway. No other window openings exist, as was typical of storage facilities. The exterior walls are Chicago common brick infill within the concrete framed structure. At a later date, the building was expanded by three additional bays using similar concrete construction.
William Reebie (1859 – 1921) founded the company in 1880. His parents were German immigrants who had arrived in the United States in 1868. Bill, as he was called, had become an experienced hauler by the time he was 20. He moved coal and pianos principally and had become so strong that, according to one story, he was able to lift the back end of a 1,400‐lb. fire truck out of the mud when the horses pulling it could not budge it.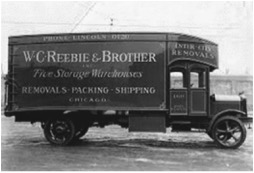 Bill began his company with a helper and a two-handled cart. Most of his clients lived in walk‐ups and Bill and his worker carried pianos up the flights of two-, three- and four-story buildings. The headquarters of W.C. Reebie & Bro. included a series of buildings in the 2500 block of North Sheffield Avenue. Building billboards called Reebie the "largest van company in the world." Bill was joined by his brother John. The 1885 street directory was the first listing for the W.C. Reebie & Brother express company, then located at 2533 N. Sheffield Avenue.
Until the turn of the century, it remained a moving company. Around 1900, increasing mobility among families and individuals, along with the development of apartment towers and apartment hotels created a need for storage warehouses. People would store the furniture and personal belongings that did not fit into smaller apartments. Among other common storage uses, people would store their furs in the summer and their cars in the winter. Throughout the 1910s, competition among storage companies was on the rise. Reebie expanded its business with the construction of warehouses at 4549 and 5035 N. Broadway, and in 1916 opened an auction business at its Sheffield Avenue location for the sale of stored items that were no longer wanted. By 1922, the Reebie company expanded to a new location and a new headquarters was built at 2325 North Clark Street.
---
This information was compiled by David Rotholz, including excerpts from The City of Chicago Landmarks Designation Report for 2325-33 North Clark, dated June 3, 1998