I am so pleased to celebrate the opening night of our first production of the 2019-20 Season, J.T. Rogers' Oslo. Whether you've followed our work in Chicago for years, or are coming across a TimeLine production for the first time, we are delighted to introduce you to this Tony Award-winning play by one of our favorite playwrights, J.T. Rogers, directed by TimeLine co-founder and Associate Artistic Director Nick Bowling.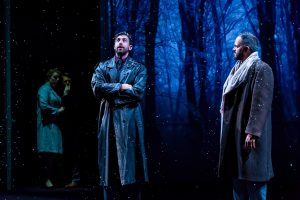 Since 1997, through more than 75 productions of new plays and re-imagined classics, TimeLine has been exploring today's topics through the lens of the past—making connections between past, present, and future, and probing the social and political issues that define our times.
Apart from the milestone of being our largest production to date, Oslo is also happening at an exciting moment in time for our company. TimeLine recently announced plans to establish a new home in Uptown, renovating an historic building that will elevate everything that has distinguished TimeLine's work for more than two decades. Through that future home and by bringing this production of Oslo downtown to the Broadway Playhouse, we're creating space to grow, innovate, and support new artistic possibilities and community connections—all in service to creating theatergoing experiences for you that extend far beyond the stage.
When I saw Oslo in New York, J.T. remarked afterward that the play is "like a love letter to TimeLine's mission." I'd already been thinking the same thing, marveling at his ability to transform weighty and well-researched material into riveting, compelling, and surprisingly hilarious drama.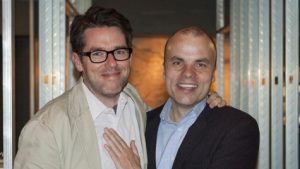 We discovered long ago that there was a synergy between TimeLine and J.T.'s writing, leading us to produce his play Blood and Gifts in 2013, also directed by Nick. You can read more in Backstory and in this extended interview about J.T., his partnership with Nick, and his penchant to "tell stories that are framed against great political rupture … putting characters onstage who struggle with, and against, cascading world events—and who are changed forever through that struggle." That's also a fitting encapsulation of the stories TimeLine brings to the stage.
Set in 1993, Oslo takes us behind closed doors for the secret meetings, feuds, and alliances that orchestrated a momentous handshake between Yitzhak Rabin, Prime Minister of Israel, and Yasser Arafat, Chairman of the Palestine Liberation Organization. It was a gesture that generated both optimism and fury across the globe as the Oslo Accords were signed.
History has obviously shown that the Accords did not hold up, and 26 years later, peace between these two adversaries remains a process fraught with intricacy and rancor. Yet it can be argued that Oslo still brims with relevance and resonance.
Amidst division—both stateside and abroad—Oslo is a beacon of hope, demonstrating how we might never be able to tackle major discord without starting with seemingly minor points of connection. Listening. Relating. Sharing a meal. A joke. A vulnerable piece of ourselves. Being willing to recognize the humanity in our antagonist. With humor, pathos, and suspense, J.T. audaciously challenges us to imagine such a possibility.
As we begin our 23rd season, Oslo launches a series of four plays that explore history while delving into issues of love, race, gender, and family power dynamics. Chicago premieres of Rutherford and Son and Kill Move Paradise and the world premiere of Relentless are still to come, presented at our current home in Chicago's Lakeview East neighborhood.
I hope you'll join us to continue experiencing yesterday's stories, discussing today's topics, and imagining tomorrow's possibilities.