For the past three summers, Living History's TimeLine South has offered an ensemble of teenagers the opportunity to learn basic skills in theatre & performing arts from some of the most experienced and dynamic artists in the city. Through this six-week summer arts program, students engage in advocacy and community building through art as a way to illuminate some of their community's toughest challenges and spark change. We understand that these topics can be difficult for young artists and we also believe that art can help heal and be an effective vehicle for social justice.
Although the COVID-19 pandemic has altered this year's program, TimeLine South has been re-imagined as an online program, committed to the same goals of providing teens a safe space for self-expression, creativity, and ensemble building.
Each week, the 10 young people who make up the 2020 TimeLine South ensemble learn about a different facet of theatre with an expert. We're featuring each of those members of the TimeLine South teaching team to give you a look at what this program is like and to let you sneak a peek behind the curtains at this transformative summer program. First up: movement instructor Airos Sung-En Medill!
---
"There was such a feeling of bravery, failure and discovery as we joined voices."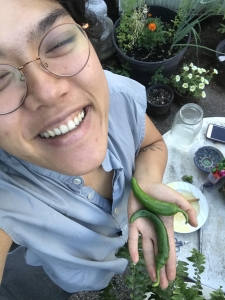 Name: Airos Sung-En Medill
Pronouns: they/them/theirs
Specialization: Movement
---
Why the work matters
I am so honored and grateful to be spending time with this ensemble. For me, movement week is about how we connect and feel in our bodies and to the land we are on. To become sensitive to ourselves. To listen deeply, begin to name self and move from this place. A space where the youth are able to tend to their bodies full of feeling, consent, and curiosity is key as we move on this land in gratitude.
Challenges of the digital landscape
Working online has been difficult for me. So much of the way I get to know people and connect is through how bodies are and move in space together. It has asked me to focus on the other tools I have of connecting and understanding how to create ensembles. For the second week, we have spent some time raising our voices in song, and one day we had an organic song circle of creation. This was such a joy and a discovery. We used a quote from Audre Lorde's Poetry Is Not A Luxury: "I feel therefore I can be free." There was such a feeling of bravery, failure and discovery as we joined voices. In this process, I am learning how this technology can help create clearer boundaries and also how to move organically within the structure of these technologies.
Reverberations of these teachings
I hope we are able to move from this experience understanding how to better create structures of care as we create. To understand more presently how we hold ourselves and our communities accountable. How we plan for safety and how that must move away from a model of punishment. In sharing this experience, I dream we all are able to imagine and name worlds that we are needing and wanting to create for our living.