Happy Arts in Education Week! This year, we wanted to add to the growing chorus of voices nationwide rising to tell the story of the transformative power of the arts in education. We asked some of our Living History Program Teaching Artists to tell us about a favorite arts moment: When did they first know they wanted to be an artist or an educator? When did they feel they'd chosen the right career? In response, these educators shared with us moments of great joy, gratitude, and deep connection. We hope their answers below inspire you to take a moment this week to reflect on the transformative teachers in your history, and how arts education has enriched your life. Feel free to share your reflections in the comments below!
---
Wardell Julius Clark
"My favorite arts memory would be watching the students at a student matinee of Kill Move Paradise. The joy, the excitement, and the utter raptness of their enthrallment I will never forget."
---
Charles Andrew Gardner
"I'm from Chicago—born and raised. I attended ETA through grammar school and high school, tried out Beverly Arts Center, joined the theatre company in high school. Then the summer before my senior year, I was admitted to Gallery 37's Advanced Arts Program. That was the light bulb moment. You know, when something clicks and everything becomes clearer, as if you've always known what you know now. My understanding of what acting was, and what the human voice, body, and mind was capable of was expanding. And I liked it! And I wanted to share it with whoever would listen. It was then that I realized my purpose was more than just being an actor—I was also an educator."
---

Marcus D. Moore
"My favorite arts moment is the moment I knew I wanted to be an actor. This moment is when I watched the movie Glory with Denzel Washington. Denzel is a huge reason why I started acting and wanted to see myself in movies because of the power and nuance he was able to portray on screen. Also, it was incredibly uplifting and motivating to see someone who looked like me on screen, excelling at their career and living their dream on such a professional level. I want to help create this same level of representation and be a beacon of hope for little kids growing up, today, so they too can see themselves represented on screen in a positive light, wrapped inside a three-dimensional, full human character. This also translates to me wanting to become a teaching artist. I strongly believe that as an artist and a human being, it is our duty to pass the knowledge we've obtained to younger generations coming after us, so they are more prepared than we were and will have the proper tools to build and live in a more equitable and prosperous world for everyone."
---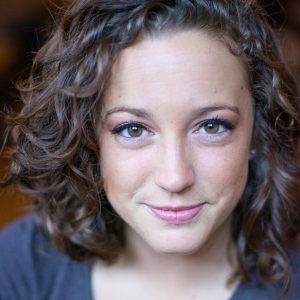 Lexi Saunders
I remember my first year at outdoor theatre camp when I realized I wanted to be not just an actor, but an artist. It was all about ensemble building, devising, and site-specific work. It was the first place I learned that theatre was everywhere. 10 years later, it's where I realized I wanted to become an educator – to keep spreading some of that magic to others.
---
Rochelle Therrien
"Connection has always been a driving force for me – whether I'm on stage or in the classroom. I was reminded of that most recently during the Rutherford and Son residencies with Living History. There was an exciting energy in the classrooms and talk backs, a feeling that we were all about to discover something new together and that we'd leave those rooms a little different, a little changed, for the better. I was amazed by the connections the students made between the work they'd seen on stage and their own lives and floored by how much I was actually learning from them. That's the power (and magic!) of the arts, of growth and learning, of connection, and what will always keep me going."
---
Learn more about TimeLine's Living History Program, and check out their newest work, Fulmination: Dear Dismal World, The Truth Awaits—the finale presentation from our summer program TimeLine South!