Since 2006, TimeLine has been bringing its mission to Chicago Public Schools via the Living History Education Program. Over six to 13 in-classroom sessions, students are empowered to explore the connections between their own lives, TimeLine's plays, and history. The plays in our season are the inspiration, the study guide, and the lodestone for the curriculum. And most Living History residencies culminate with a field trip to the theatre to see a students-only matinee, followed by a talkback with the actors led by Living History Teaching Artists.

But as with many of our programs this year in the wake of the pandemic, we've had to ask: When we're not producing full plays, how do we keep Living History and our mission front and center? How can we engage high school students when they can't gather in our theatre? And how can we provide CPS students with essential arts education when they're doing their classes from home? Our experience with TimeLine South this summer showed us that art (even virtually) can build community, engage curiosity, inspire action and maybe most importantly in this time, be a vehicle for healing and centering wellness.
Navigating a New Format
The first thing the Living History team had to acknowledge was that we were not going to have The Answer to all of our questions. Our TimeLine South summer theatre program had given us experience in building a virtual ensemble and interfacing with young creatives via Zoom, but we understood that we couldn't offer teachers and students a one-size-fits-all curriculum or plan. (And one-size-fits-all is never our style anyway!) Even TimeLine South was structured to respond to student needs, desires, and bandwidths. (Learn more about TimeLine South's unique methodology.) It was clear that this year's Living History plan was going to have to mirror that flexibility and responsiveness.
Living History is, at its core, passionate artists and teachers. Our team has many different strengths and focuses and expertise, but at this point, most have had about 8 months of virtual teaching experience. As any teacher in your life will tell you, virtual school or half-and-half school is a whole different ball game. And so we're grateful that our Teaching Artists are able to take their experiences with different virtual programs and adapt those to TimeLine's curriculum and our specific classes' requests.
Give students more opportunities to interact with each other … help students engage in creative work as well as change up the pace of e-learning … provide an outlet from all of the stress and anxiety that our present situation has created. — sample responses from CPS teachers about what they need most this school year
Before we officially began gathering the team to create a maximally flexible Living History plan for the 2020-21 school year, we asked our partner teachers to tell us explicitly: "What do you need?" "How can Living History support you?" "What challenges are you facing?" The direct feedback from our community would be our guiding star as we began to envision what Living History could be this year.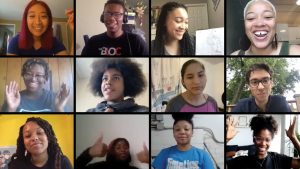 What Our Teachers Are Saying
We were overjoyed that our teacher partners wanted us to return. (We love you, teachers!) There is immense pressure on educators in 2020, and teachers are feeling that pressure acutely as they try to "translate" in-person assignments to the virtual world. How can they engage students? Get to know them? See their faces every day?
More than anything, we want to respond to the need for partnership, for collaboration, for creative problem-solving that takes more than one brain to tackle. It's not unique to teachers and artists—most people are feeling alone this year. Living History believes in art's power to connect. And even in moments of challenge and isolation, we will call upon that power to connect our community.
Wellness at the Forefront
With so much lost in the translation to digital classrooms, Living History wants to focus on what we can gain from virtual and distanced programs. TimeLine South recommitted to a focus on supporting wellness in students' lives. With guidance from TimeLine South Social Worker Falisa Byers, the ensemble learned about Maslow's Hierarchy of Needs, self-assessment, and responding to trauma with self-care. These teachings and tools allowed our student ensemble to feel connected to each other and themselves, even in Zoom squares.
---
We want to expand how students express themselves in their "squares." We want to encourage ensemble agreements and collective practices that unite students across the internet.
---
Looking forward, we want to take a similar approach to our in-school programs. We want to expand how students express themselves in their "squares." We want to encourage ensemble agreements and collective practices that unite students across the internet. Everything we do this year will center student wellness and their personal journeys.
Dine at Living History Cafe
With knowledge of the platform and its limitations and opportunities and goals outlined from community surveys, we began to plan our Living History 2020-21 menu. The menu wouldn't have any meals, per se, but instead would have choices—all student-centered, trauma-informed, and wellness-focused—for our teachers. To give you just a taste of those options:
Reimagining the Archives
Engaging students with past TimeLine productions that speak to this present and unique moment. Includes writing and acting tools to inspire connections!
Amplifying Teen Voices
Exploring historical events that ignite curiosity and critical thinking. Includes monologues, poetry, and artmaking in a tapestry of teen voices.
Staying Flexible, Listening Hard
Addressing classroom challenges with ensemble-building exercises, collaborative work, and shared leadership. Includes potential for after-school options and tailored arts integration.
From this menu, we can work in substitutions or really customize curriculum. The outcomes are endless when we start from these flexible-yet-focused options.
When we're working with CPS students and teachers during this unique and challenging time, our team will continue to innovate and react. As any theatre artist knows, performing with an audience is nothing like the rehearsal. So we're ready to respond to the unknown, and we expect that things will change. With that in mind, we're more grateful than ever to have the support of our teacher partners, students, and long-time funders.
We're especially excited to welcome our first corporate sponsor, Allstate, to our roster of supporters as we steer through these uncharted waters.
We'd be interested to hear about any arts experiences you or your family have experienced in a classroom during this time of remote learning; please share any stories or reflections in the comments. And in the meantime, thank you to all our supporters and fans! We couldn't do any of this without you.