Today we're celebrating Alice Childress' birthday and her legacy as the only Black woman to have written, produced, and published plays across four decades.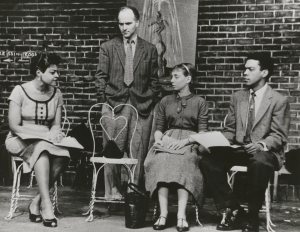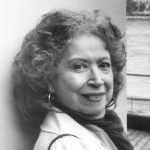 Alice Childress was born on October 12, 1916 (although this year varies depending on the source) in Charleston, S.C., and died August 14, 1994 in New York City. She grew up in Harlem, where she acted with the American Negro Theatre in the 1940s. There she wrote, directed, and starred in her first play, Florence (produced 1949), about a black woman who, after meeting an insensitive white actress in a railway station, comes to respect her daughter's attempts to pursue an acting career. Her plays Trouble in Mind (produced 1955; revised and published 1971), Wedding Band (produced 1966), String (produced 1969), and Wine in the Wilderness (produced 1969) all examine racial and social issues. Among Alice's plays that feature music are Just a Little Simple (produced 1950; based on Langston Hughes's Simple Speaks His Mind), Gold Through the Trees (produced 1952), The African Garden (produced 1971), Gullah (produced 1984; based on her 1977 play Sea Island Song), and Moms (produced 1987; about the life of comedienne Jackie "Moms" Mabley).
Here are a few historical tidbits about Alice's life and her groundbreaking play, Trouble in Mind: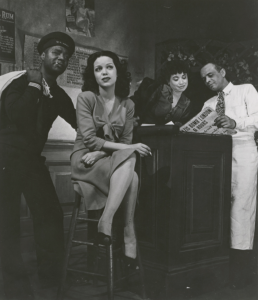 Alice grew up in Harlem and began working in theatre as an actor—most notably in American Negro Theatre's Anna Lucasta, the longest-running play with an all-Black cast in Broadway history. Inspired by witnessing the unaddressed racial tension between her cast mate, Georgia Burke, and their white director, she went on to craft the character of Wiletta in Trouble in Mind, a version of Burke who could finally speak up without fear of jeopardizing her career.
When the play was first produced, the show's white producers believed Alice's original written ending was too negative. Being new to playwriting, Alice conceded and allowed an alternate happy ending—a choice she deeply regretted. When an opportunity to transfer to Broadway came two years later, producers insisted upon the happy ending and a title change to "So Early Monday Morning." Alice refused. Trouble in Mind finally made it to Broadway with Roundabout Theatre Company in 2021, with Alice's original ending. That production would go on to be nominated for four Tony Awards.
Though never as widely celebrated as she should've been, Alice spent the 1940s through the 1980s making theatre history, including being the first Black woman to have a play produced with Equity actors. If Trouble in Mind had gone to Broadway in 1957 as intended, Alice would've also been the first Black woman to have a play produced on Broadway. Instead, that honor would go to Lorraine Hansberry four years later with A Raisin in the Sun (also produced by TimeLine, in 2013).
Listen to Alice in her own words via this panel discussion filmed in 1987 (clips at 6:52, 33:30, 46:50, 52:29, 1:03:40, 1:15:55):

---
Special thanks to Trouble in Mind dramaturg Martine Kei Green-Rogers and assistant dramaturg DeRon S. Williams for research and materials used in preparing this post.