Early in the rehearsal process of Boulevard of Bold Dreams, director Malkia Stampley (MS) sat down with playwright LaDarrion Williams (LW) to discuss the inspiration for writing the play, what has made this process so exciting, and the play's ongoing relevance to our world today. Read an edited version of that conversation below, or watch the full version here.
What I hope audiences get out of this story is the permission to dream. […] This is Hattie's story, but it's your story as well. — Malkia Stampley, director of Boulevard of Bold Dreams
LaDarrion Williams: [This is] a play about dreams. It's a story about Hattie McDaniel winning the Oscar, of course, but I wanted to veer off in a different direction, because I was very interested in learning about that night. As a playwright, I'm always about what's happening behind closed doors, and is it good, or is it bad? So, I wondered about that night. What happened before the moment she stepped into the hotel to change history? And so I was like, I think she's going to meet this bartender and he's going to be a dreamer. And he's going to be this movie director, and he's going to explain his dreams to her. And she is struggling to even go to the to the actual event. So, they kind of get in a tangle a little bit about that. It started off as a two person play. And when I was writing it, I got to page 30 and I was like, "Who is this other voice talking to me?" And in my research, I thought, "Okay, Hattie played a maid…" and then this voice came like, "Nope. My story. I need you to tell my story, too." And I scrapped the whole play. I kept hearing "Dottie." I don't know why this character kept introducing herself to me. And so I was like, "Okay. A bartender and a maid in a hotel." And that's how they meet Hattie.
It's a play about achieving your dreams, and also the reality of the heartbreaking moments of if you're not going to be able to achieve those dreams, then what happens? How do you move forward if it doesn't happen? And also in a very turbulent time in American history. We've got racism in the Jim Crow South. And seeing these two young Black characters from the South coming to L.A. to achieve their dreams and being met with the reality that it may or may not happen. So, that's BOULEVARD in a rollercoaster synopsis.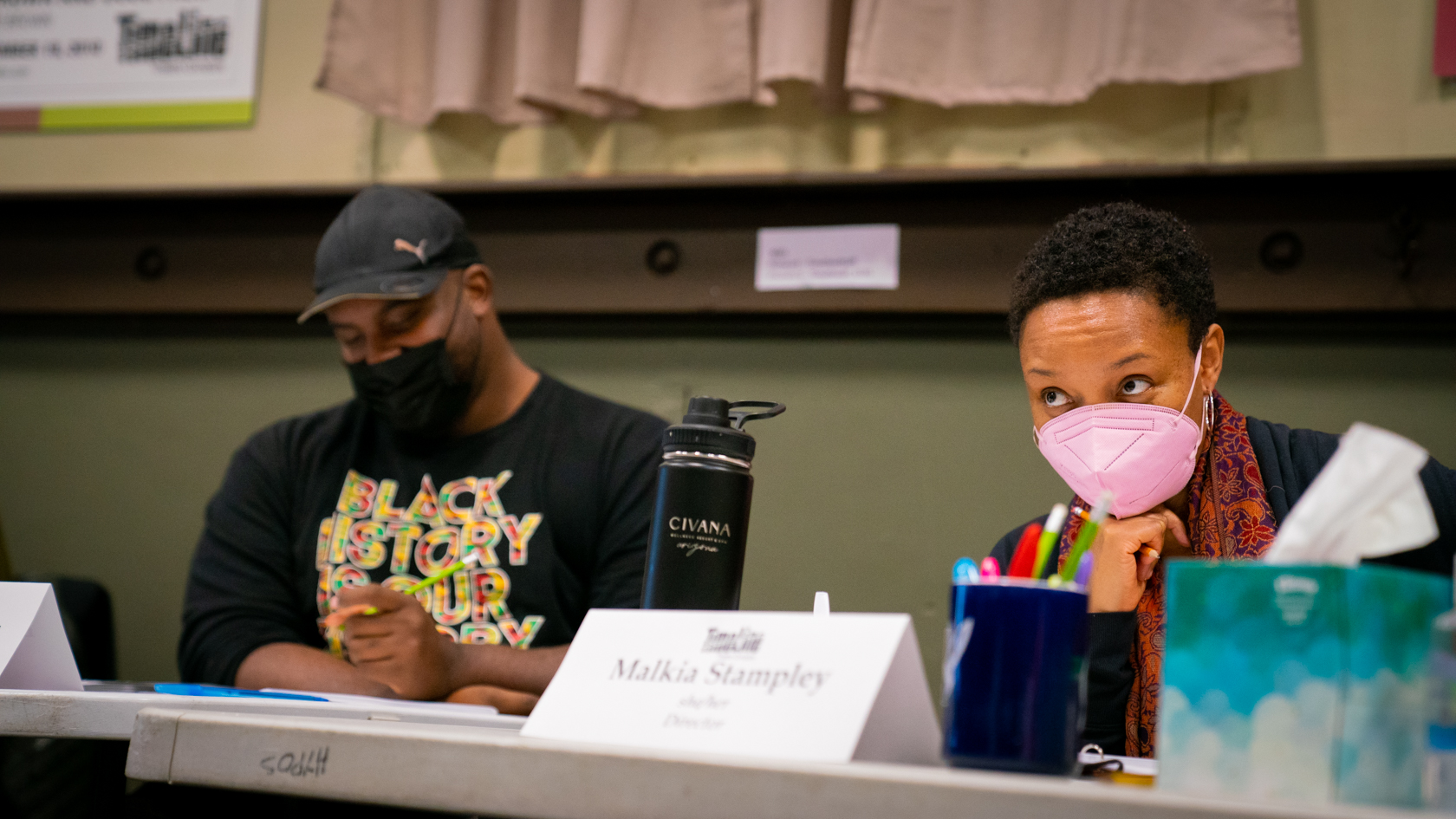 Malkia Stampley: The title, BOULEVARD OF BOLD DREAMS—that one got me. And then it was these three [characters] who I fell in love with, starting with Hattie. It was the first time I felt like I was able to see Hattie as a real person. Not the image of the 'Mammy,' and not the Oscar winner. There's not a lot of footage of her in interviews, or her at home, or what it looked like when she wasn't in performance, or ON. And so, to explore this world of "who is this woman?" and "who is this woman who carries so much on her shoulders?"—Just being a Black woman, but then you add being a Black artist on top of that. What I love most about this play is that you have three phases, the three iterations of a "Dreamer." You have those at the door of doubt. You have those who are drunk in their dream and waiting and waiting and excited about all the possibilities. And then you have someone who is living the dream. And then when you live the dream, you're assessing the dream. And is it still a dream, or is it something else? So you're in conversation, not only with these three people, but those three phases of yourself, and your dream.
LW: She did it better than I did. [they laugh] I love her. She know how to do it. I'm like—I'm such a writer. I'm sorry. [they both laugh]
MS: Black artists, I feel, have the sometimes obligation, honor, privilege, but burden of not only just being an artist, but a representation of your race, your family, your community, your school, all these different things. And then you have to do it better than—sometimes a hundred times better than— your white counterpart. And whether that's self-imposed, or sometimes it is actually taught to you as a child. That pressure is difficult when you just want to play. When you just want to be an artist. Everyone doesn't want to be an activist. Everyone doesn't want to be the first. Some people just want to DO. And when you find yourself in the place of…"Wow. I'm not just the actor. Now I'm the topic of conversation and controversy and change." What do you do with that?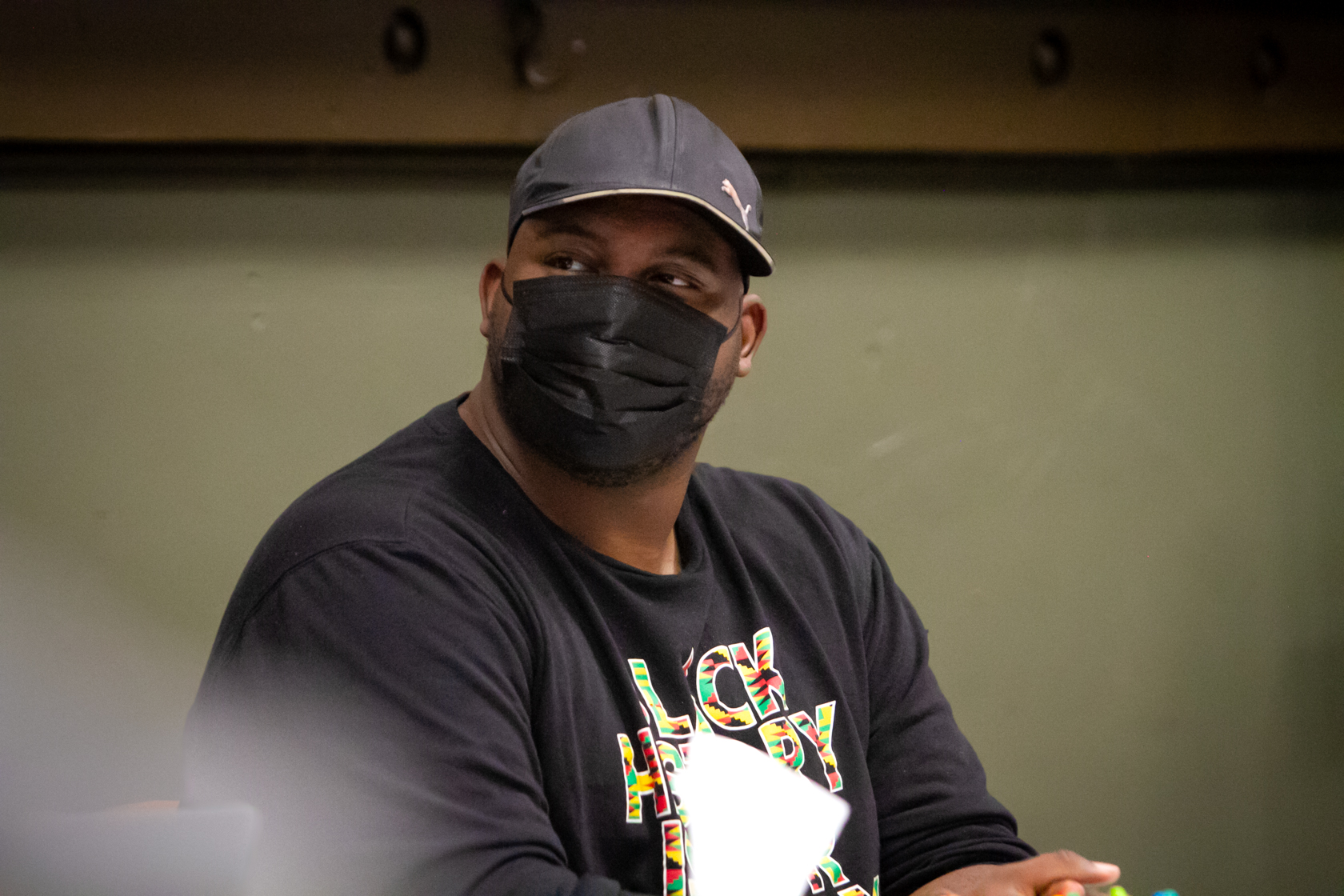 LW: Yeah, it's that conversation we have in the rehearsal room about the innocence being stripped away from us a lot of the time. Especially with Black people and Black youth and just—I mean, older—everybody. But I think we don't have a chance to just play and just be sometimes. And I get it. Because it's crazy all around. But I think—because everybody wants to be represented, and they want to be represented well. And also as a writer, writing Black stories and writing these Black characters, it could be very easy to be pigeonholed like, "Well, I can't write this because is going to make this group of people look bad. Or maybe it's going to make my family look bad, or my parents, or my siblings."
MS: And then there are only so many slots.
LW: Yeah.
MS: So many spots, whether Black characters, or Black kinds of stories. And then you've got to be really picky.
LW: Yeah. And its just… [he sighs] Yeah, sometimes I'm really good at that. Like, "Okay, I'm just writing my story." Because usually when I write a play or write a script or whatever, it really just takes over and I hear the characters and I see the world and I'll figure, "Okay, well, maybe I did go too far, or maybe I didn't, or maybe I pulled a lot of punches in this specific session." And so, again, it's a conversation that's going to be hard for probably until the end of time. It's just—
MS: Because we're still living in the world of firsts.
LW: Yeah.
MS: We only just had our first Black President, our first female Vice President, who also is first Indian and Black woman. There's still so many firsts we're dealing with that we still have a long way to go. So this story is not just in the past. It is a representation of what's still happening today.
LW: I do write about the past, but I do think about the now and especially with the #OscarsSoWhite and a lot of the things happening in Hollywood. I live in Hollywood and I'm trying to get these stories on because I do feel that I have a responsibility. There's a line in the play that says, "You gonna know my mama story." That's how I personally feel with my mother, who is a 62 year old Black woman living in Alabama who went through—
MS: Why you tell your mama's age?!
[they both laugh]
LW: My bad mama. [they laugh some more] But she's this Black woman who I grew up and watched. And she made the impossible possible. I don't remember going without food. I don't remember going without clothing or school supplies. And I feel like sometimes she is Dottie. She could have been Hattie, or she could have been Arthur, if that brick wall wasn't built against her as a Black person, but also as a Black woman. And so I try to do the best as I can as a Black man, to honor her. One, honoring black women, but also honor her because she's my mother, you know? So I just— yeah, this is the fact there's a lot of firsts.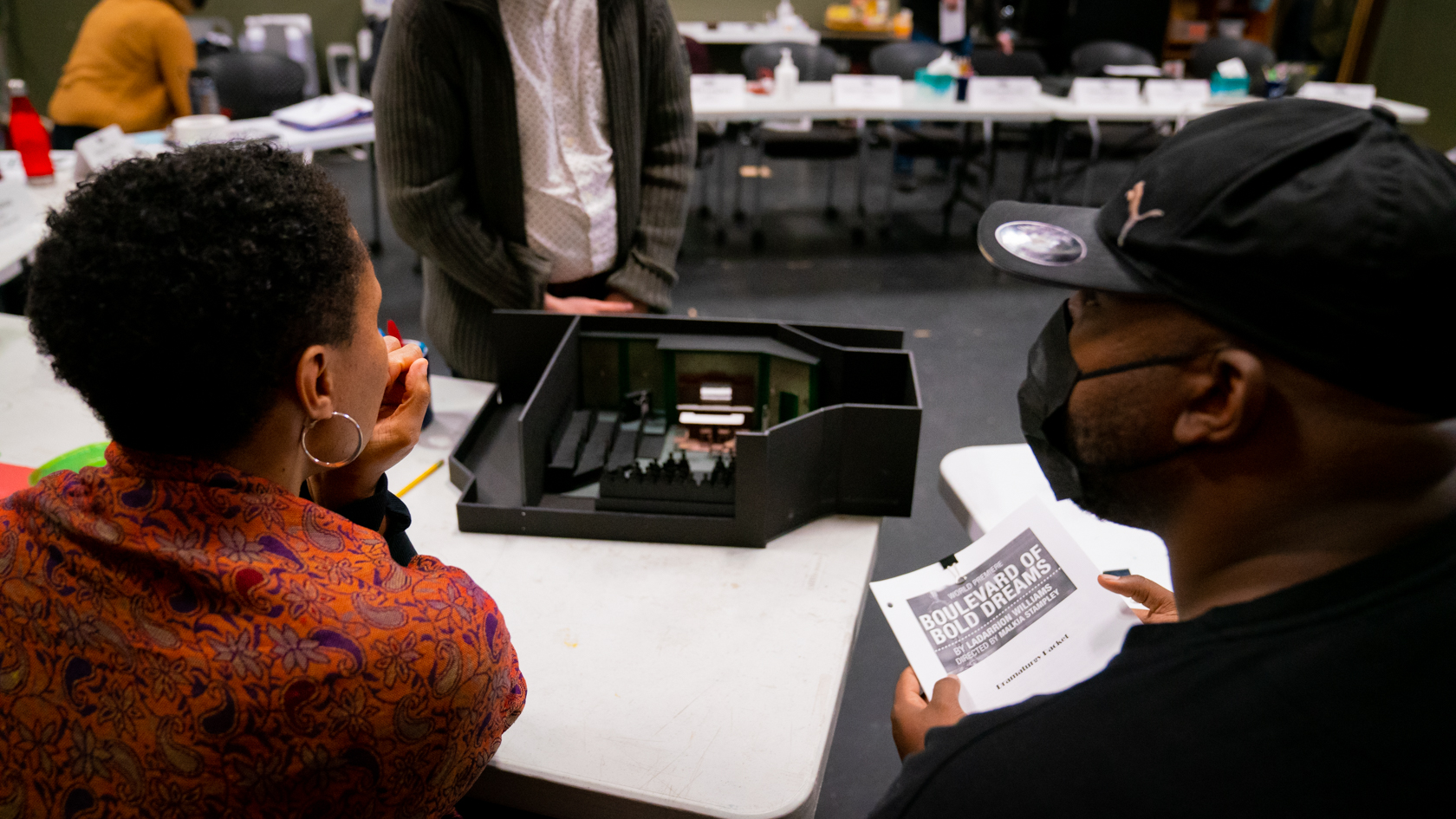 LW: [with this World Premiere] I'm really inspired. I'm really excited. I try to hold onto that sense of being that kid in a candy store, being that kid in Disneyland. When I walk into the theater for the first time, or when I walk into the rehearsal hall and see Malkia work with the actors and have those conversations. Like last night, it was kind of like therapy a little bit because usually I don't share a lot about my personal life. But I'm getting to a point where it's okay. I think my story can help somebody else. And seeing the design team, the scenic, the costumes, the entire artistic team at TimeLine, talk about this play and assemble everybody. I do have that bright-eyed when you walk into Disneyland or Disney World for the first time feeling, and I never want to lose that. Every day I walk into the theater, or into the rehearsal room, that's what I'm thinking about. And I'm just grateful. Because it's been a long, hard road as a playwright—as an artist, period. But just remembering writing this play while living in my car in Hollywood, just trying to make it. I'm just trying to make it. I'm trying not to go home. I'm trying not to quit. And this play was birthed out of that. And so in March 2020, dealing with that, I'm like, "I don't know if anybody's ever going to see this play or read it. I'm just writing this for me." To seeing this now, and seeing everybody come together, I'm like, "It's worth it, you know?" So I'm just—I'm really grateful. I'm really inspired to go on this journey with TimeLine, with Malkia, with the entire cast.
MS: And we are grateful that you chose to write this story. Because although you wrote it for you, and you're a writer, so you have so many other stories and ideas, but it's because you chose to answer the call and to do the work. Not only do we get an opportunity to tell the story, but you are helping others perform their art, to have employment, to give other people and opportunity to heal, and an opportunity to play with other artists. You talk about that "play," and that's the greatest part of rehearsal, to be able to play and it's because of the birth of your story, and that's the beautiful part. I'm so proud of you.
LW: I think especially the time that we are going through, with COVID and the shutdown and everything—I think it's important to have a space to come dream again. I think with 2020, it's that snatching of the innocence a little bit. I think 2020 snatched a lot of things from us. And I think this play is important for audiences to come see because I think they can have a space to come dream. And also it's a new play. Please come support it. I think supporting new theatre and new plays is very important right now, because everybody has a story.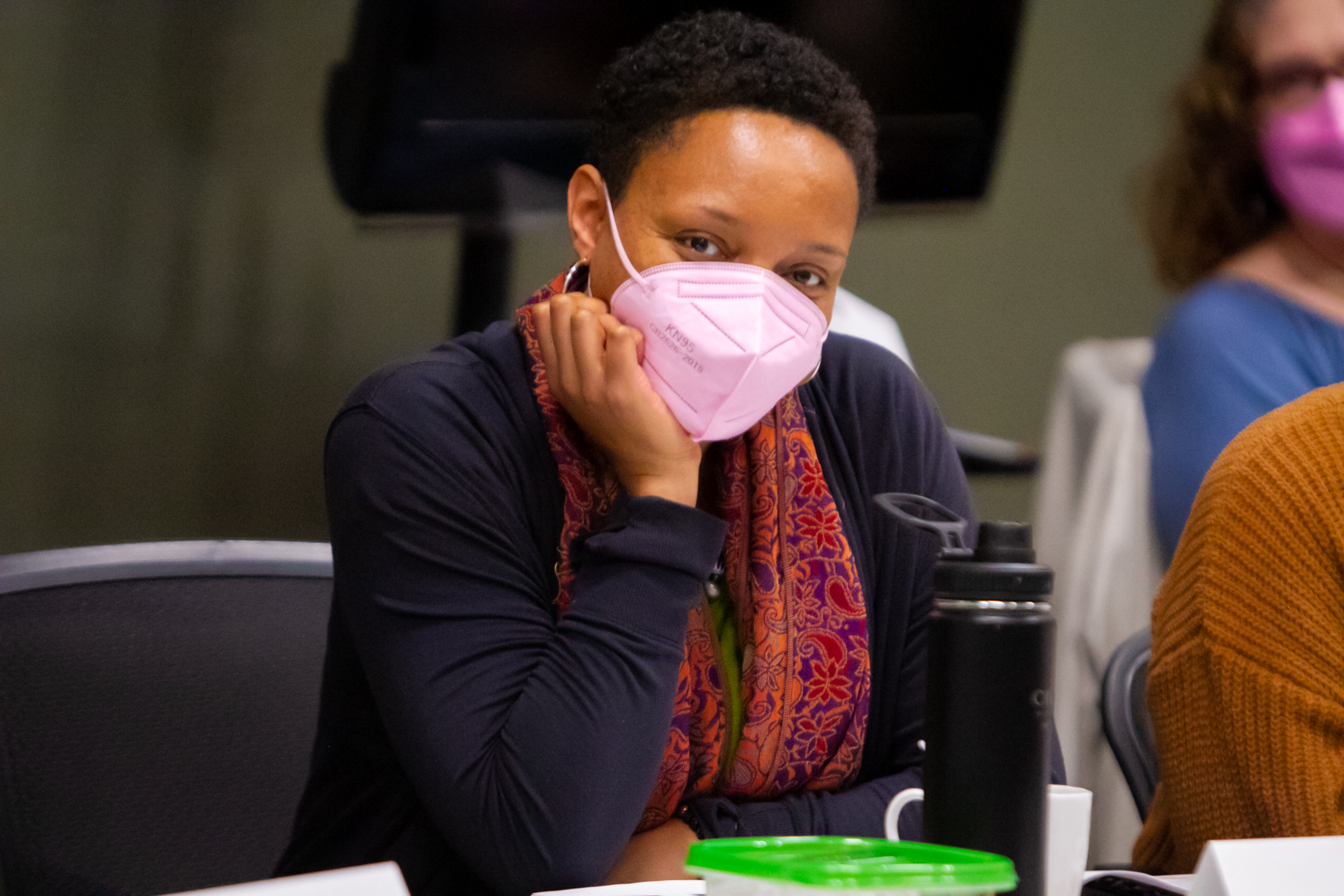 MS: What I hope audiences get out of this story is the permission to dream. Talking of that dream and realizing that having a dream doesn't mean that you're always confident about it, or there aren't challenges. People can interrogate your dream, and you don't have to answer the questions of the dream. "Who is the dream for, and what is it you really want, or what are you sacrificing? Is it worth sacrificing? And who are you taking along with you?" You have permission. You have permission to dream and take the time that you need, and in time you can achieve that dream, and you can change your mind, too. All of that is okay. The whole journey of it, we go through in this play. And I do think that from the beginning of the play, you may side with one character, and then by the middle another, and then at the end, a totally different character. And I want the audience to see themselves. This is Hattie's story, but it's your story as well.
MS: I'm grateful to TimeLine for, for making space for new stories and showing everyone how important history is. Not only history, but community and showing how relevant history is. And that what we went through in the past is what we're still going through today. And learning your past will inform the future. And that gift that TimeLine has given our community has opened many doors for many artists like LaDarrion and I.
LW: I just want to give thanks to PJ Powers and Nick Bowling and the entire team at TimeLine for saying "yes" when I was in a storm of "no's." They gave me a "yes" and they gave me a chance. And so I'm just really grateful. I never take stuff like that for granted when somebody tells me "yes" because I know what it's like to be constantly told, "No. You're not right. Your play's not right for us at this time." And they said, "It's right. It's right at this time." So yes, I'm grateful to TimeLine.
MS: Come see the show!
LW: Come see the show!
---
Boulevard of Bold Dreams begins performances February 1, 2023 and runs through March 19, 2023 at TimeLine Theatre. Learn more and get your tickets now.