The 2018 Step Into Time Auction
Thank you for your interest in the Step Into Time auction. We invite you to peruse these details. There's something for everyone!
All proceeds benefit the mission and programs of TimeLine Theatre Company.
---
FEATURED SILENT AUCTION PRIZES
Package F101
LUXURY SUNSET YACHT CRUISE AND 5-COURSE DINNER FOR 6
Enjoy spectacular water views of Chicago at sunset as you and 5 friends cruise on a private yacht. Complete your on board experience with drinks, a 5-course personalized menu, rare cigars, and VIP company.

Join the yacht owner (A Broadway, West End and Chicago theatrical producer & investor) for a once-in-a-lifetime Chicago evening aboard his 75-foot, British-made boat, along with Eileen LaCario (Vice President of Broadway In Chicago) and PJ Powers (Artistic Director of TimeLine Theatre).
Cocktails begin at 6 pm for you and 5 friends on the Chicago River as you cruise your way toward the Chicago Locks to enter Lake Michigan. Once on the lake, the captain will drive around Navy Pier and find a spectacular place to anchor inside the calm protected waters of the Play Pen.
Once there, Chef Shane will create a wondrous five-course meal including fine wines specifically chosen for you. Menu will be agreed on beforehand and can be suited to accommodate food allergies and preferences. Watch the lights of Chicago come on as you drink and dine on a most memorable meal.
You'll make your way back to the river after dinner and cruise the South Branch all the way to Chinatown as you drink fine scotch and smoke very rare cigars (optional). All alcohol and food is included.
Donated by John Yonover
RESTRICTIONS: Date to be mutually scheduled for a weeknight in July, August, or September 2018.
---
Package F102
THE ULTIMATE "HAMILTON" EXPERIENCE ON THE DATE OF YOUR CHOICE FOR 2
Don't just be in the room where it happens — go onstage, too! You'll have the ultimate experience when you see Hamiton from Prime Orchestra seats at the performance of your choice, followed by an onstage photo op. Don't throw away your shot at this amazing opportunity!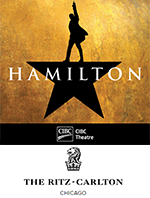 On the date of your choice, you and a guest will attend the hit musical Hamilton, the sold-out Broadway hip-hop musical by Lin-Manuel Miranda that has taken the theatrical world by storm, in Prime Orchestra seats. Following the show, you will be escorted onstage for a photo op. Complete your evening with an overnight stay in a city view King Room at the Ritz-Carlton Chicago.
"THE MOST EXCITING AND SIGNIFICANT MUSICAL OF THE DECADE. SENSATIONALLY POTENT AND THEATRICALLY VITAL, IT IS PLUGGED STRAIGHT INTO THE WALL SOCKET OF CONTEMPORARY MUSIC." — The Wall Street Journal
Donated by Broadway In Chicago and Ritz-Carlton Chicago
RESTRICTIONS: Seats are subject to availability and theatre plans must be made with TimeLine by 5/15/18 (3 choices of dates will be requested); expires 1/31/19. Hotel expires 3/1/19. Other restrictions may apply.
---
Package F103
CHEF-FOR-A-DAY AT PROXI AND DINNER FOR 4 AT SEPIA
Go behind-the-scenes of one of the West Loop's hottest new restaurants – Proxi – when you have a Chef-for-a-Day experience followed by dinner with 3 friends at Sepia.

This unique experience begins with you shadowing the professional culinary team at Proxi, the sister restaurant to Sepia. At Proxi, dishes celebrate the power of bold flavors and pristine ingredients through a fresh American lens.
Following your Chef-for-a-Day experience, wow your friends with your newfound knowledge over dinner next door at Sepia, where you and three guests will enjoy a selection of appetizers, entrees, desserts, as well as two bottles of wine from their sommelier's selection.
Donated by Sepia Restaurant and Proxi
RESTRICTIONS: Date and time to be mutually agreed upon. Some restrictions may apply. Gratuity not included. Expires 3/16/19.
---
Package F104
RESERVED SEATS AT TIMELINE
Enjoy the ultimate perk at TimeLine Theatre performances – reserved seats.

Upgrade your TimeLine experience with a perk normally available only to TimeLine Theatre donors of $10,000 and more – reserved seats selected by TimeLine Artistic Director PJ Powers. Attend performances in TimeLine's 2018-19 season with 2 premium subscriptions, offering you ultimate flexibility to book and attend shows, and enjoy a leisurely meal before the shows knowing that your seats are waiting for you when you arrive.
Donated by TimeLine Theatre
RESTRICTIONS: Reserved seating and tickets are valid only for regular performances in TimeLine's 2018-19 subscription season. Reserved seating is good for your 2 tickets, plus up to 4 friends with TimeLine tickets; not valid for special performances or events; and is subject to availability.
---
F105
7 NIGHTS IN MAUI
Experience ultimate relaxation in your own oceanfront hideaway for 7 nights in West Maui. This utopia is conveniently located near activities while also offering 2 acres of lush tropical foliage and a small secluded beach for snorkeling or just dipping your toes in the water.

Spend 7 nights in paradise in a beautiful one-bedroom condo in Hawaii, plus $500 good toward the purchase of airfare.
Past travelers have raved about their experiences:
"We had a really fantastic time in this Western Maui location. Watch spectacular sunsets from the deck. Delight in the sea turtles frolicking in late afternoon. Settle back in relaxed accommodations. There is a real spirit of Aloha here. Easy access to all of Maui's best. Lahaina. Snorkeling. Fine dining. Island food. Exploring the island. Sitting under a Plumeria Tree."
"It was like waking up every morning in paradise. We start relaxing just thinking about it. Perfect weather everyday. Beautiful beaches everywhere. Stunning ocean views and scenery. It was the highlight of our year. We never would have survived the Chicago winter without the week-long respite in paradise. Every day we asked ourselves, 'Why don't we live here?'"
Donated by M. Elizabeth Zeigler
RESTRICTIONS: Dates to be mutually agreed upon. Some restrictions apply.
---
Package F106
POWERS CAFÉ
The bestseller is back! Artistic Director PJ Powers will personally prepare for you a truly one-of-a-kind dining experience. And at his dining room table, you'll get the ultimate insider scoop on all things TimeLine!

This prize may be TimeLine's most exclusive ticket! Enjoy a seven-course gourmet dinner for 6 at the home of TimeLine Artistic Director PJ Powers, hosted by PJ and his wife Shelley.
PJ (our resident culinary enthusiast) will create and prepare an elaborate menu with wines to match each course, and conversation is sure to include a unique peek behind the scenes of TimeLine. It'll be an evening you and your guests will never forget!
Donated by PJ and Shelley Powers
RESTRICTIONS: Date and time to be mutually agreed upon. Must be redeemed by February 2019.
---
Package F107
FLORIDA FAMILY GETAWAY
Feel your stress melt away during a weeklong stay in a waterfront home in Madeira Beach, Florida. Beaches, restaurants, museums, shopping, or better yet, doing nothing at all —the perfect vacation!

Are you ready for some rest and relaxation? Watch the water from your own private dock during a 6-night, 7-day stay in this 3-bedroom, 2-bath stand-alone waterfront home in Madeira Beach, Florida.
Fit for a family, the master and second bedrooms have queen-size beds and the third bedroom has two twin-size beds. Enjoy easy access to the beach, miniature golf, tennis courts and restaurants, plus complimentary Wi-Fi and more. Nearby are attractions like the world-renowned Salvador Dali museum, theatres, music venues, The Florida Orchestra and historical locations. Shoppers will greatly enjoy the John's Pass Village in Madeira Beach!
The Gulf—a perfect vacation spot!
Donated by Eileen LaCario and Tony D'Angelo
RESTRICTIONS: Dates to be mutually agreed upon. Expires 3/16/19.
---
Package F108
PREMIUM WHISKEY TASTING FOR 10
The whiskey tour you've been waiting for— impossible-to-find bottles and a chance to learn all about the spirits' history from our resident expert, Company Member Ben Thiem. The perfect pairing!

You and up to 9 friends could enjoy a private tasting of historic bourbons with TimeLine Company Member Ben Thiem—in your home or at the theatre. Sample rare and delicious drams of our American spirit from as far back as the 1960s to today and learn about the history of each brand and compare how they've changed over the years. Featuring impossible-to-find bottles from several distilleries including Buffalo Trace, Four Roses, Wild Turkey and more!
Donated by Ben Thiem
RESTRICTIONS: All participants must be 21 years of age or older. Date, time, and location to be mutually agreed upon. Tasting must take place within Chicago city limits. Expires 3/16/19.
---
Package F109
DINNER WITH JANET ULRICH BROOKS FOR 8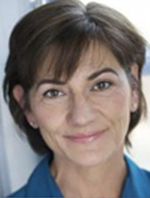 Spend a sumptuous evening with Janet Ulrich Brooks and seven of your closest friends at an exclusive dinner party.
Wine and dine at this elegant and exclusive dinner featuring special guest Janet Ulrich Brooks, who will be starring in the second production in TimeLine's upcoming season!
You and 7 friends will enjoy an delicious catered dinner party with perfectly matched wine pairings with Janet and TimeLine Artistic Director PJ Powers, hosted by TimeLine Board Alumna Anne Stockton and her husband Richard in their beautiful Roscoe Village home.
Complete your experience with two tickets to the opening night of that production in late October 2018 (exact date TBD).
Janet is a TimeLine Theatre Company Member and has appeared in more than 10 TimeLine productions, most recently The Audience, Bakersfield Mist, The Apple Family Plays: That Hopey Changey Thing and Sorry and The How and The Why. She has received Jeff Award nominations for her work at TimeLine in 33 Variations, A Walk in the Woods, When She Danced, All My Sons, Not Enough Air, and Weekend.
Donated by Anne and Richard Stockton
RESTRICTIONS: Additional special guests subject to availability. Date and time to be mutually agreed upon.
---
Package F110
VOLO WINE TASTING PARTY FOR 16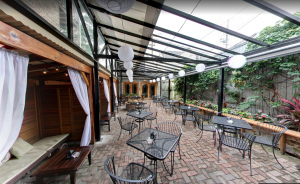 Wine, a hidden Roscoe Village patio, and 15 of your closest friends – what more could you want?
You and your guests will be treated to a private wine tasting in Volo's 100 year old Coach House overlooking their #1 Hidden City Patio. Managing Partner / Wine Director Jon Young will curate 8 boutique bottles (one sparkling, 3 whites, 3 reds, and a dessert wine) for a progressive tasting that will give your palate a ride.
Guests will snack on heavy hors d'oeuvres and appetizers from Chef Partner Stephen Dunne latest seasonal menu, while you are treated to an exhilarating experience that transports you from Roscoe Village to wine regions around the world, with winemaker stories and tasting notes to enjoy along the way (they promise to get you back before your sitter's curfew).
Donated by Volo
RESTRICTIONS: Event lasts 3 hours, must take place on a Thursday evening, and is subject to availability.
---
Package F111
SEATTLE GETAWAY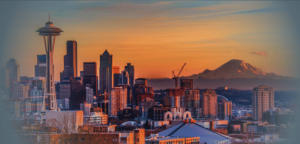 The ultimate Seattle getaway—a centrally located hotel, theatre tickets, and 5 nights in a ski chalet? We understand if you never want to leave.
Escape to the splendor of Seattle for 7 nights starting with a 2-night stay at The Westin Seattle Hotel, centrally located within walking distance of The Space Needle, Monorail, and more. While in Seattle enjoy two tickets to a show in Washington Ensemble Theatre's 2018-19 Season.
Then head out of the city to the resort at Snoqualmie Pass for 5 nights at a charming and cozy ski chalet in the beautiful Cascade Mountains just 45 minutes from Seattle and 25 minutes from the world-class resort town of Suncadia, offering multiple activities and attractions. With its gorgeous views of mountains and alpine trees from every window, this chalet is the perfect spot to get away from the city for rest and relaxation.
Also just outside the city, enjoy a wine tasting for two at Mark Ryan Winery in Woodinville Wine Country. Largely self-taught, Mark honed the craft of winemaking through rigorous study, opening his company in 1999.
Donated by Mark Ryan Winery, Anne and Richard Stockton, Washington Ensemble Theatre, Tom and Renée Zipprich.
RESTRICTIONS: Cabin dates to be mutually agreed upon with prize donor. Theatre tickets good for 2018-19 season only; all shows are subject to availability and some restrictions may apply. Westin dates to be mutually agreed upon and booked via prize donor. Winery tasting date and time to be mutually agreed upon.
Details as of 3/14/18
Save