The Step Into Time Auction
Thank you for your interest in the Step Into Time auction. We invite you to peruse these details. There's something for everyone!
Please note that this auction has ended. It took place on March 15, 2019.
All proceeds benefit the mission and programs of TimeLine Theatre Company.
---
FEATURED SILENT AUCTION PRIZES
LUXURY SUNSET YACHT CRUISE AND 5-COURSE DINNER FOR 6
Enjoy spectacular water views of Chicago at sunset as you and 5 friends cruise on a private yacht. Complete your onboard experience with drinks, a 5-course personalized menu, rare cigars, and VIP company.

Join the yacht owner (A Broadway, West End and Chicago theatrical producer & investor) for a once-in-a-lifetime Chicago evening aboard his 75-foot, British-made boat, along with Eileen LaCario (TimeLine Board President and Vice President of Broadway In Chicago) and PJ Powers (Artistic Director of TimeLine).
Cocktails begin at 6 pm for you and 5 friends on the Chicago River as you cruise your way toward the Chicago Locks to enter Lake Michigan. Once on the lake, the captain will drive around Navy Pier and find a spectacular place to anchor inside the calm protected waters of the Play Pen.
Once there, Chef Shane will create a wondrous five-course meal including fine wines specifically chosen for you. Menu will be agreed on beforehand and can be suited to accommodate food allergies and preferences. Watch the lights of Chicago come on as you drink and dine on a most memorable meal.
You'll make your way back to the river after dinner and cruise the South Branch all the way to Chinatown as you drink fine scotch and smoke very rare cigars (optional). All alcohol and food is included.
---
OSLO OPENING NIGHT VIP ACCESS FOR 4
You and 3 friends will score the best seats in the house for the highly anticipated Chicago premiere of Oslo by J.T. Rogers. Start your evening getting the behind-the-scenes scoop at dinner beforehand and celebrate with the cast at the post-show party before saying goodnight to your friends and heading to your overnight stay at The Ritz-Carlton!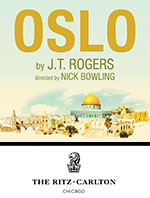 You and a guest will receive the ultimate VIP treatment at the Opening Night performance of the Chicago premiere of Oslo on Wednesday, September 18, 2019 at Broadway In Chicago's Broadway Playhouse. Start your evening in style at an intimate dinner with TimeLine Associate Artistic Director and Oslo director Nick Bowling, another key production artist, and other supporters.
When you arrive at Broadway Playhouse you'll head to the best seats in the house to watch the show. The evening doesn't end there! Celebrate this epic production with the cast and production team at the official Opening Night reception. Then say goodnight to your friends and head across the street to a luxurious night at The Ritz-Carlton.
2017 Tony Award® winner for Best Play, Oslo by J.T. Rogers is a remarkable story about the unlikely friendships, quiet heroics, and sheer determination that pushed two foes to reach something neither thought truly possible—peace.
When the Israeli prime minister and the chairman of the Palestine Liberation Organization shook hands on the White House lawn in 1993, the world had no idea what it took to orchestrate that momentous occasion. Behind the scenes, a Norwegian diplomat and her social scientist husband hatched an intricate, top secret, and sometimes comical scheme to gather an unexpected assortment of players at an idyllic estate just outside Oslo. Far from any international glare, mortal enemies were able to face each other not as adversaries, but as fellow human beings.
---
GOURMET DINNER AND FINE WINES WITH A TIMELINE COMPANY MEMBER OF YOUR CHOICE FOR 8
Spend a sumptuous evening with the TimeLine Company Member of your choice and seven of your closest friends at an exclusive, gourmet dinner party.

Wine and dine at this elegant and exclusive dinner featuring a special guest of your choice from TimeLine's Company and Artistic Director PJ Powers. The heart of TimeLine is a team of 17 Company Members, the core group of decision-makers responsible for selecting the theatre's artistic programming. The Company includes a wide range of talented members with expertise in acting, directing, playwriting, dramaturgy, literary management, arts administration, and more.
You and 7 friends will enjoy a delicious dinner party, prepared by a renowned chef with perfectly matched, fine wine pairings from the cellar of dinner host's, TimeLine Board Alumna Anne Stockton and her husband Richard in their beautiful Roscoe Village home.

---
PREMIUM WHISKEY TASTING FOR 10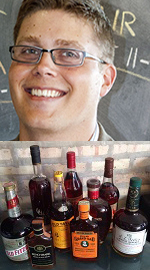 The whiskey tour you've been waiting for— impossible-to-find bottles and a chance to learn all about the spirits' history from our resident expert, Company Member Ben Thiem. The perfect pairing!
You and up to 9 friends could enjoy a private tasting of historic bourbons with TimeLine Company Member Ben Thiem—in your home or at the theatre. Sample rare and delicious drams of our American spirit from as far back as the 1960s to today and learn about the history of each brand and compare how they've changed over the years. Featuring impossible-to-find bottles from several distilleries including Buffalo Trace, Four Roses, Wild Turkey and more!

---
POWERS CAFÉ
The bestseller is back! Artistic Director PJ Powers will personally prepare for you a truly one-of-a-kind dining experience. And at his dining room table, you'll get the ultimate insider scoop on all things TimeLine!

This prize may be TimeLine's most exclusive ticket! Enjoy a seven-course gourmet dinner for 4 at the home of TimeLine Artistic Director PJ Powers, hosted by PJ and his wife Shelley.
PJ (our resident culinary enthusiast) will create and prepare an elaborate menu with wines to match each course, and conversation is sure to include a unique peek behind the scenes of TimeLine. It'll be an evening you and your guests will never forget!

---
FLORIDA FAMILY GETAWAY
Feel your stress melt away during a weeklong stay in a waterfront home in Madeira Beach, Florida. Beaches, restaurants, museums, shopping, or better yet, doing nothing at all —the perfect vacation!

Are you ready for some rest and relaxation? Watch the water from your own private dock during a 6-night, 7-day stay in this 3-bedroom, 2-bath stand-alone waterfront home in Madeira Beach, Florida.
Fit for a family, the master and second bedrooms have queen-size beds and the third bedroom has two twin-size beds. Enjoy easy access to the beach, miniature golf, tennis courts and restaurants, plus complimentary Wi-Fi and more. Nearby are attractions like the world-renowned Salvador Dali museum, theatres, music venues, The Florida Orchestra and historical locations. Shoppers will greatly enjoy the John's Pass Village in Madeira Beach!
The Gulf—a perfect vacation spot!

---
RESERVED SEATS AT TIMELINE
Enjoy the ultimate perk at TimeLine Theatre performances – reserved seats.

Upgrade your TimeLine experience with a perk normally available only to TimeLine Theatre donors of $10,000 and more – reserved seats selected by TimeLine Artistic Director PJ Powers. Attend performances in TimeLine's 2019-20 season with 2 premium subscriptions, offering you ultimate flexibility to book and attend shows, and enjoy a leisurely meal before the shows knowing that your seats are waiting for you when you arrive.

---
THE ULTIMATE "HAMILTON" EXPERIENCE ON THE DATE OF YOUR CHOICE FOR 2
Don't just be in the room where it happens — go onstage, too! You'll have the ultimate experience when you see Hamilton from Prime Orchestra seats at the performance of your choice, followed by an onstage photo op. Don't throw away your shot at this amazing opportunity!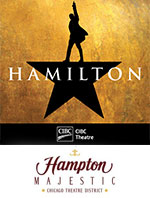 On the date of your choice, you and a guest will attend the hit musical Hamilton, the sold-out Broadway hip-hop musical by Lin-Manuel Miranda that has taken the theatrical world by storm, in Prime Orchestra seats. Following the show, you will be escorted onstage for a photo op.Head next door to complete your evening with an overnight stay at the Hampton Majestic.
"THE MOST EXCITING AND SIGNIFICANT MUSICAL OF THE DECADE. SENSATIONALLY POTENT AND THEATRICALLY VITAL, IT IS PLUGGED STRAIGHT INTO THE WALL SOCKET OF CONTEMPORARY MUSIC." — The Wall Street Journal

---
4 PRIME SEATS BEHIND HOME PLATE + ENTRY TO THE 1914 CLUB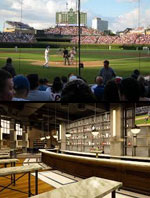 Catch a Cubs home game from 4 prime seats behind the dugout, plus enjoy access including food, drinks and more at the exclusive 1914 Club at Wrigley.
Located behind home plate between the dugouts in Row C Aisle AA19, these seats are so close to the action you can almost step foot onto the field.
Your tickets include access to the American Airlines 1914 Club, with a dedicated, private entrance to the climate-controlled club, multiple bars, comfortable seating, and private restrooms. Opening 2 hours before the game, the American Airlines 1914 Club features multiple bars serving craft and domestic beer, premium spirits and wine. Reserve wines are also available for purchase. Unique food offerings inside this club include chef-attended grill stations, artisan pizzas and flatbreads, ballpark fan favorites and signature house-made desserts, on an all-inclusive basis. Members also will enjoy grab-and-go options and dedicated vendors serving traditional ballpark fare directly to their seats at no additional charge.

---
THE SIMPSONS AUTOGRAPHED PRINT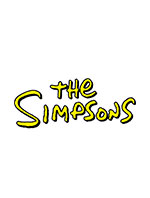 Don't have a cow, man! You can walk away tonight with your own piece of television history – this print of The Simpsons autographed by the show's animation team.
Donated by Pamela Hayden, the actress who voices many characters on the show, most notably Milhouse, this print can proudly hang on your wall showcasing your love of the iconic show. Don't leave tonight saying "D'oh!" by not winning this fabulous piece!

---
PLUS …
OTHER HIGHLIGHTS OF THE SILENT AUCTION
Art & Accessories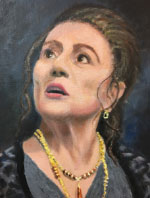 Package Name: "Janet Ulrich Brooks as Maria Callas" by Tobin Marais Richter
An original oil painting by Tobin Marias Richter inspired by Janet Ulrich Brooks' turn as Maria Callas in last fall's Master Class.
From the artist – "At this very moment she is telling her student how to sing about the opportunity presented by the King's planned "sleep over" at MacBeth's castle."

---
Explore, Learn, Play and More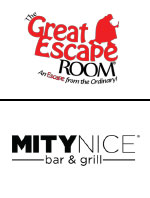 Package Name: Escape Room and Dinner for 4
Try something different for a friends' night out with 4 tickets to the Great Escape Room Chicago, an exciting Sherlock Holmes themed escape room that's sure to be an escape from the ordinary. Part scavenger hunt, part puzzle-solving, 100% fun! Once you've escaped, head on over to MityNice Bar & Grill restaurant located in Water Tower Place, for $100 toward a delicious dinner and drinks!

---
Getaways and Date Nights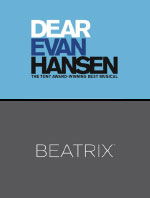 Package Name: Opening of Dear Evan Hansen Date Night for 2
If you missed the new hit Dear Evan Hansen, or are hooked like the rest of us, you'll love this date night featuring 2 tickets to Broadway In Chicago's opening night of Dear Evan Hansen in the summer 2020 plus a $100 gift card to Beatrix in River North for a delicious meal and creative cocktails.Dear Evan Hansen is winner of six 2017 Tony Awards including Best Musical and the 2018 Grammy Award for Best Musical Theater Album. A letter that was never meant to be seen, a lie that was never meant to be told, a life he never dreamed he could have. Evan Hansen is about to get the one thing he's always wanted: a chance to finally fit in.Dear Evan Hansen is the deeply personal and profoundly contemporary musical about life and the way we live it. Dear Evan Hansen has struck a chord with audiences and critics everywhere, including The Washington Post who says Dear Evan Hansen is "one of the most remarkable shows in musical theatre history." The New York Times calls it "a gut-punching, breathtaking knockout of a musical." And NBC Nightly News declares the musical "an anthem resonating on Broadway and beyond."

---
Food, Wine and Wellness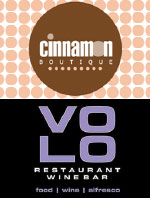 Package Name: Shopping Party and Volo Dinner for 5
Shop 'til you drop, then dine to unwind! Enjoy a private shopping party for 5-25 guests at Cinnamon Boutique in Roscoe Village. All guests will receive 20% off and the hostess will also receive $50 off during the party. Hors d'oeuvres and wine will be served throughout the evening. Cinnamon Boutique carries all your favorite lines, including Rebecca Taylor, Joie, Nicole Miller, Trina Turk, Autumn Cashmere, Mother Denim, Citizens of Humanity, Frame Denim, McGuire, Diane Von Furstenberg, MZ Wallace, Calleen Cordero, and Black Halo, among many others! Afterwards, head over to Roscoe Village's Volo Restaurant and Wine Bar to enjoy $200 toward dinner. Featuring an award-winning alfresco cabana patio, Volo combines cozy/chic design elements with urban vintage charm. Volo makes enjoying food and wine easy, accessible, and un-intimidating … all in a relaxed neighborhood atmosphere.

---
Sports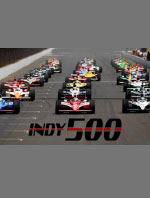 Package Name: Indy 500 5/26 for 2
You and a friend will see the final race of the 103rd running of the Indianapolis 500 at the Indianapolis Motor Speedway in Speedway, Indiana, on Sunday, May 26 from amazing seats located in the front row of the Paddock Press Penthouse: Box 30, Row A, Seats 10, 11. The Paddock Press Penthouse is two rows of seats that hang below the Front Straight Paddock Penthouse. It was the original Press Box, before they built the new, modern Press Box. The Indianapolis 500, billed as The Greatest Spectacle in Racing, is considered part of the Triple Crown of Motorsport, the most prestigious event on the IndyCar calendar, and one of the oldest and most important automobile races in the entire world.

Details as of 3/13/19. Prizes are subject to change.
Save