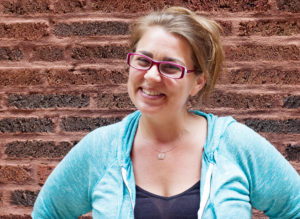 TimeLine is pleased to announce that Maggie Fullilove-Nugent is the company's new Production Manager, effective today!
Maggie replaces Josephine Kearns, who is stepping aside to focus on other projects after serving as a Stage Manager at TimeLine beginning in 2007, then as Production Manager since 2010 and in a full-time capacity since 2013.
Maggie is a native Chicagoan and has acted as the production manager and a designer with many Chicago theatre companies including The Goodman, The Neo-Futurists, Akvavit and The Hypocrites, where she was recently Jeff nominated for her lighting of ENDGAME. She is also a founding member and resident designer of The Ruffians, recently known for their holiday hit BURNING BLUEBEARD. Before taking on her new role at TimeLine Theatre, Maggie taught technical theatre at North Park University, where she was also a resident designer and the production manager, and held the role of Company Manager for Barrel of Monkeys since 2008.
"While it's bittersweet to lose Josie, who has been a part of the TimeLine family for many years, we are very pleased to welcome this wonderfully accomplished and passionate new member to our team," said Artistic Director PJ Powers. "Maggie's years of experience as a production manager, master electrician, lighting designer and stage manager have positioned her to excel at TimeLine. And her infectious warmth and enthusiasm is a great addition to our workplace."
Please join us in welcoming Maggie to the TimeLine family via the comments below!