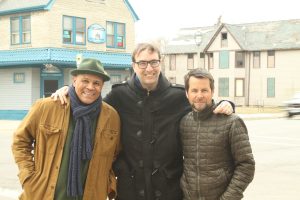 In a recent conversation with co-dramaturg Tanya Palmer (TP), playwright Brett Neveu (BN) describes the writing and research process for To Catch a Fish, developed through TimeLine's Playwrights Collective.
TP: When you joined the Playwrights Collective, did you come to the group with a specific project in mind?
BN: Ben Thiem (TimeLine's Literary Manager) asked us to give him three things that we were interested in writing about that would match TimeLine's mission statement. When I talked about the article in the Milwaukee Journal Sentinel about the ATF operation and Chauncey Wright's arrest, Ben said, I think this is the one you should pursue.
I began reading about it more, and it seemed like such an injustice. The kind of people I like to write about are a part of this story, people who are affected by big decisions, made by people far away in the halls of power who are affecting people's daily lives. Disrupting them entirely and taking them off course and maybe ruining people's lives, in some cases. This was one of those stories.
TP: Once Ben and TimeLine said yes to the idea, what did you do from there?
BN: Ben asked us if there was anything TimeLine could do to help with the research process. I immediately thought of the authors of the article. So he contacted John [Diedrich] and Raquel [Rutledge] and they came into one of our Collective meetings and we interviewed them about the story. Later, I drove up to Milwaukee and they drove me around to the locations in the article. I met Chauncey, his lawyer, and some of his family members. That helped immensely and I think it shows in the script. The cadences of speech, the world that these people embody, are living more clearly because I saw it.
TP: After you'd finished a draft, TimeLine supported a couple of workshops as well. How did the play evolve during that process?
BN: I didn't want the play to be about the ATF—I wanted it to be about Chauncey and his family. It has to be about the effect of the con, not the con itself. So I needed to move the ATF into the background. That happens a lot when you are working from true events—the thing that draws you in first is the story, and the characters are just the people in the story. We had to push [the ATF] plot to the back and let our characters shine through. I'm most interested in Terry, the character based on Chauncey Wright. He's at the center of this wheel, that's turning and turning and turning.
TP: What do you hope the audience walks away with after experiencing this story?
BN: I want them to walk away with the belief after all of this that love may triumph. That maybe there's a light there for everyone, that with all of the bad that gets piled on us, all of the things that feel out of our control, we can make the choice to love.
A lot of my plays are a little cynical, but I feel like I'm turning a bit of a corner with this one. There's some sort of release that gets them to maybe find a way to triumph.
---
An edited version of this interview was published in the "To Catch a Fish" Backstory.