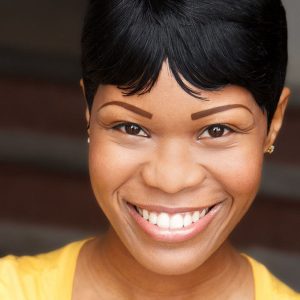 With performances of To Catch A Fish heading in to their final weeks, we wanted to take some time to talk to the actors and give them a chance to share about their experience with the show. So we'll be releasing features on some of the cast members as they share about themselves and what makes this play an important part of Chicago's summer theatre scene.
To Catch A Fish is inspired by the story of Chauncey Wright, a man suffering from brain damage who was tricked into illegal activity by federal agents. In 2012, agents of the U.S. Bureau of Alcohol, Tobacco, Firearms, and Explosives (ATF)—the agency responsible for enforcing gun laws—began "Operation Fearless." At its face, the operation was a general wares store in a low-income area of Milwaukee, Wisconsin. Under the surface, however, it was a front to coerce people into illegally selling guns to federal agents, who would in turn arrest and prosecute them on federal grounds. Wright handed out fliers for the store and was eventually manipulated into selling guns to the agents. He was then arrested for doing just that.
AnJi White, who plays undercover ATF agent "Regina 'G' Witnall," was deeply inspired by this real-life event. "Stories like this are invaluable as an artist," she said, "You have someone concrete to go back and research, learn, study, and eventually develop a bond." As part of the research process, the cast and creative team took a trip to Milwaukee to walk the path of the real-life versions of their characters. "That trip motivated me that much more to honor and speak truth to Chauncey's experience," AnJi said. Part of her takeaway was the importance of time to the play, as the close proximity of the play's locations adds a deeper sense of tension and urgency. She added, "It was so important to remember; to freeze it in time and bring it to our production."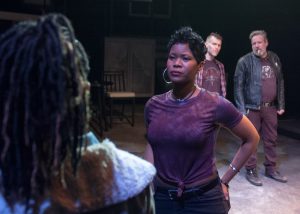 This isn't AnJi's first time working on dramatic works based on real people and events. As part of her research for American Theater Company's The Project(s), she visited with current and former residents of Chicago's projects, two of whom she portrayed in the work. "It was a bit intimidating because I wanted to do my best in telling their truth," she said, "[I realized] it wasn't about imitating these people but it was important to capture their spirit. Opening night was crazy because I knew they were watching me—everything I said; everything I did. Turned out they loved the production and what I brought to their story. I was so grateful because you want to get it right. You know?"
This experience has helped AnJi explore the double-agent nature of her reality-based character. "I have to mask a lot of what G is feeling internally in order to get 'the job' done. This is G's first time going undercover and, in some cases, undercover agents can get caught up in the world they infiltrate," she said, "G [develops] a genuine friendship with Terry [the character based on Chauncey White] and starts to really care about him. Because of that bond, it becomes difficult to keep her poker face because she realizes she could be setting up an innocent man. She is conflicted as to whether this assignment is the right thing she's doing."
Stories like this are invaluable as an artist. – AnJi White

In performing To Catch A Fish, AnJi loves the intimacy that TimeLine's theatre space provides: "[it] allows [the actor] to have more subtlety in emotions and actions humanizing the characters, making the experience for the audience real." During the tech process, she experienced some scenes as an audience member and was amazed at the show's climax. "I cringed in my seat, found myself turning away, or wanting to get up and leave and even had the impulse of yelling STOP!" she shared.
AnJi captures her takeaway from the show in what she would advise Terry: "Question not so much the what but the WHY. You see shows or commercials with little kids asking their parents a series of 'BUT WHY?' questions. 'Why this? Why that?' When we ask questions, we become better informed, and when we have that understanding and awareness we can make better choices and contest those things/people that are not in alignment with us … our morals."
To Catch A Fish is now playing at TimeLine Theatre through July 1, 2018. For tickets, call (773) 281.8463 or click here today!