What a momentous moment!
This week, TimeLine completed the purchase of property located at 5033–5035 North Broadway Avenue in Chicago's Uptown neighborhood. The property, which encompasses a five-story, 45,120-square-foot warehouse building plus a vacant lot near the corner of Broadway and Argyle, is planned as the site of a renovated facility to house our future operations and to support and expand TimeLine's mission of presenting plays inspired by history that connect to today's social and political issues.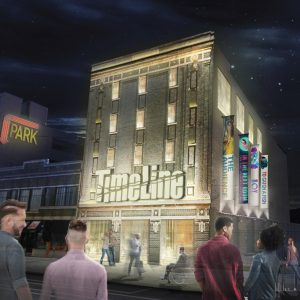 That mission is about making connections—between past and present, between art and audience, and between the issues that define our time and the future we will build together. It is a mission unique in Chicago, and beyond.
From the moment in 1997 that six founders each pitched in $50 to launch the company, TimeLine has worked to become one of Chicago's leading cultural institutions by creating theatre that fosters meaningful experiences for a community of curious learners, explorers and creators.
But after 22 seasons and 77 productions, TimeLine is now at a critical juncture. We are bursting at the seams of our home at 615 W. Wellington Avenue in Chicago's Lakeview East neighborhood:
The availability of just 99 seats in our home theatre challenges the financial sustainability that is critical for success
To accommodate an audience of nearly 2,500 subscribers and an expanding single-ticket audience, we currently present one production per year at an alternate venue
The facility TimeLine currently leases has limited space, which constrains artistry, hampers audience accessibility and comfort, and restricts our ability to expand key programs like the Living History Education Program
Our new home at 5033-5035 N. Broadway in Chicago's Uptown neighborhood will be a place for TimeLine to grow and innovate—a home of our own that will elevate everything audience's love about TimeLine and support new artistic possibilities.
It is a proud moment for TimeLine purchasing this building, a long overdue step for one of Chicago's leading theatre companies. While the company has reached great recognition in its current location, by stepping into the Uptown neighborhood, TimeLine will have the opportunity to become a leader and partner in the community and share its mission of exploring our world through the lens of the past on a much broader scale. — TimeLine Board President Eileen LaCario
The new facility will fully support our mission with:
Two intimate and flexible black box theatres (250 and 150 seats, respectively) that can be reimagined for every show. Everything about the new theater designs will aim to maintain the intimacy between art and audience that is an essential part of the TimeLine experience.
Space to support an expanded array of diverse programming and initiatives that support the company's commitment to advancing equity and inclusion
Public areas to create more immersive and interactive lobby experiences to explore the moment you enter the building
Room to expand our Living History Education Program with additional student matinees, classroom experiences on site, summer theatre programs, adult education offerings, and much more
The ability to build upon the company's commitment to new play development, including through TimeLine's Playwrights Collective
We are excited to take a more than 100-year-old building and create within it a modern facility—a project that truly embodies our mission of bringing history to life and connecting the past with the present, and a place that will draw audiences from around Chicago and beyond, into the future. Learn more about the early history of the building, which was built in the 1910s by W.C. Reebie & Brother, a moving and storage company …
TimeLine patrons and artists will enjoy improved convenience and amenities:
Easy access from major thoroughfares and enhanced parking options
Exceptional access to public transportation, including being just steps from the soon-to-be-renovated Argyle stop on the Red Line
Lobby bar for socializing before and after a performance
Access to everything the Uptown neighborhood has to offer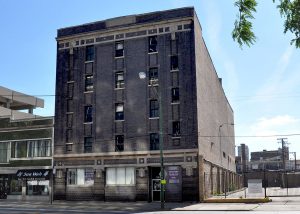 Relocating to Chicago's Uptown neighborhood gives TimeLine a unique opportunity to contribute to an area renowned since the early 1900s as a live entertainment destination. The theater will be just blocks from historic venues like the Green Mill, Aragon Ballroom, Riviera Theatre and soon-to-be-renovated Uptown Theatre, as well as Black Ensemble Theatre and upcoming arrivals like Baton Show Lounge and Double Door at the Wilson Avenue Theater. TimeLine is committed to being a resource and partner with the Uptown community, offering our facility as a gathering place and fostering ongoing relationships with local organizations and businesses.
TimeLine Theatre is a renowned company in Chicago, and we're excited to welcome them to the 48th Ward, joining a host of acclaimed theatre companies in our community. This announcement comes after nearly two years of my office working closely with TimeLine to find the right location in our community, and it is great to see it come to fruition. They will serve as a strong anchor on the northern end of the Uptown Entertainment District, and add to the success of the Edgewater Theatre District. TimeLine's patrons will complement the vibrancy around the Argyle business district, and the restaurants and shops in the area will add to an exciting experience for their audiences. We look forward to having TimeLine as a neighbor and partner for many decades to come. — 48th Ward Alderman Harry Osterman
"Uptown United could not be more excited to welcome the acclaimed TimeLine Theatre Company to our neighborhood," said Martin Sorge, Executive Director of Uptown United, a nonprofit community and economic development organization that serves Chicago's Uptown neighborhood. "Entertainment and history are two pillars of our community, which makes Uptown the perfect home for a theater company with a mission 'to present stories inspired by history that connect with today's social and political issues.' We're thrilled to see how TimeLine's innovative productions and educational programming will honor our community's history and diversity, and we are excited that they chose Uptown for their future home."
TimeLine purchased the Uptown property from CEDARst Companies for a price of $2.699 million, closing on Wednesday, December 19, 2018. Financing has been provided by the Chicago Community Loan Fund (CCLF). Founded in 1991, CCLF provides flexible, affordable and responsible financing and technical assistance for community stabilization and development efforts and initiatives that benefit low- to moderate-income neighborhoods, families and individuals throughout metropolitan Chicago. The total project budget is still in development but is estimated to be approximately $20 million, to be paid through a combination of private philanthropy and other sources.
TimeLine's search for a new home has been overseen by its Facilities Committee, chaired by Board Member Alvin Katz (Partner, Katten Muchin Rosenman LLP) and including TimeLine Board President Eileen LaCario (Vice President, Broadway In Chicago); Board Members J. Robert Barr (Retired Partner, Sidley Austin LLP), Karen B. Case (Executive Managing Director and President of U.S. Commercial Real Estate for CIBC U.S.), Philip E. Cable (President, John A. Cable Foundation), Thaddeus J. Malik (Partner, Paul Hastings), Anne Voshel (Founder and Principal, AVA Consultants), and Nick Yassan (Principal, Rany Management, LLC); and TimeLine staff members PJ Powers (Artistic Director), Elizabeth K. Auman (Managing Director), Nick Bowling (Associate Artistic Director), and Dan McArdle (General Manager). Assistance has been provided by theatre planners Todd Hensley and Christopher Sprague of Schuler Shook, and project manager David Rotholz of Rotholz LLC, among others.
It's important to note that the purchase of this property is just a huge initial step on our path to creating TimeLine's new home. There is much to do as we undertake overlapping design, fundraising, and construction phases. A completion date for the project is still to be determined, but we hope to be welcoming audiences to our new home as early as Fall 2021!
In the meantime, TimeLine will continue to maintain our operations and present the majority of our productions at our current home on Wellington.
It's time to lay the foundation for our next era. A home where TimeLine's mission can thrive for decades to come. And we look forward to working with the entire TimeLine family to bring this project to fruition.
Stay tuned for future updates as the project develops, and THANK YOU for being by our side for the adventure ahead!