Currently wrapping up its 12th season, TimeLine's Living History Education Program has quickly grown from a handful of classroom residencies in a select few schools to having a presence in numerous schools throughout Chicago; several student matinees at our Wellington space per season; and last year's inaugural summer program, TimeLine South. This year alone, Living History has hosted 12 student matinees, worked with 1,030 students, and had 42 in-classroom residencies, the most the program has EVER done in a season. As we look forward to the launch of the second summer of TimeLine South and another exciting year of Living History, we asked Education Director Juliet Hart to reflect on what she loves most about this incredible program and share highlights from the past year.
---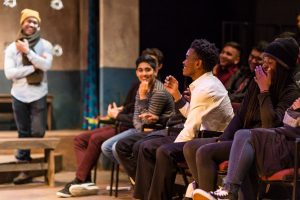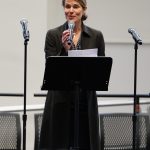 Love and discovery are at the heart of the Living History Education Program. Speaking for myself, I am driven by my love for the art of theatre and its transforming quality, and my love for working with young adults on the brink of making big decisions about their own identities. Living History intentionally partners with schools that offer little or no theatre arts programming, and we advocate for active learning in classrooms of diverse learners. I believe that through a residency, the students and teachers begin to discover that acting and directing require a deep level of critical thinking, vulnerability, and team building.
We help students forge personal connections to a dramatic text and encourage self-expression as part of that journey. A student is required to examine where they personally stand on the issues and themes of a play and where their character stands. Whether the character is radically different from them, or quite similar, stepping into those shoes and walking around in them requires taking a risk and exposing a side of themselves that they may not yet have discovered—and then sharing that with others. In order for that to happen in a classroom, we have to establish a space where making strong choices is embraced, and where there might be as many acting choices as there are students. Each and every interpretation of a character reflects the unique experience of a student.
Here is the great joy—watching students in moments of active discovery, exposing a new side of themselves to the world as they know it.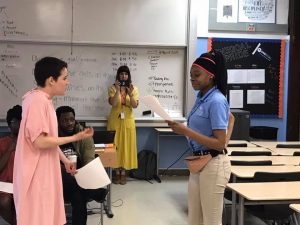 This year, we had student residencies in conjunction with A Shayna Maidel, Cardboard Piano, and Too Heavy for Your Pocket. Each play offered a unique conversation, and through all of them, we found ways to explore love, redemption, family, and taking a stand for what means the most to you.
"Actor Day" in a TimeLine residency happens the day after every student matinee, and it's pretty unforgettable every time. Actors from the show join TimeLine's teaching team in the classroom to answer questions, connect with students, and best of all, perform alongside the students in the scenes that they have prepared in the residency. This day makes me so proud of our TimeLine family—the generosity and open heartedness of the actors (it's not always easy going back to high school), and the bravery and AWESOMENESS OF OUR STUDENTS.
I can't speak for the students, but in their own words about the residency: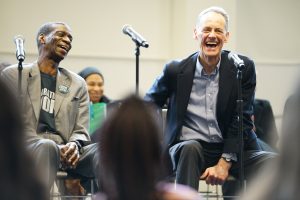 "It is eye opening"
"I was able to get in character and learn my lines. I was excited and I was ready to learn."
"This made me feel welcomed to be myself."
We also partnered with CTU and CTU Foundation to create an opportunity for students and teachers working on the Reparations Won curriculum to attend a staged reading of John Conroy's play My Kind of Town, a work inspired by Conroy's years of investigative reporting on the police torture scandal. Darrell Cannon, a torture survivor and activist, joined in a pre- and post-show conversation with students along with Conroy. It was a day I don't think any of us will soon forget.
---
Learn more about Living History through our website and stay tuned for more stories, experiences, and performances from this truly inspiring program. You can even support programs like Living History by donating to TimeLine's Annual Fund today.