During our interview with To Master the Art playwright Doug Frew and playwright and director William Brown, Bill mentioned Doug had been embracing an old tradition to pass quarantine: the classic dinner and a movie. With a group of friends, each week someone picked a movie, and everyone made a meal inspired by the themes. Then, after showing off their culinary creations and screening the film, they convened virtually to discuss their thoughts on what they'd just watched together.
We were struck by how deeply this spoke to TimeLine's mission of using stories inspired by history to provoke dialogue around today's social and political issues, and Bill suggested a twist on this idea, a sort of "dinner and a play" supper club, that you, our audience, might enjoy. To pair with To Master the Art (now playing online through June 7), we've put together some points of inspiration for those of our patrons who might want to hold dinner parties of their own.
Below are a handful of dishes specifically mentioned in the script of To Master the Art; inspired by Doug and Bill, we encourage you to virtually gather together with your own friends and loved ones, watch To Master the Art, and try your hand at cooking these (or other!) recipes that bring you joy. As Julia Child struggles and strives toward perfecting these dishes through the course of the play, we hope you find moments for conversation, for togetherness, and for simply enjoying the pleasures of good food.
Bon Appétit!
---
"Come, come. No one knows how to make scrambled eggs?" — Chef Bugnard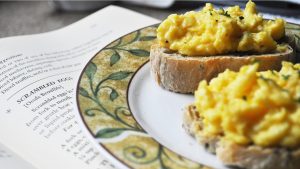 Ingredients
8 eggs
4 teaspoons of water or milk
4 tablespoons of butter
salt and pepper to taste
Preparation and Cooking
Crack the eggs into a mixing bowl.
Add salt and pepper to taste.
Beat the eggs and seasonings with a fork or a whisk.
Add the milk or water, and beat until thoroughly mixed.
Add two tablespoons of butter to your frying pan.
Turn the range on no more than a medium temperature and allow the butter to melt. Swirl the pan around so the butter coats the bottom of the pan.
Add the egg mixture and start stirring slowly and continually with a rubber spatula or a wooden spoon.
The egg mixture should start to solidify. Continue stirring until you like the consistency. When you're happy with you're eggs, take the pan off the heat and add the other 2 tablespoons of butter. This stops the cooking process.
Eat immediately and enjoy!
---
"However marvelous its flavor, it is a butter sauce." — Julia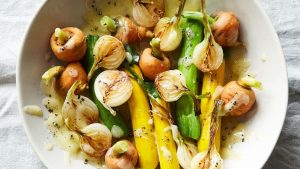 Ingredients
3 sticks cold unsalted butter (24 tablespoons), cut into tablespoon-sized chunks
1/4 cup dry white wine
1/4 cup white wine vinegar
1 tablespoon minced shallots
1/4 teaspoon kosher salt
1 pinch white pepper
1/2 teaspoon fresh lemon juice
Preparation and Cooking
In a medium saucepan, bring wine and vinegar to a boil. Add shallots, salt, and pepper. Lower heat to a simmer and cook until most of the liquid has evaporated. (There should be about 1 1/2 tablespoons of liquid left. If you reduced it too far, add 1 tablespoon of water to remoisten.)
Remove pan from heat. Whisk 2 pieces of butter into the reduction.
Set pan over low heat and continue whisking butter into sauce a chunk at a time, allowing each piece to melt before adding more. Remember to maintain low heat and never let the sauce come to a boil once the butter is added, or the sauce will separate.
Remove sauce from heat and whisk in the lemon juice. Taste and adjust seasoning, then strain through a fine sieve into a bowl.
Serve with fish, poultry, or vegetables.
---
"Mm, that smells perfectly delicious." – Julia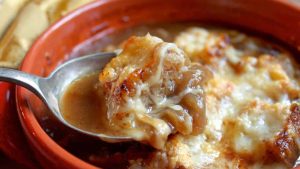 Ingredients
5-6 cups yellow onions, thinly sliced (about 1 1/2 to 2 lbs)
1 tablespoon cooking oil
2 tablespoons butter
1⁄2 teaspoon sugar
1 teaspoon salt
3 tablespoons flour
6 cups beef stock (preferably homemade)
1⁄2 cup wine (dry white wine or dry white vermouth)
salt and pepper
12 ounces swiss cheese, grated
4 ounces parmesan cheese, grated
one half raw yellow onion
2 -3 tablespoons cognac
8 slices French bread (about 1 inch thick)
4 tablespoons olive oil, for drizzling
Instructions
Place heavy bottom stock pot or dutch over over medium-low heat. Add 1 Tbs cooking oil, 2Tbs butter to pot.
Add sliced onions and stir until they are evenly coated with the oil. Cover and cook for about 20 minutes until they are very tender and translucent.
To brown or caramelize the onions turn heat under pot to medium or medium high heat. Add 1/2 tsp sugar and 1 tsp salt and continue to cook uncovered, stirring frequently until the onions have browned and reduced significantly.
Once caramelized, reduce heat to medium-low and add 3 Tbs flour to the onions. Brown the flour for about 2-3 minutes trying not to scorch it. (If the flour does not form a thick paste, you can add a bit more butter here).
Stir in about 1 cup of warm stock, scraping the bottom of the pan to get up all of the cooked-on bits.
Add the rest of the stock, wine to the soup. Simmer for 30 minutes.
To make the "croutes" (toasted bread), heat oven to 325 degrees F. Drizzle each side of the bread slices with a bit of olive oil and place on baking sheet. Cook the croutes for 15 minutes in oven on each side (30 minutes total).
Check the soup for seasoning and add salt and pepper if needed.
Transfer to a casserole dish. At this point you can add the 2-3 Tbs cognac and grate the 1/2 raw onion into the soup.
Add a few ounces of the swiss cheese directly into the soup and stir.
Place the toasted bread in a single layer on top of the soup.
Sprinkle the rest of the cheese in a thick layer on top of the bread making sure to cover the edges of the toast to prevent burning.
Drizzle with a little oil or melted butter. Place in a 350 degree oven for about 30 minutes. Turn on broiler and brown cheese well.
Let cool for a few minutes. Bon Apetit!
---
"I've found at least two dozen recipes for cassoulet, and they don't all have preserved goose. … Preserved goose is not something Americans can just go pick up at the Piggly Wiggly." – Julia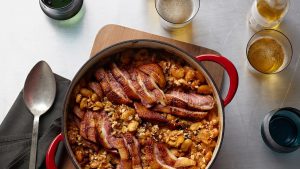 Ingredients
1/3 cup Great Northern beans
2 teaspoons duck fat, if you have it, or vegetable oil
1 small onion, chopped
1/2 carrot, chopped
1/2 rib celery, chopped
1 garlic clove, peeled and slivered
A splash of red wine
Several sprigs parsley with stems
Pinch of dried thyme
1/3 bay leaf
3/4 cup duck, goose, or chicken stock, or more if needed
Salt and freshly ground pepper
3 or 4 chunks pork left over from A Small Roast Pork Tenderloin
3 or 4 pieces Braised Shoulder Lamb Chops with aromatic vegetables
1/4 pound garlic sausage, sliced fairly thick and lightly browned
1/4 cup breadcrumbs mixed with a little chopped fresh parsley
Duck or goose fat or butter for dotting the top
Preparation
"Quick soak" the beans: Put them in a small cooking pot and cover with 2 cups water. Bring to a boil, let boil heartily for 2 minutes, then turn off the heat, cover, and let sit for 1 hour.
Close to the end of the hour during which your beans have been soaking, heat the fat in another fairly small, heavy cooking pot, and sauté the onion, carrot, celery,and garlic until the vegetables are limp—about 3 minutes.
Splash in the wine, and let it cook down briefly.
Now transfer the beans and their cooking water to this pot, and add the parsley, thyme, and bay leaf.
Add enough stock to bring the liquid level up to about 1 inch above the beans, bring to a boil, then simmer for about 1 hour or more, with cover askew, until the beans are just tender. Salt them now, and add several grindings of pepper.
Fish out the parsley and bay leaf, and spoon a layer of beans into a small casserole, cover with the pork and lamb, another layer of beans, a layer of sausage slices, and a final layer of beans.
Pour the bean cooking liquid into the casserole, and add enough stock to come halfway up.
Sprinkle the parsleyed breadcrumbs on top, and dot the surface with small amounts of fat.
Bake in a preheated 350° oven for 1 hour.
---
"What shall we have for dinner? How about a nice roast chicken?" – Julia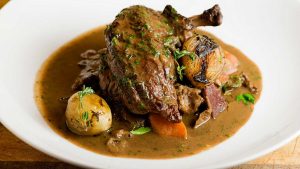 Ingredients
4 chicken thighs
4 chicken drumsticks
1 1/2 cups red wine
1 cup chicken stock
Optional: 1/4 cup brandy
3 strips of bacon, cut into 1/2 inch pieces
1 medium onion, quartered then thinly sliced
4 medium carrots, cut into 1 inch pieces
4 garlic cloves, minced
2 tablespoons tomato paste
2 teaspoons fresh thyme leaves
8 ounces mushrooms, thickly sliced
8 ounces pearl onions, peeled
Instructions
Place the chicken thighs and drumsticks in a medium-sized bowl and pour the wine, chicken stock, and (if using) the brandy over the top. Prep the vegetables.
Add the bacon to a large skillet or braiser over medium-high heat. Cook until the bacon is crispy, about 8 minutes, then remove it from the pan with a slotted spoon.
Remove the chicken from the wine marinade (save the wine) and dry the chicken with paper towels. Working in 2 batches if needed, place the chicken in the pan, skin side down. Sear until it is golden on both sides (about 5 minutes each side) then remove the chicken from the pan. Pour all but 2 tablespoons of the bacon/chicken oil into a heatproof dish and set it aside.
Add the sliced onion and carrots to the pan and let them cook until the onion is golden brown, about 7-8 minutes. Add the garlic to the pan and let it cook for 1 minute.
Push the vegetables to the side of the pan and add the tomato paste. Cook the tomato paste until it is fragrant and begins to darken. Pour the reserved wine marinade into the pan, scraping the bottom to remove any stuck on bits.
Nestle the chicken into the pan and sprinkle the thyme over top. Cover the pot, turn the heat to low, and simmer for 20 minutes.
Pour 1 tablespoon of the reserved oil (or use olive oil) into a large skillet. Add the mushrooms and saute over medium-high heat until brown, about 10 minutes.
Add the pearl onions to the pot with the chicken and cook for 10 minutes more.
In a small bowl mix together your choice of beurre manie. Remove the chicken from the pan then add the beurre manie. Stir it into the sauce and let it thicken. Season to taste with salt and pepper.
Add the chicken back into the pan and top with the cooked bacon and mushrooms. Sprinkle with a little fresh thyme.
---
"I made twenty-five different boeuf bourguignons before deciding on that one."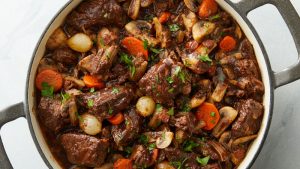 Ingredients
1 tablespoons extra-virgin olive oil
6 ounces (170g) bacon, roughly chopped
3 pounds (1 1/2 kg) beef brisket, trimmed of fat (chuck steak or stewing beef) cut into 2-inch chunks
1 large carrot sliced 1/2-inch thick
1 large white onion, diced
6 cloves garlic, minced (divided)
1 pinch coarse salt and freshly ground pepper
2 tablespoons flour
12 small pearl onions (optional)
3 cups red wine like Merlot, Pinot Noir, or a Chianti — for a milder sauce, use only 2 cups of wine
2-3 cups beef stock (if using 2 cups of wine, use 3 cups beef stock)
2 tablespoons tomato paste
1 beef bullion cube, crushed
1 teaspoon fresh thyme, finely chopped
2 tablespoons fresh parsley, finely chopped (divided)
2 bay leaves
1 pound fresh small white or brown mushrooms, quartered
2 tablespoons butter
Instructions
Preheat oven to 350°F (175°C). Heat the oil in a large dutch oven or heavy based pot. Sauté the bacon over medium heat for about 3 minutes, until crisp and browned. Transfer with a slotted spoon to a large dish and set aside.
Pat dry beef with paper towel; sear in batches in the hot oil/bacon fat until browned on all sides. Remove to the dish with the bacon.
In the remaining oil/bacon fat, sauté the carrots and diced onions until softened, (about 3 minutes), then add 4 cloves minced garlic and cook for 1 minute. Drain excess fat (leave about 1 tablespoon in the pan) and return the bacon and beef back into the pot; season with 1/2 teaspoon coarse salt and 1/4 teaspoon ground pepper. Sprinkle with flour, toss well and cook for 4-5 minutes to brown.
Add the pearl onions, wine and enough stock so that the meat is barely covered. Then add the tomato paste, bullion and herbs. Bring to a simmer on the stove.
Cover, transfer to lower part of the oven and simmer for 3 to 4 hours, or until the meat is fall apart tender (adjust the heat so that the liquid simmers very slowly).
In the last 5 minutes of cooking time, prepare your mushrooms: Heat the butter in a medium-sized skillet/pan over heat. When the foam subsides, add the remaining 2 cloves garlic and cook until fragrant (about 30 seconds), then add in the mushrooms. Cook for about 5 minutes, while shaking the pan occasionally to coat with the butter. Season with salt and pepper, if desired. Once they are browned, set aside.
Place a colander over a large pot (I do this in my clean kitchen sink). Remove the casserole from the oven and carefully empty its contents into the colander (you want to collect the sauce only). Discard the herbs
Return the beef mixture back into the dutch oven or pot. Add the mushrooms over the meat.
Remove any fat off the sauce( if any) and simmer for a minute or two, skimming off any additional fat which rises to the surface. You should be left with about 2 1/2 cups of sauce thick enough to coat the back of a spoon lightly. If the sauce is too thick, add a few tablespoons of stock. If the sauce is too thin, boil it over medium heat for about 10 minutes, or until reduced to the right consistency.
Taste for seasoning and adjust salt and pepper, if desired. Pour the sauce over the meat and vegetables.
Simmer the beef bourguignon for 2 to 3 minutes to heat through. Garnish with parsley and serve with mashed potatoes, rice or noodles.
---
"This is my invariable advice to people: Learn how to cook- try new recipes, learn from your mistakes, be fearless, and above all have fun!" ―