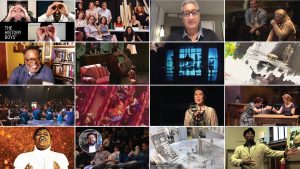 If our recent virtual gala Step Into TimeLine: Back to Our Future made one thing certain, it's that we all—TimeLine artists, staff, and audience—can't wait to share the experience of live theatre again as soon as we can. We can't wait to laugh with you, cry with you, discuss with you, and feel that intense half-beat of silence and darkness before applause washes over everything.
It isn't just the plays we've been missing, it's the whole experiences—lives lived— that we've missed together.
We're spending our pandemic time as wisely as we can. We've done a lot of planning and learning, and reported on it all via this Behind the 'Line blog. And we've created online programs that set the stage for future productions like Relentless and Campaigns, Inc. (and soon, The Chinese Lady) and celebrating our past with Fiorello! and Back to Our Future. All of these experiences are incredible, yet make us hunger even more for the day we can make theatre tangible again.
Watching parts of the world "re-open" as we reminisce about past shows and look ahead to new experiences makes our hearts ache, especially since we know that TimeLine won't return to producing live theatre within the next few months. And it's still not clear when we will reopen. We're hopeful as vaccines roll out and restrictions begin to ease, but there's much work to do before we welcome you in person again. And after a year of the pandemic, we don't need to tell you that there are still many, many unknowns.
What is known, what we're glad to share, and what we recently talked with our Production Manager Maggie Fullilove-Nugent about, is that our commitment to you remains unchanged. No matter the curveballs, we will stay connected, research health and safety protocols rigorously, and continue to move with and respond to the times.
Meaningful connection
Regardless of the exact date when TimeLine is able to produce live theatre again, we'll continue to reach out to engage with you—be it with new digital programs, these blog posts and our eNewsletters, or supporting our wider community. However we can, we'll continue sharing work that connects with what's happening now. And we'll do what it takes to deliver something truly magical and meaningful, even at a distance.
For example, Maggie was one of many champions of COVID safety during filming of the live portions of our virtual gala. As the event's COVID Compliance Officer, she spent hours making sure that our space was safe for the pared-back crew, and for the host, Wardell Julius Clark, to deliver his remarks. This preparation meant that Wardell could be on the set of the show he directed (Kill Move Paradise) one year to the day after its premature closing, and Artistic Director PJ Powers could speak from our rehearsal room above the theatre. It was a magical event that hopefully brought us all closer together.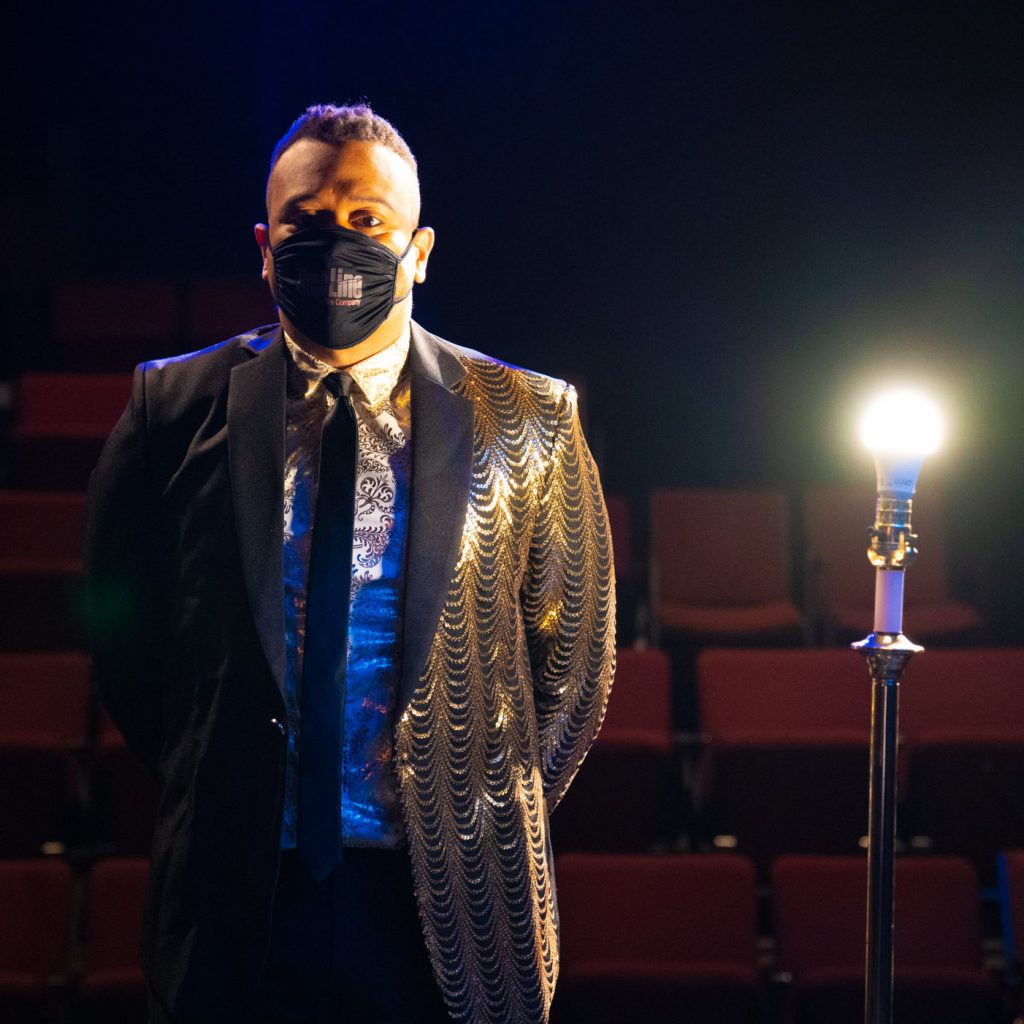 Tireless research
Maggie also leads many of our efforts to answer the question of "how do we keep everyone safe and healthy" when we return to producing live theatre. According to Maggie, there are about half a dozen forums and groups that she's now a part of—all of which comprise arts professionals sharing information and resources about COVID safety and compliance. Many of the policies and best practices written by the government have to be sifted through, then compared with the policies and best practices of the artist unions we work with. This act of translation is better done collaboratively.
Part of transferring to a remote workspace during the past year meant that Maggie (like many of us at TimeLine) had more time to connect with national peers. So she's able to spend time learning from people all over the nation, in states that have tighter restrictions and in those that are loosening up. And while a theatre opening on Broadway or elsewhere doesn't necessarily signal that TimeLine will open up soon after, we can still learn from the earlier experiences of others in our industry.
What we're discovering: There are myriad ways of re-opening theatres across the globe—and nothing will be perfect—but we feel that if we work with our peers and take the time to make a good plan and research, we will be able to cultivate a safe, healthy environment for our audience, artists, and community, when the time comes.
Continued flexibility
One of the biggest lessons we've learned during the pandemic is flexibility. Maggie made the point that taking intimate, in-your-face, feel-the-sweat art on stage and transferring that to a digital platform is the ultimate evidence of flexibility. Most of us are not filmmakers, but we have tried our hardest to create immediate, timely, and well-executed art. And whether or not we have made Oscar-worthy productions in the past year, we've stretched a new muscle and pushed ourselves to overcome enormous challenges. That is muscle memory that we won't soon forget.
We'll continue to be flexible not just in our medium, but also in the way we do business. We've already promised our subscribers that their current 2020-2021 season subscriptions will be applicable for our next four live plays—and to our subscribers' credit, they have been flexible along with us. We're beyond thankful for that support.
Most importantly, as always, we're committed to providing you with the quality customer service you've come to expect and are here to answer your questions and provide assistance as needed. Our inbox is open for your responses, your concerns, and your thoughts!
Even if you don't have a question, we'd be glad to hear from you and know how you're doing! We're extraordinarily grateful for your patience and your compassionate curiosity about TimeLine's well-being.
Until we can be together again, please stay healthy, stay safe, and stay connected.