Remote Viewing of THE CHINESE LADY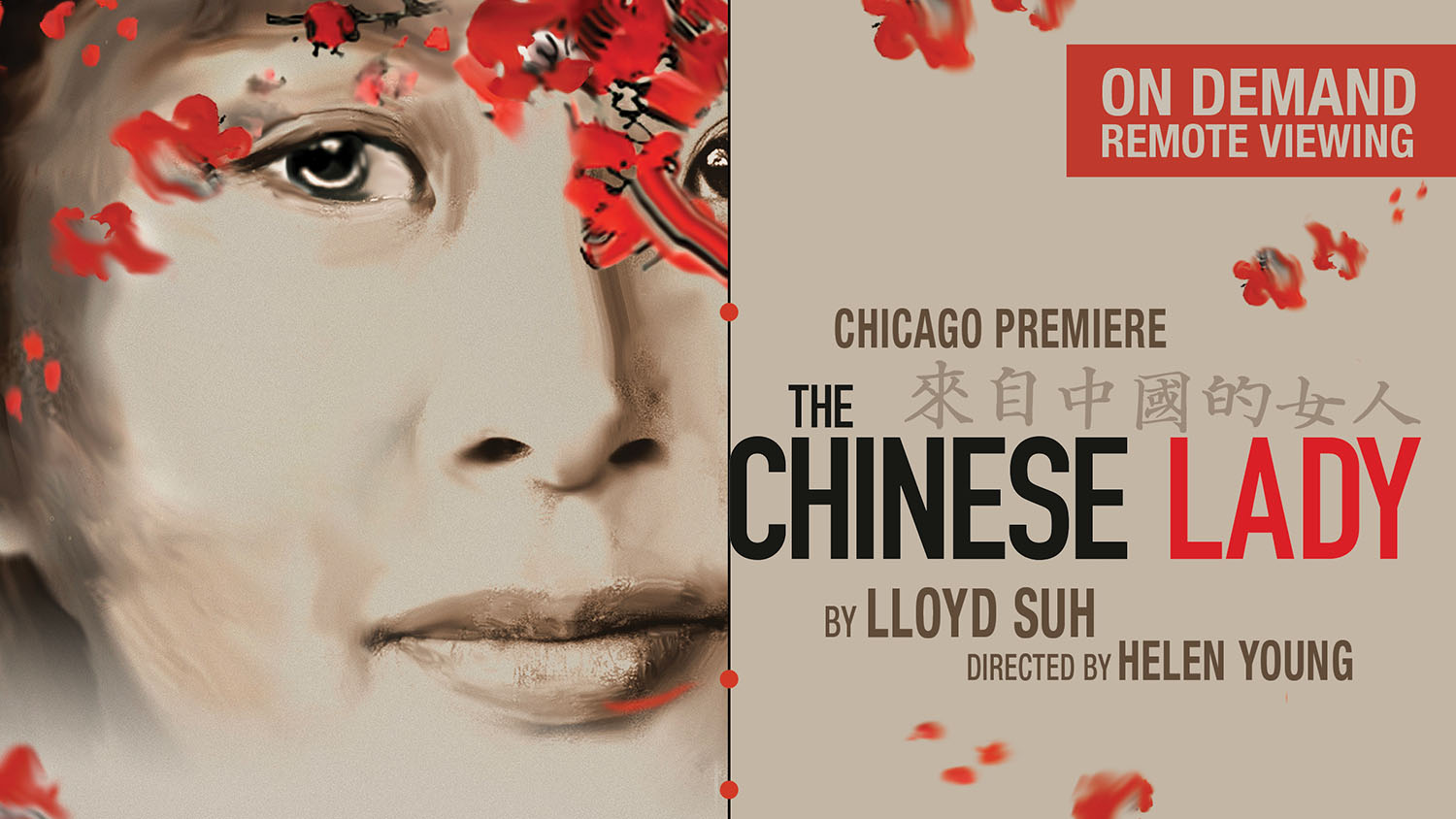 We're thrilled to offer you a remote viewing option for TimeLine's production of The Chinese Lady by Lloyd Suh, directed by Helen Young. We hope you'll enjoy this "clever, wry, and poetic" (Chicago Sun-Times) that has dazzled audiences and critics alike.
LEARN MORE ABOUT THE CHINESE LADY …
---
HOW TO ACCESS YOUR REMOTE VIEWING:
Please refer to your ticket confirmation email to find your unique promo code that you'll need to ensure $0 access to the stream. Be sure to note that you must conclude your one-time viewing by Sunday, June 19 at 11:59 pm CDT! We are not able to provide extensions to your stream access.
Each remote viewing ticket entitles the ticket holder to a one-time viewing of The Chinese Lady. After purchase, you may begin your viewing on demand whenever you would like—just be sure to finish your viewing by Sunday, June 19.
PLEASE NOTE: The videotaping or making of electronic or other audio and/or visual recordings (including photographs) of this online production or further distributing or sharing of this recording in any way on any medium, including the internet, is strictly prohibited.
---
INSTRUCTIONS:
— Head to Broadway On Demand's page for The Chinese Lady: The Chinese Lady | Broadway On Demand and find the PLAY button to purchase
— From there, you can follow Broadway On Demand's instructions for How To Purchase a Pay Per View Ticket, except:
— If you don't already have an account with Broadway On Demand, take a moment to sign-up. They just need your email and a password! It's free.
— Choose the "Individual Access" ticket (listed as $34.95). The next screen should have a space for you to add your Promo Code. Copy and paste the promo code from your confirmation email and click "Apply."
— We encourage you to watch the show all at once, just like you're at the theater! However, you may pause the recording at any time, if something comes up. The Chinese Lady runs approximately 90 minutes.
— The entire performance has been captioned. You can toggle the captions on or off by selecting the "CC" button at the bottom right of your screen.

— If needed, you may want to read our primer to assist you in accessing the video in various formats. You can find the primer on the right side of this page.
— If you experience any technical difficulties, please get in touch with Broadway On Demand: Contact Us (BOD)
— The show was filmed using 4 cameras and edited to include both up close and wider shots. We hope you will find it a detailed and intimate viewing experience.
Depending upon internet traffic at the time you access your stream, you may see interruptions or slower streaming speeds due to local network conditions or other system difficulties. But don't panic! With an ample time window to watch, hopefully any issues can be addressed so you can enjoy the show.
---
EXPLORE & LEARN
So much of the TimeLine experience is about the chance to engage with our materials, explore the lobby displays, and talk with fellow theatregoers about the show. Even though you are watching from the comfort of home, we do have digital versions for you to explore! You can find everything on Explore and Learn page for The Chinese Lady, but here are some highlights…
• • •
BACKSTORY AND PROGRAM BOOK
Download a digital version (PDF) of our Backstory magazine with historical information and much more.
• • •
ONLINE LOBBY EXPERIENCE
This digital lobby experience goes more in-depth into the pieces of our in-person lobby display at Theater Wit: an exhibit called Journey of Afong Moy and Atung (pictured right) and another exhibit called Constructing Chinese ness. It also provides special features such as:
A call to share personal reflections on social media (#TheChineseLady)
From Trade to War: The History behind the Opium Wars
A suggested video from Vox—entitled "The surprising reason behind Chinatown's aesthetic"
A list of recommended books & articles
---
FURTHER ENGAGE WITH THE ART AND THE ARTISTS
Whether you've already seen The Chinese Lady, have tickets for a future in-person or remote viewing performance, or just want to learn more about the show—we invite you to participate in one of our upcoming online discussions, which you can enjoy from the comfort of home! Discussions are FREE but reservations are required. All those with reservations will receive the link to participate via email in advance of each event.

• • •
VIRTUAL SUNDAY SCHOLARS DISCUSSION
Sunday, June 12 at 7pm (CDT)
LEARN MORE …
This one-hour panel discussion, offered via Zoom, will feature an in-depth conversation with experts on the themes of the play—including The New York Times best-selling author Jamie Ford, writer of The Many Daughters of Afong Moy—and moderated by The Chinese Lady Dramaturg Yiwen Wu. Additional featured experts are to be announced.
• • •
VIRTUAL POST-SHOW DISCUSSION
Tuesday, June 14 at 7pm (CDT)
LEARN MORE …

This informal, interactive online discussion will last about 45 minutes, via Zoom, and will feature a conversation focused on the design elements of the play, with guests scenic designer Arnel Sancianco and costume designer Izumi Inaba, moderated by Yiwen Wu.
RESERVE FOR THIS ONLINE DISCUSSION
---
THANK YOU!