Something profound is happening around gender, whether we choose to see it or not.
– National Geographic
Earlier this year National Geographic declared us to be in the midst of a "gender revolution." It's no secret that issues affecting transgender and intersex people have recently pushed to the forefront of news cycles and legislative agendas alike. Much of the discussion, of course, is sensationalized. And as a result, art that sheds light on these stories has become both urgent and important.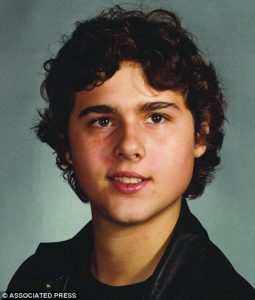 In Boy, Anna Ziegler tells one of the stories at this revolution's roots—the story of Dr. John Money (the basis for the character of Dr. Wendell Barnes in Boy), who co-founded America's first gender identity clinic 50 years ago, and more importantly, the very personal story of his signature patient.
That patient, David Reimer (the basis for the character of Adam in Boy), would most likely identify himself as neither transgender nor intersex. But his story strikes at the heart of the issues facing both of these populations today. His experience being raised a girl resonates deeply with the modern trans community; likewise his having a gender surgically foisted upon him in infancy lays out struggles faced by many intersex people and their families.
Yet Adam was a cisgender male. He was labeled male when he was born, and he identified as male later in life. It was only a horrible accident that changed his story. And that, in many ways, is the beauty that lies in our telling it. Virtually anyone can imagine their life in this context. We can all—male, female, non-binary, cis, trans, intersex, and everyone in between—see ourselves in Adam.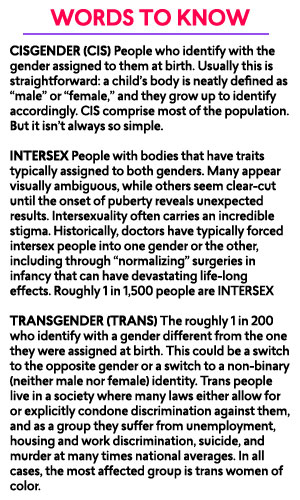 I'm a transgender artist myself. Like every other trans theatre artist I know, I have multiple stories of being asked to sign off at the eleventh hour on projects that made damaging, stereotyped assumptions about who transgender people are and what our lives are about. We're rarely given license to tell our stories ourselves. So I don't get to look at plays or books or movies and see people like me living normal lives, or dreaming, or falling in love.
We're shown as tortured, our lives defined by nothing more than tragedy (at least when we aren't being shown as delusional or dangerous). It's little wonder, then, that our population is so widely demonized and misunderstood.
The script of Boy bucks this trend in an important way: Though the real-life Reimer's story ultimately had a tragic ending, here we meet Adam at a point of optimism. His story is told with beauty, with poignancy, and most unusually, with hope. And TimeLine's production, by choosing to center transgender voices in its creation, aims to tell it as well with nuance, truth, and care. In TimeLine's intimate space, the audience will come face-to-face with these five characters and the ways they deal with Adam's gender. And hopefully, in so doing, will also also come face-to-face with their own assumptions and questions.
This, ultimately, is the strength of this play. It shows Adam and his family as simply people, everyday people with hopes, loves, struggles, and dreams. And it shows us that they could be any of us. What did they do when faced with this struggle? What would we do? And how can this help us understand each other better today?
These questions need to be asked more in our world today. This production strives to do just that.
---
Josephine Kearns is a TimeLine Associate Artist and the Dramaturg and Gender Identity Consultant for our Chicago premiere of Anna Ziegler's Boy, running January 10 – March 18, 2018.