As a Company Member and Resident Dramaturg at TimeLine, I have often left a post-show discussion with audience members saying to me, "I could take a whole class on that."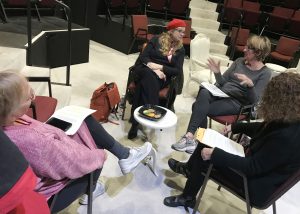 From our inception as a theatre company, TimeLine has always valued the conversations we hope our plays foster about contemporary social and political issues of today. However, those conversations often are just getting started when everyone has to go home from the theater.
To that end, TimeLine is offering a new series of courses giving audience members the opportunity to dig deeper into the historical context of a play and discuss our current historical moment. We wanted to share with audiences a chance to go beyond the stage, to go "Beyond the 'Line."
This winter I had the great joy of kicking off our Beyond the 'Line courses with "Stepping into the Next Room: Uncovering the Secret History of Hysteria," a four-session course on Sarah Ruhl's In the Next Room or the vibrator play. We were able to delve deeper into the history of hysteria and its treatment, and to discuss changes in the world after the 2017 Women's March and leading up to the Me Too and Time's Up movements. We read the play and additional historical materials, and we really had a chance to dig into a bigger picture of how women have been treated both medically and societally over time.
It is such a joy to get to spend more time with members of the TimeLine audience in this way. When we were done, the entire class really wished we could keep meeting! It was a privilege to share those conversations with such a smart group of women.
Thank you for offering this course and to Maren for sharing her knowledge and passion. I want to come back as a dramaturg in a future life.
— Beyond the 'Line participant
TimeLine is continuing this opportunity with our current play, Boy. In this case, the TimeLine Company, staff and production team all participated in "Gender 101" training—spearheaded by TimeLine Associate Artist, and Boy Dramaturg and Gender Identity Consultant, Josephine Kearns—to help us all approach the play and the current conversations about gender with knowledge and sensitivity. We had such useful conversations, we wanted to make sure a "Gender 101" session was made available to our audience as well.
Josie is also offering a deeper exploration of gender history with a three-session course titled "Dr. Money and 60 Years of Gender in America."
Both of these courses are a great way to keep the conversation going and to increase your knowledge about the past and the present. You can find out more about the Boy course offerings here. Courses begin starting February 25, so enroll today!
As we expand this public programming we always love hearing from you. In the comments below, feel free to suggest topics you'd love to see us cover as we plan more classes.