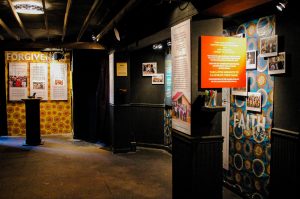 At TimeLine, we explore today's issues through the lens of our past (it's sort of our thing!). As we explore the themes of each play and the real-world issues that connect to it, we extend the TimeLine experience past the edge of the stage and into our lobby, with an interactive and informative display that lets audience members dig a little deeper.
And the lobby for our last production, the Chicago premiere of Cardboard Piano, was no exception! Cardboard Piano's lobby design, a collaborative effort between our artistic, dramaturgy, and marketing teams—particularly dramaturg Jared Bellot, lobby display designer Dina Spoerl, associate artistic director Nick Bowling, and director of marketing and communications Lara Goetsch, with assistance from resident dramaturg Maren Robinson and production manager Maggie Fullilove-Nugent—inspired much conversation and engagement.
We hope you were able to join us during the run of Cardboard Piano to experience the lobby display firsthand, but if you missed it, fear not! Read on to check out the lobby installations on Love, Faith, and Forgiveness, and read some of the audience responses collected throughout the play's 10-week run.
---
Love
Ahh, first love. Those painful, exhilarating, transcendent moments when we realize our lives are more complete with someone or something else in them. We asked our audiences to think back on their memories of those loves, and then illustrate those names and emotions as part of a collaborative art piece. They enthusiastically obliged: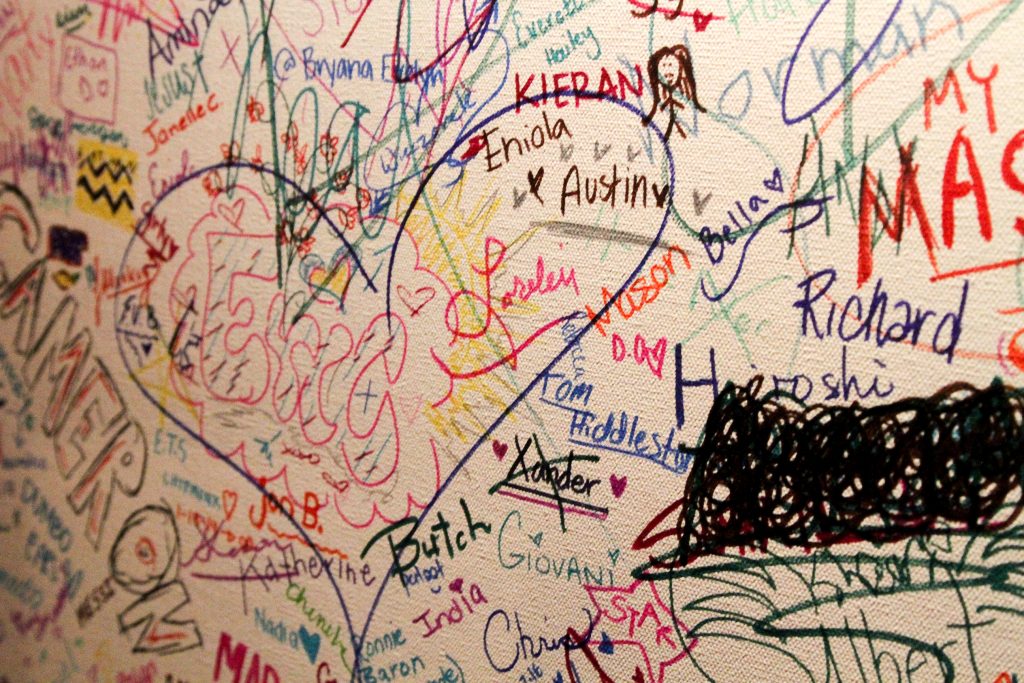 At the end of the production's run, every blank space on our canvas was filled, with art spilling over onto the back and sides of the frame: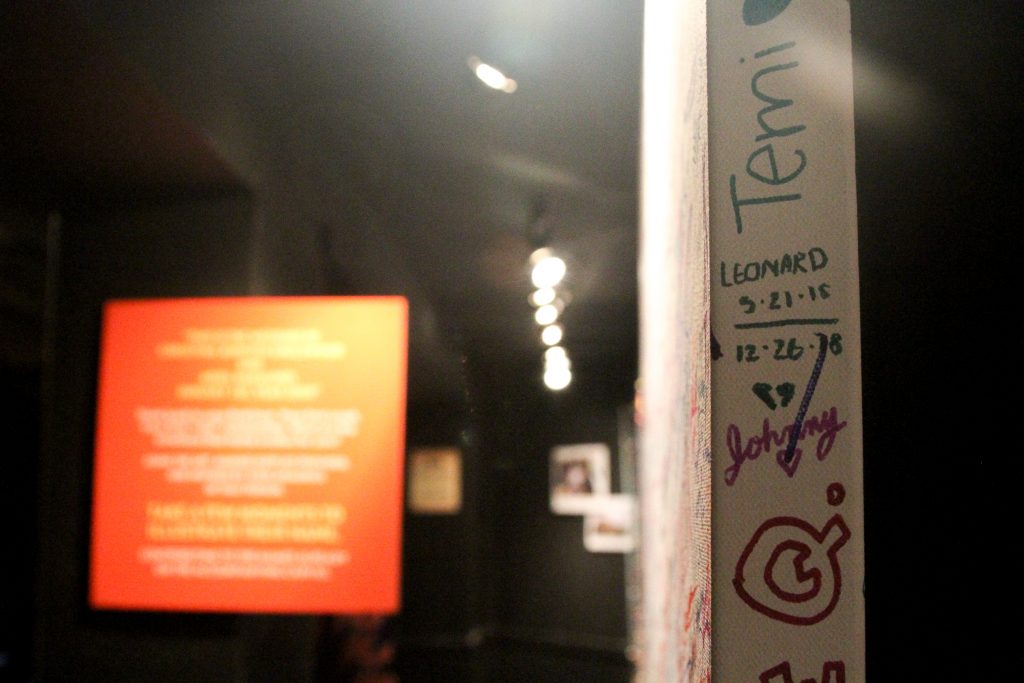 The hundreds of audience member contributions included grade school crushes, loves lost to war, odes to fictional characters, food appreciation posts, and everything in between. We're so grateful for those who shared these tender memories, and let their stories become part of Cardboard Piano.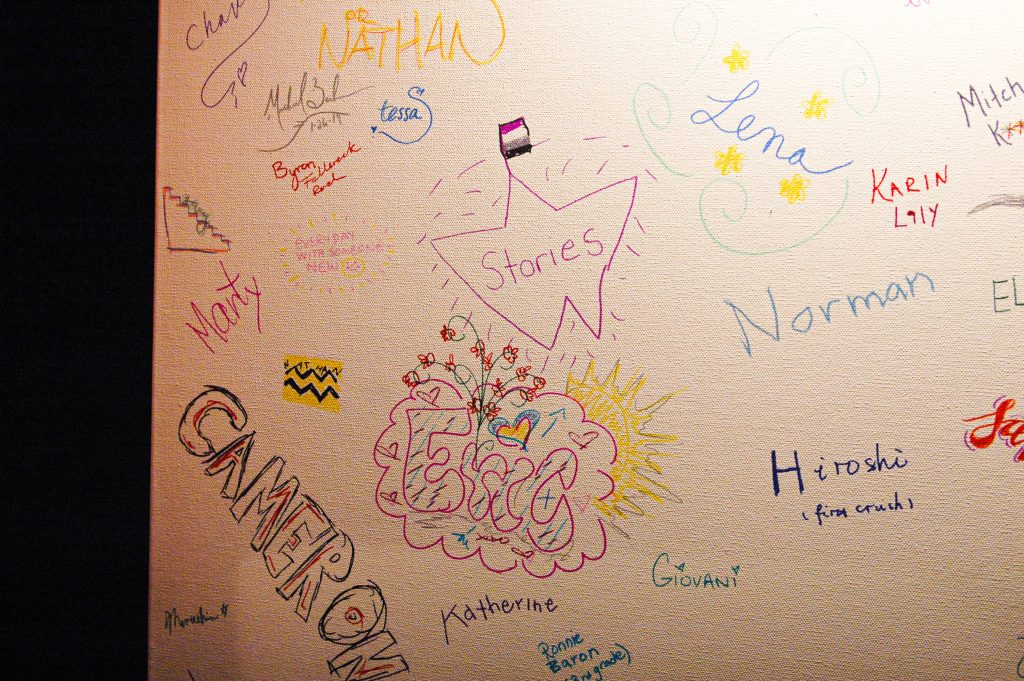 ---
Faith
In Cardboard Piano, the daughter of American missionaries and a local Ugandan girl prepare to exchange vows in a secret, makeshift wedding ceremony. As violence encroaches on their fragile union, each character in the play must confront the ways religion can offer both trauma and salvation.
As part of our lobby display, we asked folks to reflect on how religion informed their selves. On a matrix of "Spiritual" to "Not Spiritual" and "Religious" to "Not Religious," audience members were instructed to place a pin where they personally identified.
As it turns out, TimeLine audiences are generally a spiritual bunch, though their relationships with religion are more varied. By the end of the run clear patterns were emerging, the multicolored pins spread across the grid showed just how personal our relationships with faith can be: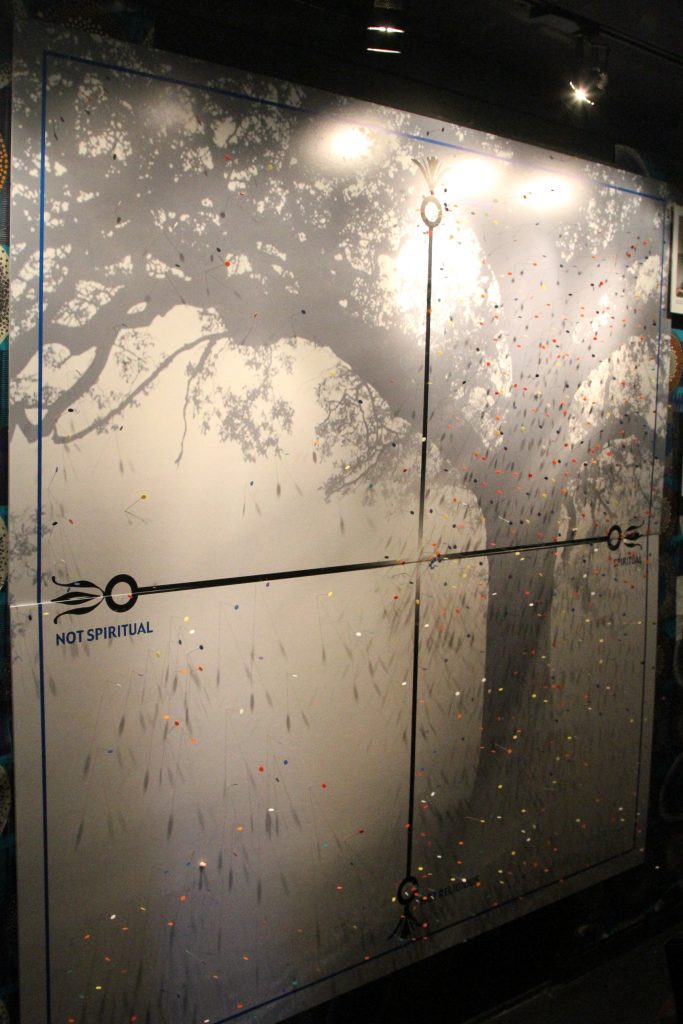 ---
Forgiveness
"To err is human, to forgive, divine." —Alexander Pope

How do you let go of pain? Our third interactive activity in the Cardboard Piano lobby dug deep into the concept of forgiveness—how we hurt each other, and how we let go of that hurt.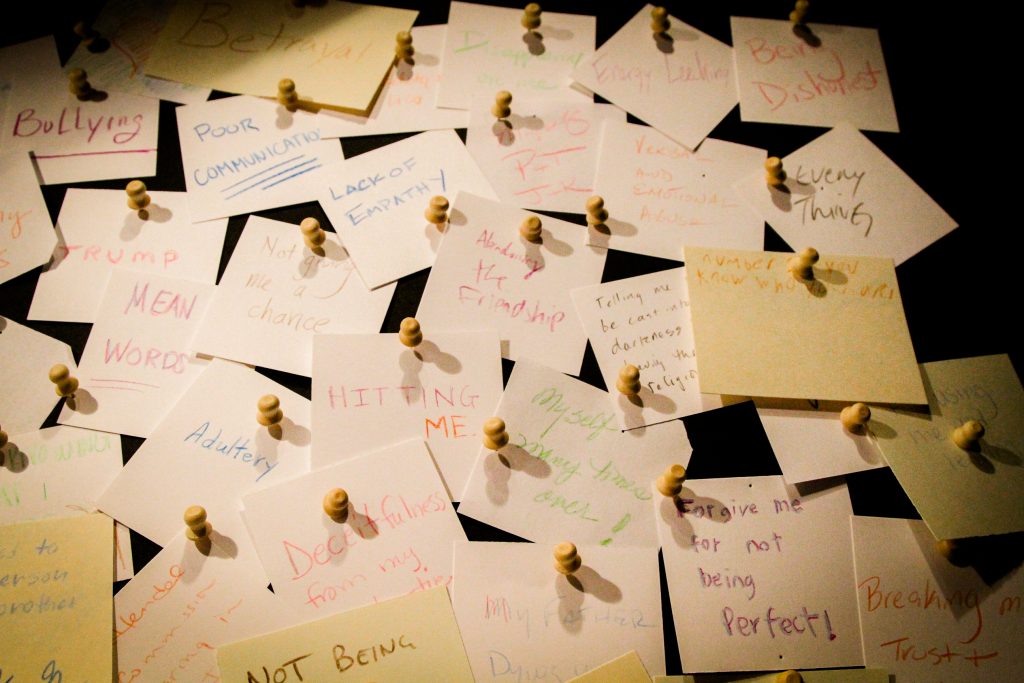 As with the interactive display for love, Cardboard Piano patrons volunteered examples of forgiveness in all its forms, from the mundane to the deeply profound.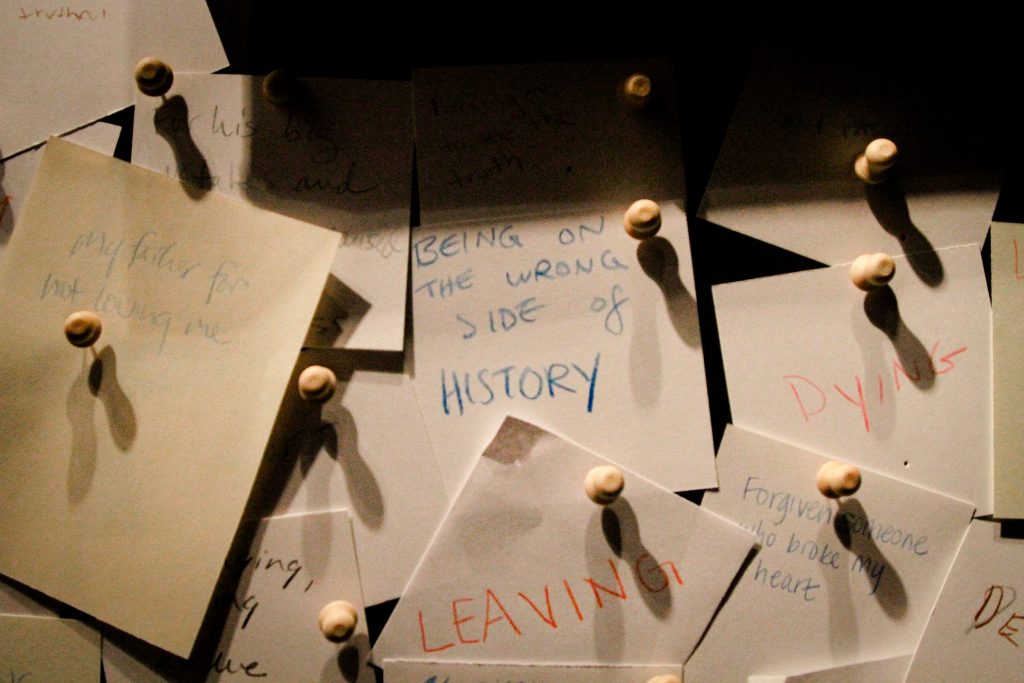 As new moments of forgiveness were tacked to the wall, each isolated piece of white paper and colored pencil became part of the coherent whole, a wall of forgiveness. For many, contributing to and experiencing this installation was deeply moving.
---
We're so grateful to all who viewed and participated in our lobby experience for Cardboard Piano. And if you didn't have a chance to attend, no worries! Our current production, Too Heavy for Your Pocket, continues until June 29—come by a little early to experience all the lobby has to offer!