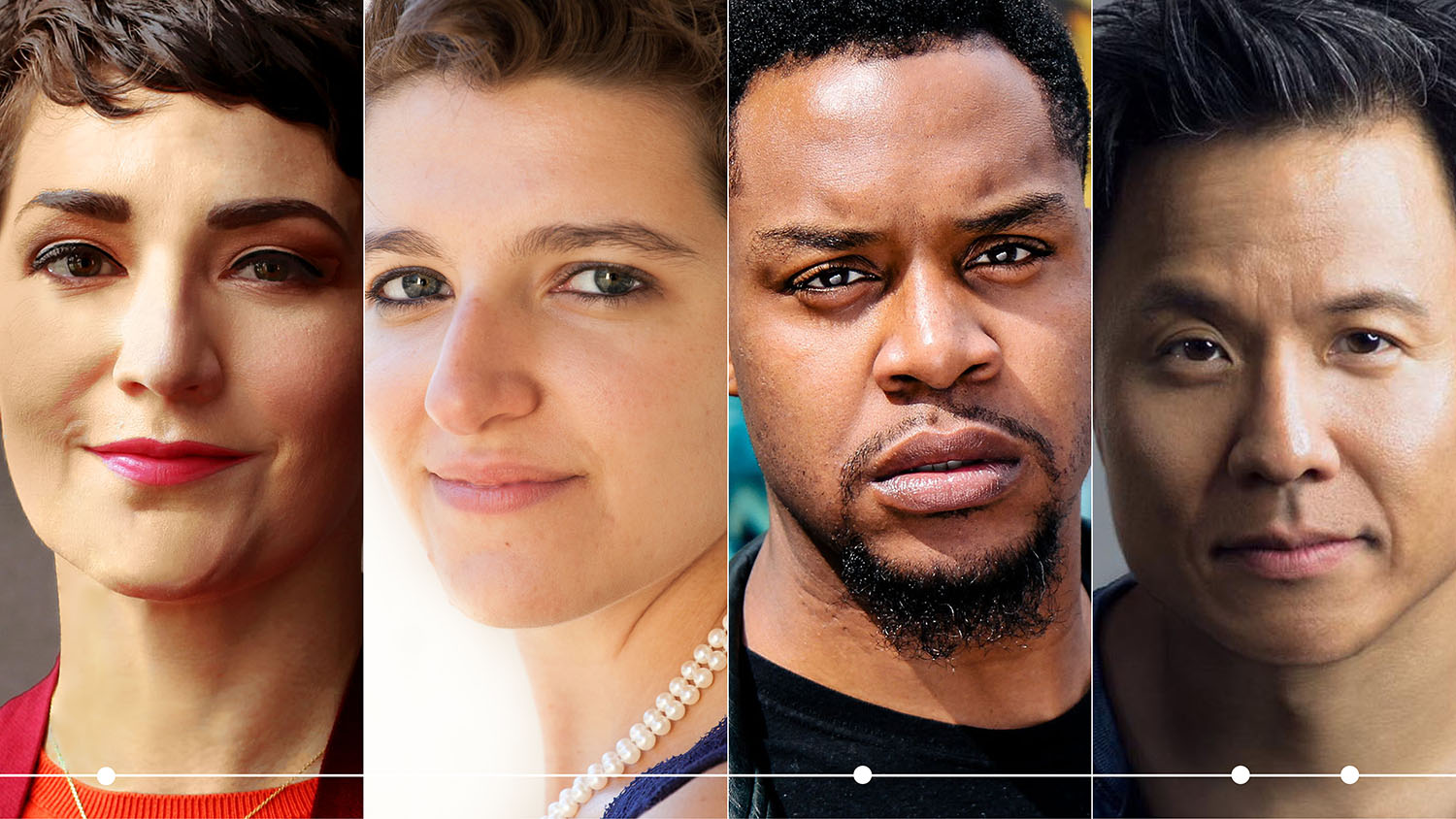 TimeLine is pleased to announce that four new playwrights have joined our Playwrights Collective, the company's new play incubator.
Dolores Díaz, Kristin Idaszak, Osiris Khepera, and David Rhee (pictured above, from left) are now in residence with the Playwrights Collective through January 2022.
Over its first 23 seasons, TimeLine has produced 10 world premieres and more than 35 Chicago premieres, making an ongoing commitment to developing, supporting and featuring new work. The TimeLine Playwrights Collective continues that effort, offering a supportive environment for playwrights who share an affinity for our mission of presenting stories inspired by history that connect with today's social and political issues.
A diverse group of emerging and established writers are selected by TimeLine's Company Members to participate in the Playwrights Collective, under the leadership of Literary Manager Ben Thiem. The group meets regularly, and playwrights choose their own projects that fit TimeLine's mission to work on throughout a two-year residency. Together the group reads and hears scenes from work under development, asks questions, discusses challenges and shares progress with peers. TimeLine provides support throughout the process, including readings, and any works developed with the Playwrights Collective may be considered for future development and production at TimeLine Theatre.
We've already started our work together, and I can't wait to support them over these two years as they each work on writing a new play that fits TimeLine's mission. — Literary Manager Ben Thiem
"I am thrilled to continue the work of TimeLine's successful Playwrights Collective initiative with this incredibly talented group of playwrights in our new cohort," Ben said. "Dolores, Kristin, Osiris, and David each bring a unique voice and style to the table. We've already started our work together, and I can't wait to support them over these two years as they each work on writing a new play that fits TimeLine's mission."
"Even as our live programming has had to cease during the COVID-19 pandemic, TimeLine's commitment to these playwrights and the nurturing of new plays continues unabated," said TimeLine Artistic Director PJ Powers. "Under Ben's leadership, the Playwrights Collective provides an opportunity to support these Chicago-based writers as they create new scripts that help us understand present-day issues and experiences through the lens of the past."
These four playwrights are the third group to be in residence as part of TimeLine's Playwrights Collective. The inaugural Playwrights Collective, which included Alice Austin, John Conroy, Emily Dendinger, Frances Limoncelli, Susan McLaughlin Karp and Brett Neveu, convened 2013 to 2016. The second, which included Tyla Abercrumbie, Will Allan, Maureen Gallagher and Calamity West, convened 2017 to 2018 and culminated in TimeLine's inaugural FIRST DRAFT: Playwrights Collective Festival in December 2018. The Playwrights Collective has so far resulted in three productions being slated for production at TimeLine: To Catch a Fish by Brett Neveu (presented April – July 2018), Relentless by Tyla Abercrumbie (scheduled May – June 2020; postponed due to the COVID-19 pandemic), and Campaigns, Inc. by Will Allan (announced as part of TimeLine's 2020-21 season).