As we head into fall, go Behind the 'Line with this reflection on recent happenings at TimeLine, including our online programs celebrating Relentless and Campaigns, Inc.; a multi-week exploration of The New York Times' "1619 Project" through our weekly staff LunchGroup; and a new landlord at 615 W. Wellington Avenue.
---
We've referred to the time since our live performances were cancelled as a "hiatus," but the truth is that everyone at TimeLine is still keeping ourselves busy even without shows happening at our theatre on Wellington Avenue. We revived a TimeLine classic, collected donations for the Brave Space Alliance (which is still taking donations), and took TimeLine South online over the summer—just to name a few projects. But even as more than half the staff was on furlough in July and restrictions remained around live performances, the team was exploring what else we could do to engage our community.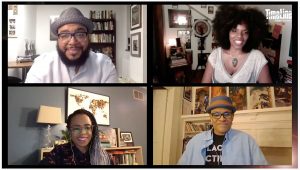 We reflected on our mission (more relevant than ever), assessed our resources (limited at best), and thought about the two shows—both created through the Playwrights Collective—that we had expected to be producing during this time. They would have been very timely. Too timely to put on a shelf completely.
Relentless, a play about a Black American family living 100 years ago, mirrors issues and struggles with racial equity and injustice happening today. Campaigns, Inc. delves deep into a 1934 political campaign that helped inject "fake news" into politics.
We couldn't yet celebrate an opening night for these two world premieres, but we could "set the stage" for the productions that will come. We could start the conversations they inspire.
Part Sunday Scholars discussion panel, part behind-the-scenes, part performance—these conversations would seek to engage our audiences (and new audiences across the country) through free, one-night dialogues exploring each show's prescient connections with 2020.
Relentless
"The Journey from the Black Victorian to Black Lives Matter" happened last week and was the first event of its kind we've ever done. We knew we had compelling performers and speakers—including playwright Tyla Abercrumbie and director Ron OJ Parson—to be a part of the evening, and topics that would resonate. But with so much nowadays, the biggest questions were around technology. How could we make the discussion accessible to the largest number of people?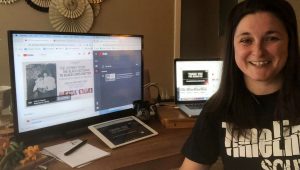 In this new world of socially distanced online gathering, there are a multitude of options. Ultimately we settled on a livestream, powered by StreamYard and delivered to TimeLine's YouTube channel for all to see. Jenny Lynn Christoffersen, Marketing and Communications Associate and one of the technology wizards at TimeLine, ran it all.
While we couldn't convene in person, a lot of things were similar to a live, theatrical production. We had a rehearsal with the cast, a stage manager to keep us on task, and a tech rehearsal so we could make sure all of the elements would work in harmony.
"The Journey…" is even similar to a theatrical production in that it was a one-night only, live production—just like the ephemeral magic of live theatre that we miss so much. This time, though, the discussion lives on (without the scenes from the play, due to broadcast restrictions within our agreement with Actors' Equity Association) so that even if you missed "the show," you can still seek it out from the comfort of home to learn more about the history and context of Relentless and the Black Lives Matter movement today.
Our exploration of Relentless also included a Beyond the 'Line class led by Tyla exploring journaling, oral history, and family; a take-home wine tasting presented with our neighborhood partner BottlesUp!; and more resources to come.
Campaigns Inc. coming soon!
Campaigns, Inc. by Will Allan will receive its own set of public programs. We are pleased to announce that "The Journey from The Jungle to The Swamp," a live, one-night only discussion event, will premiere live on YouTube on Wednesday, October 21, from 7:30pm – 9pm. Mark your calendar to join us and learn more about how this notable example of "fake news" in a 1934 campaign set the groundwork for today's political climate. There will be another Beyond the 'Line class and wine tasting, as well! Read more about all of these opportunities...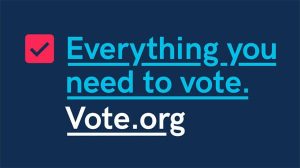 Until then, we want to uplift one of the central themes of Campaigns, Inc.: voter education and engagement. If you live in the United States, learn more about voting and voter registration and create a plan to vote in the upcoming election on November 3. It's only 32 days away!
LunchGroup: A Year In Review
Every week (give or take a few holidays) since June 2019, administrative staff at TimeLine have taken an hour of their time to eat lunch and discuss equity, power, racism, oppression, and work culture and environment.
Coming out of our engagement with adrienne maree brown's Emergent Strategy, LunchGroup was started by Audience Services Manager Kellyn Henthorn as a lunch-time book club. Led by Kellyn, it has since become a fixture in the staff calendar. Members of our staff have participated in many different anti-racist workshops and learning opportunities, and we wanted a place to explore new ways to be anti-racist in our workplace. We have read and discussed trust and allyship, finding joy during the pandemic, police abolition, and (not to get too meta) other theatre's anti-racist book clubs, among many other topics.
Most recently, LunchGroup embarked on a seven-week exploration of The New York Times' Pulitzer Prize-winning 1619 Project. We followed along with the podcast, and let the magazine take us through its examinations of reparations, Black culture in American music, and how the legacies of slavery still have a hold on today's America. While it may seem tangential for a group of theatre professionals to be reading deeply about the history of slavery, these conversations have led us to consider our role in perpetuating systems that started 401 years ago. The 1619 Project's historical context and rigorous reporting have informed how we look at our art, our inherent biases, our dramaturgy, our hiring policies, and even the BIPOC Demands for White American Theatre.
A new landlord at 615 W. Wellington Avenue
In early September, the property that we rent on Wellington Avenue was sold by the Wellington Avenue United Church of Christ to Chabad of Lakeview. We are tremendously grateful for the 21 years of support shown to us by the Wellington Avenue Church (we've rented there since 1999); their hospitality and many kindnesses and accommodations have been a foundation of TimeLine's ability to succeed for nearly our entire history. We will miss them and wish them the best!
This change in landlords does not alter TimeLine's operations or our intention to continue producing at Wellington Avenue before our new Uptown home is ready. Our lease remains in effect through June 2023, and we look forward to working with Chabad of Lakeview during the years to come!
---
As always, please feel free to reach out if you have questions or a topic you'd like to see covered in future updates! We are grateful for your support.