TimeLine's Living History Teaching Artists have an icebreaker that they love to play with new groups of people. They call the game, "Where my people from" and provide a series of prompts that a single person can say to the group:
Where my people from, we…
I love my people who…
Where I'm from, we…
On my block, we…
Then they usually follow up with an example like, "Where my people from, Sunday night is for making red sauce!" In Zoom meetings, the group can react in a number of different ways: you can un-mute and call out, "WE OUT HERE" or you can write the same words in the chat. You could respond with an emoji (hearts, smiley faces, party hats) or by dancing around in your Zoom square. Even if where you're from, you don't make red sauce on Sundays, you could think, "Mmm, now that would be delicious," and type out some stars and exclamation points in the chat to signal that you get it, even if you don't participate.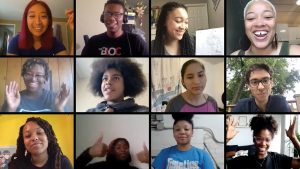 This activity makes virtual rooms come alive. People practically jump out of their Zoom squares to validate or create community with the speaker. You can imagine how electric this activity would be in person––snaps and applause and chatter reverberating off real walls, all of this a chorus to call out, "I see you! I see your community!"
If TimeLine Theatre was playing "Where I'm From," we might say, "We love our people who love history" or "Where we're from, art and audience are in a great relationship when they're as close as possible" or "On my block, the people can't park but they still show up!" And while our current community would respond knowingly, lighting up the chat with reactions and "WE OUT HERE (and still looking for parking)," we bet there would be a community of people who have never been to a TimeLine show who would think, "That's me––I see you!"
Our Community Engagement Team wants to find that community of people. While the pandemic has limited our ability to be in physical rooms with folks, we have still been on the virtual look-out for thoughtful ways to connect with our current community and our future community. Spearheaded by Artistic Producer of Innovative Partnerships Tiffany Fulson, the newly officially formed Community Engagement Team (CET) at TimeLine is collaborating to expand the ways we identify and then grow sustainable relationships between TimeLine and all the people we connect with.
The completed Community Connection Project will ensure our new home is a place where all visitors can feel a sense of belonging, have an arts experience unlike any other, and do their best work
For our first major initiative—the Community Connection Project—CET is teaming up with our new home architects HGA to pilot a series of community engagement activities with existing audiences; Living History students, teachers, and parents; Uptown neighbors, businesses, and organizations; and other current and potential constituencies. As we continue to fine-tune our new home plans and designs, the completed Community Connection Project will not only strengthen TimeLine's relationships with individuals across our community, but it will also ensure that a broad range of diverse voices have a say in making our new home a place where all visitors can feel a sense of belonging, have an arts experience unlike any other, and do their best work.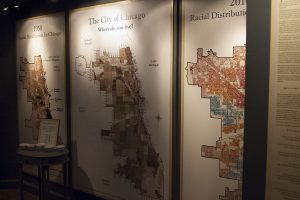 While applying this work to a building is new, the work of community connection has a long history at TimeLine. Our artists, dramaturgs, and marketing plans have always focused not just on creating connection between the past and present or the art and the audience, but also between the theatre and all of Chicago. The interactive lobby displays for A Raisin in the Sun invited participants to mark where they live in Chicago; Gender 101 workshops during our production of Boy focused on trans inclusivity; and we connected with the Rohingya Culture Center of Chicago to raise donations and also showcase a one-night reading during A Shayna Maidel. These are only a few of the examples of how TimeLine's art has fostered community connection.
It has been an exciting opportunity to take what we know about the bonds between art and community and transfer them to the Community Connection Project. We have certainly already learned a lot, like how an ensemble-building exercise from Living History can help a room full of strangers relate to one another. Or how architects and interior designers can turn somewhat vague feedback (like "we want it to feel cozy") into realized plans. Or how a trip to your local pharmacy might turn into an invitation to an arts activation block party.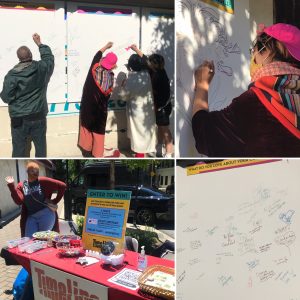 TimeLine's presence at the recent Argyle Activation Walk is just one example of how CET is bringing TimeLine into community with Uptown. We spent the day outside on Saturday, May 29––our first real, in-person "production" in almost 14 months––asking folks:
What do you love about your community?
What does justice for the Asian American Pacific Islander (AAPI) community feel like?
What is your favorite story about the history of Asia on Argyle?
And we experienced so much just by reaching out and talking to the people in our new neighborhood! We hope to learn and grow a lot more as the Community Connection Project kicks off this summer.
So, in the interest of putting TimeLine in conversation with you, too––tell us what you think:
What do you love about the Uptown neighborhood?
What is your vision for the future of the Uptown neighborhood?
What could TimeLine do to give back to the Uptown neighborhood?
We look forward to hearing from you, and from everyone in our community, and shaping the future of TimeLine together!