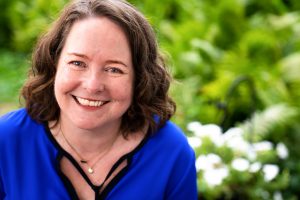 As our new home project moves into its next phases, and in recognition of the complex path ahead, today TimeLine announced that Managing Director Elizabeth K. Auman will be transitioning her responsibilities away from day-to-day management of the company in order to focus exclusively on that project.
That means we'll be conducting a search for a new executive leader who will partner with Artistic Director PJ Powers in managing the company.
You can read the full news release about this announcement here.
In that news release, TimeLine's Board President John Sterling shares a bit about how this significant decision came about: "When Liz first brought this idea to PJ and me, we were initially surprised, yet deeply grateful for her clear understanding of TimeLine's current needs. We'll benefit from Liz's ability to focus on opening our new home. And it provides a thrilling opportunity to welcome a new leadership voice at our organization."
Our core tasks as an organization right now are significant. In addition to Liz's focus on managing the development of our new home, we are working hard toward resuming production with a renewed commitment to equity and wellness and continuing on our path toward becoming an anti-racist organization. — Board President John Sterling
According to TimeLine's governing by-laws, the Board of Directors and team of artistic Company members are collectively responsible for decision-making about the leadership of the organization. The plan and time frame for a search are still to be announced, and further details will be shared soon. As PJ notes, "True to TimeLine's values, the search for a new executive leader will be inclusive, collaborative, and transparent."
After 14 years at the administrative helm of TimeLine, we wanted to hear more from Liz about what led to this decision, her perspective on her tenure as Managing Director, and her vision for the company's future. So she sat down (via Zoom) with Audience Services Manager Kellyn Henthorn for a Q&A to cover all that and more:
Kellyn Henthorn (KH): Hi Liz! How are you doing?
Elizabeth K. Auman (EKA): I'm good, Kellyn. How are you?
KH: You know, I'm doing just fine. This news of your changing role has given me a really good opportunity to go back and look at your bio and your tenure here, which just about triples mine. In fact, you joined TimeLine as Managing Director in 2007—almost 14 years ago! After nearly 15 years and so many accomplishments at Victory Gardens, what made you interested in taking on this role at what was then, admittedly, a much smaller organization?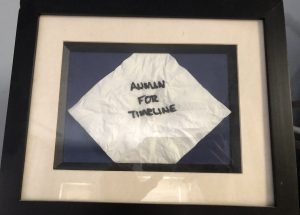 Elizabeth K. Auman (EKA): There were two big things that stood out to me—well, more than two.
I loved the mission and how TimeLine integrated the mission into everything. I was also very excited that there was cash in the bank. The financials were very good, which was important to me. And even back then, TimeLine said it was looking to establish a new home, and we had just opened the Biograph at Victory Gardens a year prior. So I was excited about the opportunity to do that again, but from a different position.
I didn't know it would take 14 years for TimeLine to find a new home, so that was a little bit not planned. But we eventually got there, found a wonderful site and have put a great team in place to make it happen.
KH: At Victory Gardens, you were pretty instrumental in their move to the Biograph, right? What sort of activities were you doing there that you were excited to do for TimeLine?
EKA: My last two years at Victory Gardens were about thinking organizationally and operationally: "How do we move into this new building? How does everything work when we get there?" And managing the resources—money, particularly—to complete the project. So I was excited to tackle a project like that from a slightly different perspective, including having the opportunity to be more present in the design process and the strategy of how the building is created.
KH: I love that! For those who may not know, can you explain what a Managing Director is? What have you been doing that doesn't relate to our new home project for the last 14 years?
Well, it's certainly changed over that time! When I got to TimeLine, there were three employees—and I was one of them. So it was me and PJ and [Director of Marketing and Communications] Lara Goetsch. And that was a huge adjustment because when I left VG there were, I think, 22 full-time employees. I used to joke that I would come out of my office at VG, and there would be lots of people. But at TimeLine, sometimes I would go two days without seeing anyone, if someone was out of the office.
What I did back then is a lot different than what I do now. There's the silly things we joked about in that first year: I told PJ he didn't have to go to Costco to buy soda for concessions, that it could be delivered to us. And that stamps could also be delivered to us, we didn't have to go to the post office. PJ didn't have to take the laundry home every week for the show because we could figure out some other way to make that happen.
KH: Ha! So different.
EKA: Yes. As you know, it's not like that anymore. There's still some scrappy things that we all do, but one of the first things I was able to do was hire a fourth employee, our first Development Manager. So that was very exciting—to have four people on staff—and back then, I think there were only six Company Members, compared to 17 today.
It was very different. As the organization has grown to 13 full-time employees, my work has moved away from day-to-day, very specific operational things (like stamps and laundry) to longer term strategic thinking, like the new home project. And we have been working on this new home that entire time.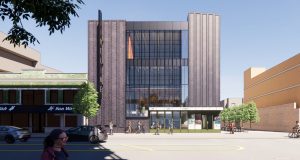 KH: Speaking of the changes that your job has undergone, we've been in such an intense new home project gear for the last three years. Can you talk a little about what that's added to your job responsibilities?
EKA: There's a lot! PJ and I are both spending—and have been spending—an extraordinary amount of time working with David Rotholtz, our owner's representative who has partnered with us these last number of years on developing the design team, hiring consultants, working on budgets for the project, fundraising, and more.
With TimeLine's values of transparency and inclusivity at the forefront, we work to stay in regular communication with the project's stakeholders. So a massive undertaking for PJ and me is keeping the staff, Board, Company, and others up to date on what's going on and where we are in the process.
There have been a lot of opportunities for everyone to be involved in conversations with HGA, our architect. One of the reasons we hired them was because we felt like they really understood the collaborative nature of TimeLine and would have a process to help us move through that—because there are a lot of people who we want to make sure are heard.
KH: That is a lot. Such a collaborative process means that you're spending lots of time listening and refining, and it's not super straightforward. So when did it become clear to you that—with you managing the new home project AND managing TimeLine—that there needed to be a transformation?
EKA: I knew I was starting to struggle with the work load about two years ago. It was pre-COVID, so maybe a little less than two years ago.
Once everything shut down for the pandemic, we went into survival mode. We had to figure out what we were going to do, make sure our people were taken care of, and deal with changing plans. We really spent the last 18 months digging into our strategic plan work and focusing on building design.
Honestly, it all became overwhelming. For a while, I thought I needed to leave because I felt I could not do the job. Eventually, I realized that would not make things any better for a new person coming in—they would just have many of the same challenges.
I came here to help get TimeLine a new home. That's what I want to do! That's what I want to focus on. And at this stage I'm ready to let go of the day-to-day aspects of running the company. I had a moment this summer when it became crystal clear to me that this was the idea I needed to put forth. It just felt right. I believe it is the best thing for the organization, and I believe it is the best thing for me. It's nice to have that clarity.
KH: What excites you most about this new home project—perhaps aside from leaving behind stamp management?
EKA: I truly believe that having this new home is what is going to ensure TimeLine's important work stays vibrant for future generations. I think every organization is different, and some need homes and some don't, and some operate better one way, and others another way. But when we talk about the art we put on our stage, the way we create and what we want to do even more of—we are talking about these immersive experiences. We want our lobby to be part of the experience. And we want more room for learning and educational opportunities that occur outside the piece that's happening on the stage. This new building in Uptown really allows for all that to happen.
As TimeLine has grown over the years, we have had to produce one show a year at another theater. For those shows, we don't have our own lobby and we can never have the immersive experience we want. Patrons miss that, our Living History students miss that, we miss that. There are so many things we've wanted to do over the years that we couldn't do because we didn't own or weren't using our own space, or we didn't have enough space.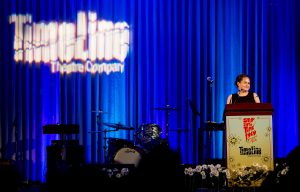 So it's about really being able to serve the work of creating theatre the way we want to, plus also opening up space for the community. We're doing a lot of work focused on engaging the Uptown community and figuring out authentic ways to organically become part of the community, as opposed to just landing there one day and opening our doors, and saying, "Hi, we're here!" We're working to get to know the neighborhood and find out what the community needs and how we can participate.
And honestly, after the incredible challenges of the last year and a half—personally and professionally—it's very appealing to think about focusing on a project that has a beginning, middle, and end. So much of the work of a Managing Director doesn't have that. I feel like right now, I'm looking forward to something with a bit more structure.
KH: So, as you think about that "end," how will you know that you did it? What does that future look like?
EKA: Well, when the building opens, and the staff feels inspired and invigorated. The Board is proud and energized. The Company, the artists, the people working in and visiting the building feel at home and like they can do their best creative work. And the community wants us to be there and sees TimeLine as a community partner. That will feel like success to me.
Oh—and that we get there all in one piece. I've said, we are not going to go through these growing pains—which are incredibly difficult, time-consuming, and expensive—and not be in a healthy place when we get there. So that means all sorts of things. That means making sure the staff is taken care of—because this is an exhausting project—making sure we have the money to do what we want to do, that we are taking care of artists, making sure that we have built a sustainable organization for the next generation.
KH: Part of that sustainability is allowing these choices to be made, right? I think overwhelmingly the feeling [among the staff] really has been "good for you" for being able to make this choice.
EKA: It's the very overused cliché: "Put on your own oxygen mask first." This is an opportunity for me to say, "Okay, I'm going to make this change, and I'm going to lead by example and be able to say to everyone: 'I can't do all of this, but this is what I want to and can do.'"
KH: What will your new title be?
EKA: That's something we'll figure out in the next little while here.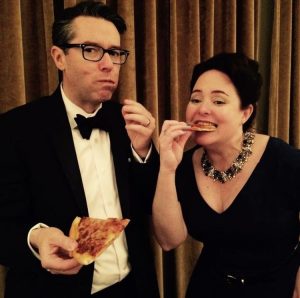 KH: OK, let's talk about the future of the Managing Director position. What are your hopes for this new person who will take on co-leadership of the organization with PJ?
EKA: I think the role is different for every organization. But I believe that at TimeLine, it is a true co-leadership relationship. It is not siloed buckets. Yes, there are certainly things I'm responsible for and there are things PJ is responsible for. But there are not a lot of things we're doing—or making decisions about—without input from the other person. We certainly don't agree with each other 100% of the time. We think differently and process information differently. That can be really hard, but I believe it's what allows us to make the best decisions for the organization. There is real collaboration. It's important to me, and I think it's going to be important to TimeLine, that any new executive leader is excited about working that way.
KH: I really appreciate you sharing all of this with me, and with our audience. As we look to the future, my last question is: Can you offer some advice to all the folks who feel a connection to TimeLine as they contemplate the work and changes ahead?
EKA: Yes. I know it's hard—and scary. While the tasks ahead are not easy, having new people join the effort is good and exciting. It's important to have transitions, because every new person that comes into TimeLine has improved us in some way. They say, "Why are you doing this thing that way?" and "Here's a new idea to try!", or "Who are you not engaging with and why?" I really value that, and I know that everyone at TimeLine does, too. It will be energizing!