---
PLEASE NOTE: This post is one from a series of blog posts that tells the story of TimeLine's New Home Project over several years. Therefore, some information presented below may no longer be accurate. For the most up-to-date information about the project, please visit our It's Time page here. If you are a member of the media seeking information or comment, please reach out to Lara Goetsch, TimeLine's Director of Marketing and Communications, at lara@timelinetheatre.com or (773) 281-8463 x125.
---
IT'S TIME! Our new home project is ready for its next phase, and we're so excited to share a peek behind the curtain at everything we've been working on.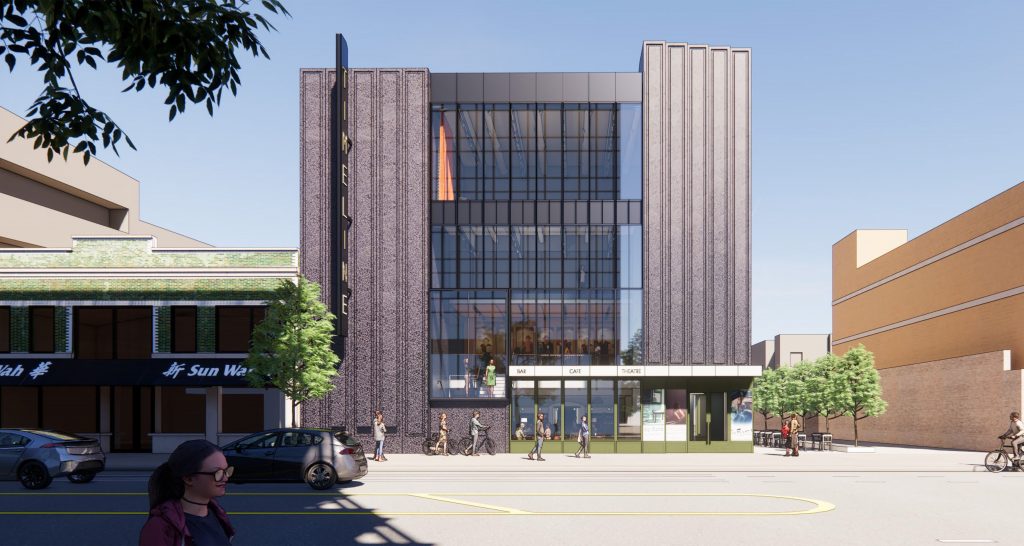 Since TimeLine purchased property located at 5033-5035 N. Broadway Avenue near the corner of Broadway and Argyle in Chicago's Uptown neighborhood in December 2018, we've been hard at work bringing our dream of a new home at that location into reality. We hired our architect HGA, began working to develop deeper community connections in Uptown and beyond, and shared about the ongoing design process along the way, among countless other behind-the-scenes activities.
And we haven't stopped working toward our goal, despite the last year's immense challenges. Progress on the new home project has continued throughout the pandemic, even while TimeLine's live productions have been shuttered since March 2020.
Today we're thrilled to share new details about the current architectural design and other updates related to our new home, which will house TimeLine's future operations and support our mission of exploring today's social and political issues through the lens of the past.
This new building is an investment in the future of TimeLine—a home for artists, audiences, and community members that will ensure the company and its mission can endure. We want to create a space and an organization where artists are supported in doing their best work, where the community can thrive, and where the next generation can see themselves. — Managing Director Elizabeth K. Auman
As our new home project moves into its next phases, we hope you'll read below to learn more about the new facility's architectural design process, community engagement efforts, fundraising progress to date—and a leadership expansion to support all the work ahead.
Architectural Design
TimeLine has been collaborating with renowned architect HGA to design our new home since the firm's selection in June 2019, guided by design principles developed through strategic planning with our Company, Board, and Staff, and working in tandem with a bevy of consultants including Rotholz LLC (Owner's Representative), Schuler Shook (Theatre Planning and Lighting Design), Threshold Acoustics (Acoustic and A/V Design), Bulley & Andrews (Pre-Construction Services), and ESD (Technology and Security).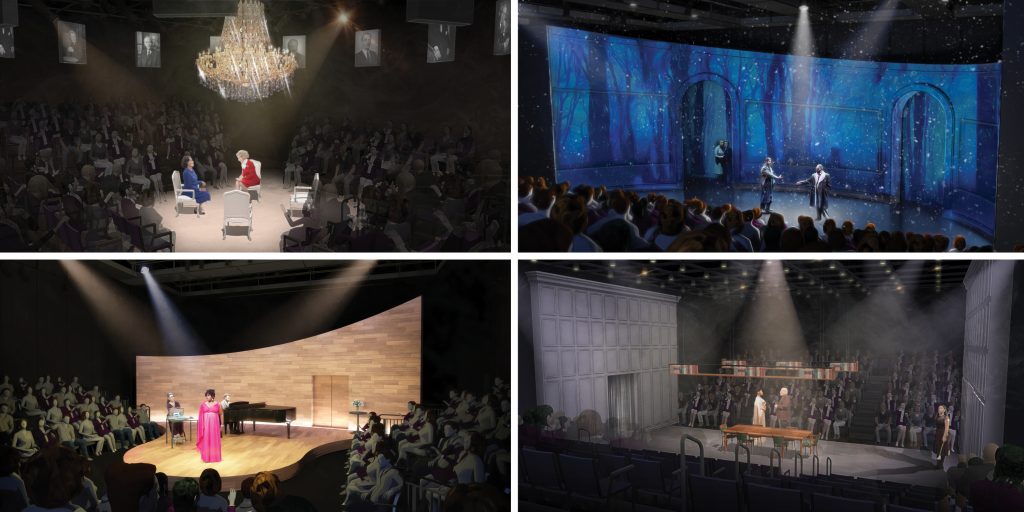 Over that time, HGA designers, consultant teams, and TimeLine representatives have moved through the complex design conceptualization and schematic design phases—informed by extensive site analysis, engineering studies and, as a result of the pandemic, clearer focus on adaptability.
The resulting building design features a façade that offers an open, inviting presence to the Uptown community, and interior spaces that fulfill TimeLine's goal of creating an inspiring home that is driven by and supports the company's mission and ensures accessibility and inclusivity for all.
Upon entering, audiences and neighbors will encounter a lobby café and bar that encourages them to arrive early and stay late. At the heart of the building is a 250-seat flexible black box theatre that's built to be transformative, accommodating multiple seating and stage configurations to provide a unique discovery and vantage point for audiences at every production. Surrounding the theatre are exhibit galleries designed to support the immersive, interactive lobby experiences that are a TimeLine hallmark. And backstage, several areas tailored for collaboration and creation—including a rehearsal room, design and production studios, and staff offices—fully support artists and staff in their work. Additionally, the company's Living History program will have dedicated space for its engagement with students, and that space also will be available for community meetings and events.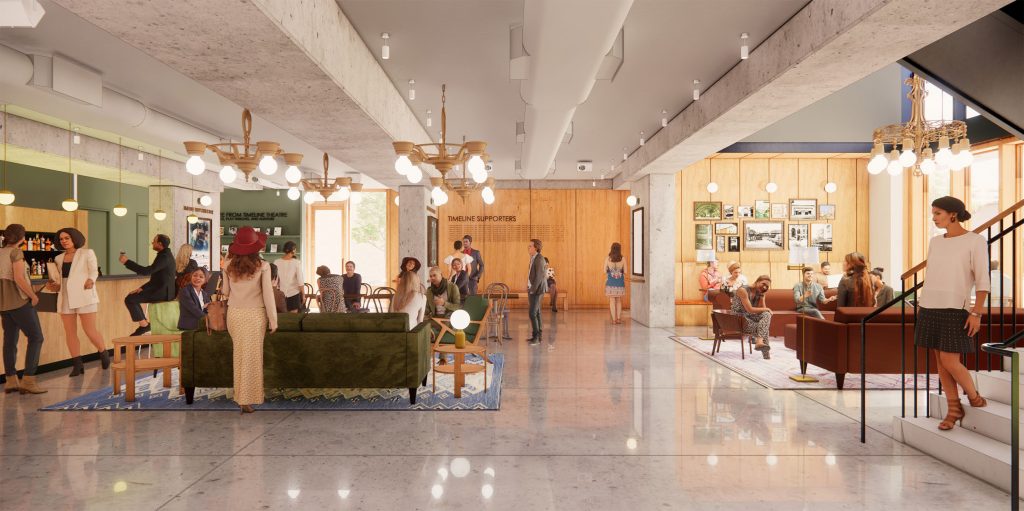 The path toward this design has been a long one—spanning two full years—with several unexpected discoveries that necessitated continued innovation along the way.
TimeLine's initial intention was to combine old with new, building on the vacant land and connecting the new structure into a renovated existing building, which was built by W.C. Reebie & Brother, a moving and storage company, as a storage facility in the early 1910s (the company, now known as Reebie Storage & Moving Co., still operates today at 2325 N. Clark). With our mission of exploring history and connecting it to today, we were excited by the opportunity to give new life to an older building, infusing it with modern amenities and renewed creativity. However, several barriers to this intention arose at various stages in the design process.
Initial design sketches imagined a new, glass-fronted building structure on the vacant lot at 5033 N. Broadway, providing a grand and inviting entrance with free-span space for our 250-seat theatre and accessible connections to renovated spaces in the existing warehouse building. This plan was changed when the CTA took control of the south lot to facilitate construction of the new "L" stop at Argyle, as part of the CTA Red Purple Line Modernization Project; their rights to the land last until 2026.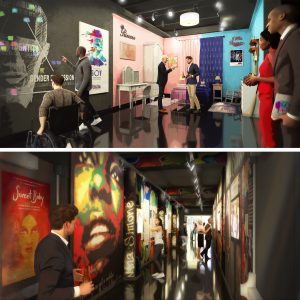 Once the vacant lot was no longer available, we endeavored to relocate the main theatre behind the existing building and to examine how we might extensively renovate the existing building structure to achieve our design and operating goals. As that process progressed and extensive structural evaluation studies were conducted, the team learned, with great disappointment, that the building's structural capacity would be unable to satisfy structural code requirements. Correcting structural deficiencies would add significant loading to the existing structure and greatly minimize floor to ceiling heights that are already challenged.
In addition, the results of a comprehensive façade evaluation identified the need to rebuild a significant portion of the existing façade and roof parapet due to deterioration caused by water infiltration. Finally, soil conditions dictated a requirement for a new caisson foundation system to accommodate structural loading required by the new design. Collectively, the structural challenges clarified a need to revise the design plans.
TimeLine's collaborators got to work again—resulting in a thrilling new design that replaces the existing original west building facing Broadway with new construction. It fulfills our guiding design principles for an open, inviting space, while retaining the original east building for production operations and office space. To honor the history of the original building, we plan to recognize it in various ways, including through one of our renowned historical exhibits that will be on permanent public view.
Our engagement with HGA has been everything we hoped for and more. They have been ideal collaborators—responding to every idea, inspiration, and challenge during the process with deep insight, impressive problem-solving, and boundless creativity. And they've delivered a design that fulfills our dreams and much more. — Artistic Director PJ Powers
TimeLine is in the process of obtaining needed zoning approvals to move the project forward. Once the zoning approvals are approved by the Chicago City Council and the design development process is completed, the next step is to develop construction documents in preparation for selecting a contractor for the project. Securing building permits, groundbreaking, and construction will follow. At this time, the anticipated opening date for the building is early 2024. In the meantime, TimeLine will continue to maintain our operations in Lakeview East.
Community Engagement
One of the foundational pillars of TimeLine's new home project is a desire to embrace the Uptown community. Being a good neighbor; partnering with local businesses, organizations, and schools; and honoring the legacy of Uptown's historic Entertainment District are key goals.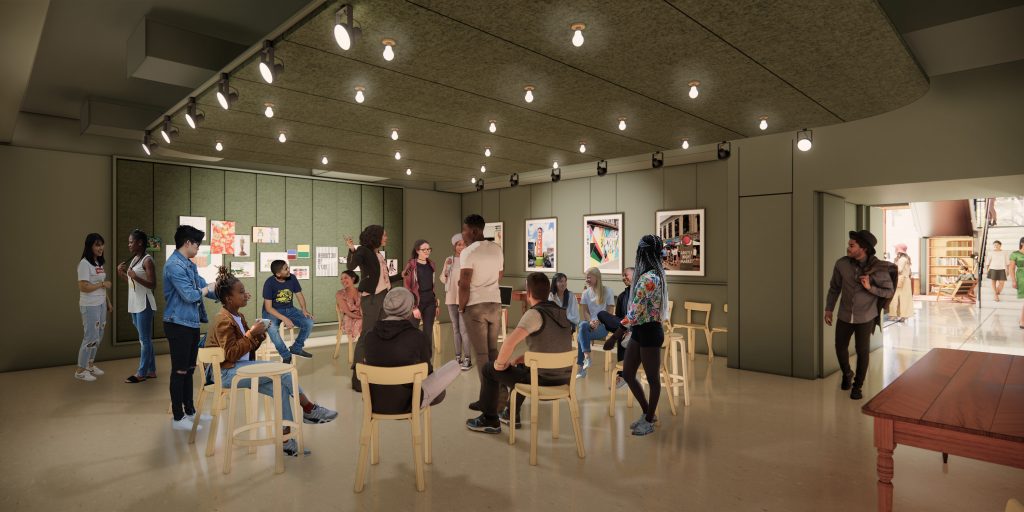 To support these goals, we're in the midst of a formal Community Connection Project to inform, engage, empower, and energize current and new members of the community, in Uptown and beyond. Led by Artistic Producer of Innovative Partnerships Tiffany Fulson with our internal Community Engagement Team, and developed in partnership with HGA, this effort also involves a Curation Team of individuals drawn from the community who are helping to guide the project.
The Community Connection Project is planning more than a dozen community engagement gatherings to explore the needs of existing audiences; Living History students, teachers, and parents; Uptown neighbors, businesses, and organizations; and other current and potential constituencies. The project will not only strengthen TimeLine's relationships with individuals across the community, but will also ensure that a broad range of diverse voices have a say in making the company's new home a place where all visitors can feel a sense of belonging, have an arts experience unlike any other, and do their best work.
Fundraising
TimeLine is seeking both private and public sources of financial support to fund this $35 million project. Private philanthropic sources, including foundations and corporations as well as individual contributions, make up the majority of funding. The company is pursuing public funding at the federal, state and local level. The project has secured $2.5 million in grants from the State of Illinois, is applying for TIF assistance from the City of Chicago, and is pursuing federal New Market Tax Credits.

Thus far, IT'S TIME: THE CAMPAIGN FOR TIMELINE'S NEW HOME has raised nearly half of its $20 million private funds goal, securing donations from 74 generous private contributors. Lead donors of $100,000 or above include Christine Albright and Larry Gill, Judith Barnard and Michael Fain, The Abe and Ida Cooper Foundation, Mary and Bruce Feay, Joseph and Bessie Feinberg Foundation, The Forum Fund, John and Jessica Fullerton, Brenda and James Grusecki, David Hiller, Ronald B. Johnson, Maridee Quanbeck and Jared Kaplan, Sonia Marschak, Robert and Eleanor Meyers, Bill and Penny Obenshain, Debbie Siegel and Bob Altman, John Sirek and Colleen Loughlin, and multiple anonymous contributors.
The entire community is going to help us build this new cultural asset for Chicago. TimeLine's unique mission and its ongoing commitment to exploring everyone's history provide an ever-growing array of opportunities for the entire Chicago community to engage, learn about, and discuss our shared histories. Participating in the development of this new home in Uptown provides a tangible way for us all to work together. — TimeLine Board President John Sterling
If you'd like to learn more about how to support TimeLine's new home project, please reach out to Associate Director of Development Chelsea Smith at chelsea@timelinetheatre.com.
Leadership Expansion
There is still much to do as TimeLine continues our new home project. In recognition of the complex path ahead, we're excited to share that Managing Director Elizabeth K. Auman will be transitioning her responsibilities away from day-to-day management of TimeLine in order to focus exclusively on guiding our new home development. This means that TimeLine's Board and Company will be conducting a search for a new executive leader who will become the co-equal leader of the organization alongside PJ Powers as Artistic Director. Further details, including the timeframe and next steps for the search, will be announced soon, pending the Board and Company's work to develop a job description and an inclusive, collaborative, and transparent search process. In the meantime, read more about this leadership expansion and an interview with Liz here …
THANK YOU!
As always, the support and belief that you offer TimeLine, day in and day out, is what powers the hard work we're doing on this project. We hope you're as inspired by what's ahead as we are! We'll continue to share updates, and in the meantime, please know that everyone at TimeLine remains grateful for your continued faith in what we're building, together.