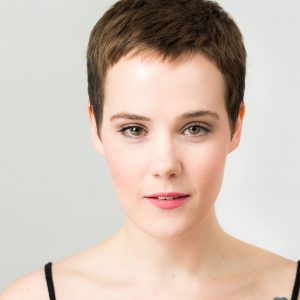 It's our final two weeks of the Chicago premiere of Cardboard Piano! Before these four lovely actors take their final bows on March 17, we thought we'd pull back the curtain and get to know them outside their work bringing this heartfelt show to life. You can read the first three interviews in our series with Adia Alli, Freedom Martin, and Kai A. Ealy. Our final interview is with Kearstyn Keller, who portrays the missionary pastor's daughter Chris, answering all our questions about her TimeLine debut, and falling in love with this play.
---
Tell us the story of when you first knew you wanted to become an actor.
I always new I wanted to be a performer of some kind when I was a child. When I was in high school I saw my first Broadway show, Wicked. The lights went down and I immediately inched forward in my seat. It was pure magic and I thought, "I will do this for the rest of my life."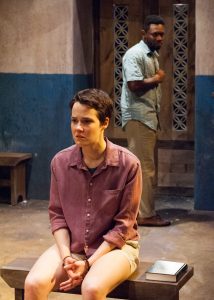 What has been your favorite or most unique audience reaction you've heard to this show?
My favorite moment is the discovery of Paul. It is exciting as the actor to have them uncovering the truth with me or before me. But when he is called Pika again there is always some reaction whether it be a gasp or an 'I told you so'. It makes the scene between Paul and I that much more intense. I always feel like the audience is watching a tennis match because their heads are constantly looking back and forth to catch how the characters are affecting the other, because they don't know what these two are going to do to each other.
What do you hope the audience takes away from having seen this show?
I hope the audience feels a sense of hope among the mess. That their minds will have a little more room to see outside themselves and search for understanding. Forgiveness and empathy are not always easy in this confusing world, but as long as we try, there will always be hope.
It is a wild ride and sometimes, especially with the front row, I feel a sense of "Buckle up, we are about to ride this rollercoaster!" — Kearstyn Keller
In TimeLine's 99-seat space, the audience is never more than a few feet from the action. How does being in such an intimate space affect your engagement with the audience?
What we are receiving is just as important as what we are giving. We talked about witnessing a lot throughout the rehearsal process, and the audience is that. When I feel their attention, fear, discomfort, amusement it fuels the moment that much more. It is a wild ride and sometimes, especially with the front row, I feel a sense of "Buckle up, we are about to ride this rollercoaster!"
What has been your favorite moment working on this show so far?
ALL OF IT!!
But really the people. I was in love with this story when I first read the play, but the people and Timeline have made this rehearsal and performance process incredible! Going into the schools and having the student matinees have been super rewarding. I love seeing what they get from the play and answering their questions.
What's it like backstage?
We keep a nice balance backstage. The play has a lot of heavy moments, so we do a nice job keeping the mood light with music, jokes, baked goods.
What's your favorite moment in the play?
ALL OF IT! It changes every day but I would say the wedding and the dance specifically are two moments that I always enjoy coming back to. It is a moment that I get to celebrate pure love and joy before outside circumstances come into Adiel's and my world.
We can't all be cardboard piano creators; what's the craftiest thing you've ever made?
Hmmmm…the craftiest thing… (I did make a cardboard piano, but it was not as good as the one in the show…haha) I would say a wreath from recycled plastic bags for Christmas. Yay Pinterest!