Welcome to TimeLine
We're happy you visited us at the Mid-Autumn Moon Festival!
This page recaps information that was shared at the event, with links to additional resources. From this page, you can also explore everything our website has to offer. If you have further questions, please feel free to email us! And be sure to JOIN OUR MAILING LIST to receive updates on TimeLine's programs and activities.
---
TimeLine is coming to Uptown!
Founded in 1997, TimeLine has worked to become one of Chicago's leading cultural institutions by creating theatre that is more than just a few hours in a seat. Our team works collaboratively to present riveting stories that link our past, present, and future—exploring today's social and political issues through the lens of the past and inspiring ourselves to re-imagine tomorrow.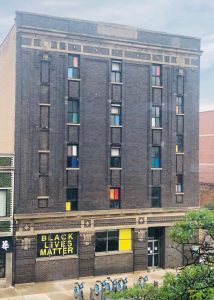 It is a mission unique in Chicago, and beyond.
And the TimeLine experience extends well beyond the stage, encompassing interactive lobby experiences, opportunities to discuss the show with artists, Living History programs for students in schools and the community, ways to take action on whatever the art inspires, and much more!
A NEW HOME IN UPTOWN
TimeLine has purchased property at 5033-5035 N. Broadway in Uptown to be the site of our future new home.
The facility will include a flexible 250-seat theatre plus rooms for rehearsal and Living History activities, public space where members of the community can arrive early and stay late—including a bar and café—and lobby and meeting areas to support community events. TimeLine's goal is to create a welcoming new home where all visitors can feel a sense of belonging, have an arts experience unlike any other, and do their best work.
A completion date is still to be determined. In the meantime, TimeLine will continue to maintain our operations and present the majority of our productions at our current home in Chicago's Lakeview East neighborhood.
Explore more about this project via our blog Behind the 'Line:
---
Public Programs
During the pandemic, TimeLine has offered a series of FREE public programs live on YouTube, with recordings available on demand.
Previous online programs have included conversations exploring upcoming productions like Lloyd Suh's The Chinese Lady, Tyla Abercrumbie's Relentless, and Will Allan's Campaigns, Inc., as well as looking back at a previous hit production, Fiorello!. You can also watch recent TimeLine South final presentations Flowers Grow On Trees and Fulmination: Dear Dismal World, The Truth Awaits, and our virtual gala Step Into TimeLine: Back to Our Future.
VISIT OUR PLAYLIST OF 2020-21 ONLINE PROGRAMS
---
Announcing TimeLine's 25th Anniversary Season!
Celebrate the return of live performance with a duo of captivating stories in our 2021-22 Season. Featuring the world premiere of a new play developed through TimeLine's Playwrights Collective (Relentless) and an award-winning Chicago premiere (The Chinese Lady), this season is ready to deliver all of the heart, humanity, and thought-provoking storytelling that TimeLine productions are known for.
Explore today's social and political issues through the lens of the past, and experience the incredible community of live theatre.
LEARN MORE ABOUT OUR 2021-22 SEASON
---