The Latest from TimeLine Theatre
As the COVID-19 pandemic continues to create a new normal for Chicagoans and people across the United States and the world, we at TimeLine are working hard to provide you with artistic experiences that unite us in these strange times. Check back here for updates about programming adjustments and additions we are making in response to this pandemic, as details become available. In the meantime, we hope you stay safe, stay healthy, and we cannot wait to see you soon.
---
UPDATE: September 24
It's about time: Today we announced TimeLine's 25th Anniversary Season—scheduled to launch in January 2022! Join us for our return to live theatre, with the world premiere of a new play developed through TimeLine's Playwrights Collective and an award-winning Chicago premiere. Heart, humanity, and thought-provoking storytelling—we can't wait to share space with you again!
Watch our season announcement video below, then explore our 2021-22 season and get your FlexPass here …
---
UPDATE: August 17
Today it was announced by the League of Chicago Theatres that TimeLine is among a growing coalition of more than 65 performing arts venues and producers across Chicagoland that have agreed upon Covid-19 vaccination and mask requirements for audiences. In general, patrons will need to be masked and fully vaccinated with an FDA-authorized vaccine in order to attend an indoor performance and must show proof of vaccination and identification at their time of entry into the venue with their valid ticket. All patrons will have to wear a mask throughout the performance and during their time in the venue. These venues and their performers, backstage crew, and staff will comply with vaccination requirements and testing protocols to further ensure the safety of all guests and company members. This policy will remain in effect through the end of 2021, will be reviewed regularly, and may include an extension or relaxation of certain provisions if the science dictates.
For more about TimeLine's current health and safety protocols, click here …
---
UPDATE: July 22
More than anything else this past year, we've missed being in the room with you. The laughter, the applause, the shared heartbeats and shared breaths—we can't wait to be back. And today, we have more information to share about our plans to produce live, in-person theatre again! Watch this special message from Artistic Director PJ Powers for news on reopening, and what's next:
---
UPDATE: March 3
Today we officially shared the news with our current subscribers and others that TimeLine won't return to producing live theatre during this 2020-21 season, which would have run through June 2021. We can't wait to share the experience of live theatre again as soon as we can—in a way that is as safe as possible. But while we're hopeful as vaccines roll out and restrictions begin to ease, there's much work to do before we welcome audiences in person again. It's still not clear when we will reopen. But we are committed to notifying our community as soon as we know when and how we're reopening; to researching reopening protocols with support from local, national, and international experts in safety; and to reaching out and offering connection where we can. For all those who have purchased FlexPass subscriptions or hold certificates good for future tickets, those admissions will be valid for the next four plays TimeLine produces, regardless of when they occur. We continue to to grateful for everyone's patience and compassionate curiosity about TimeLine's well-being. Thank you!
---
UPDATE: February 15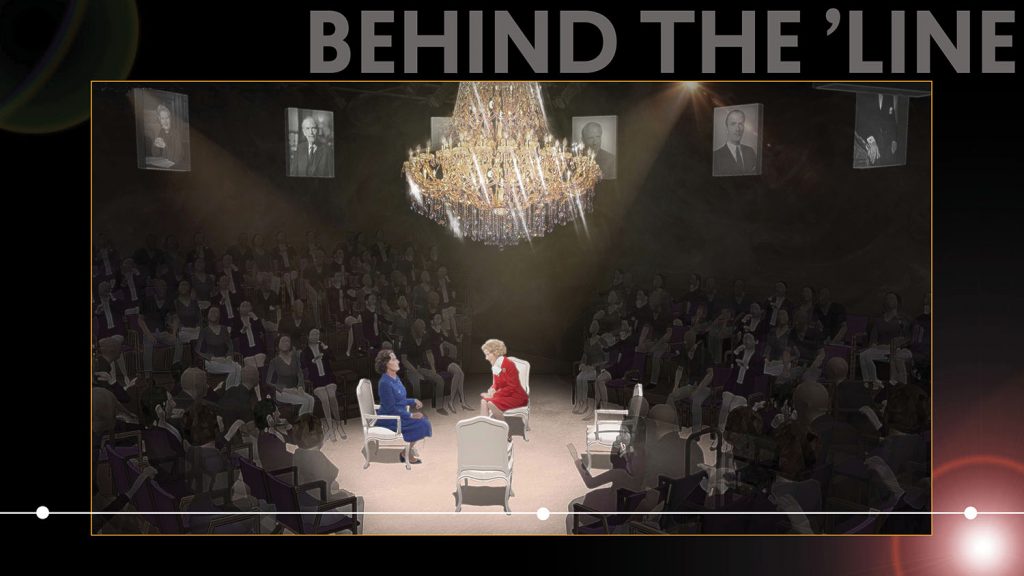 Throughout this pandemic pause, TimeLine's staff has been hard at work on the design phase for our future new home at 5033–5035 N. Broadway Avenue in Chicago's Uptown neighborhood. It's a dream, for sure, but it can also be overwhelming: inspiration
boards crammed with ideas, decisions large and small, myriad opinions and logistical factors to balance. But through it all, we've been guided by the question, "What will give our audience the best possible TimeLine experience?" Today on our blog,
Audience Services Manager Kellyn Henthorn takes you behind the scenes to explore some of her favorite aspects of the design so far and shares more about the goals we're keeping in mind during the process.
---
UPDATE: February 11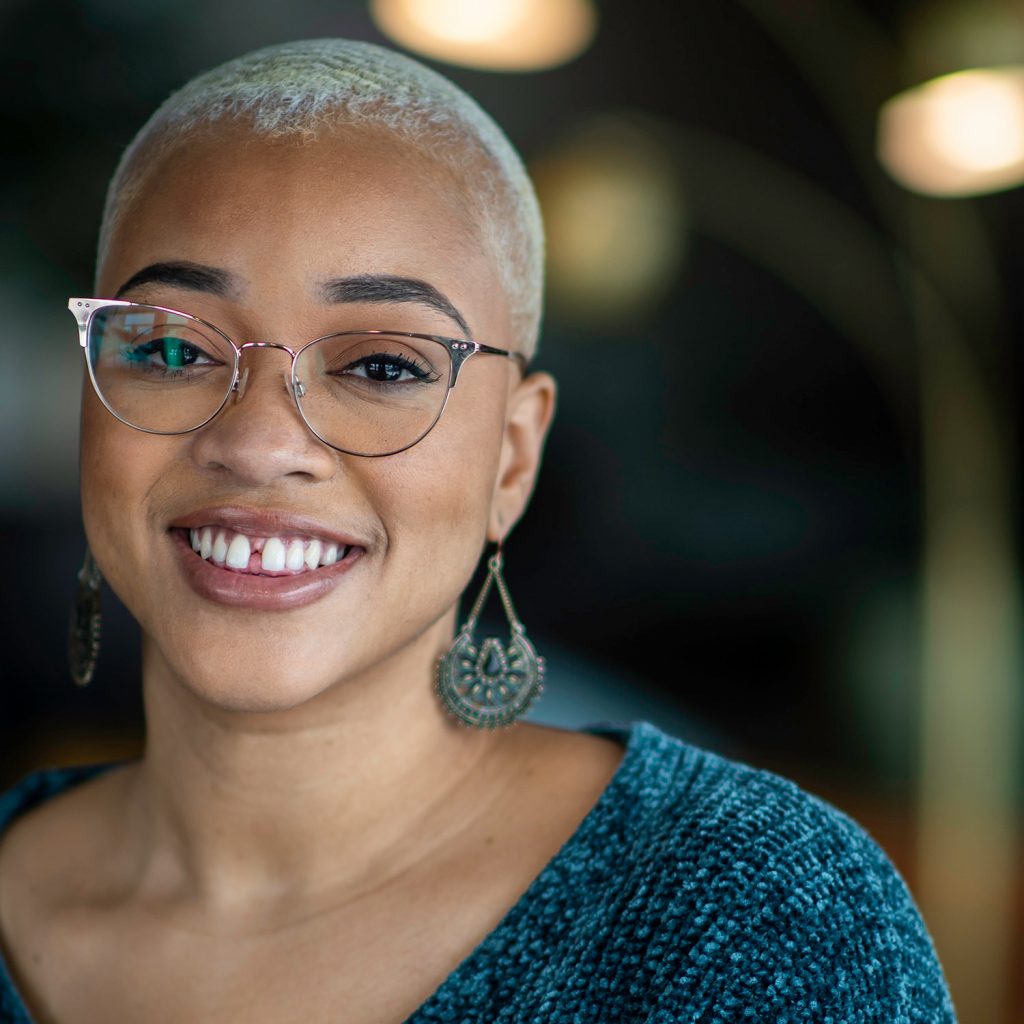 Today we announced that Tiffany Fulson has been promoted to the newly created full-time position of Artistic Producer of Innovative Partnerships, effective immediately. In this new position within the Living History Education Program, Tiffany will play a pivotal role in growing community-based programming, working to expand the diversity of perspectives reflected in TimeLine's artistic programming and audience development, and contributing to strategic growth of Living History. The position also will be instrumental in developing practices to help the entire organization be more accountable, equitable, and healthy.
---
UPDATE: January 28

Today we announced Step Into TimeLine: Back to Our Future, our first-ever virtual gala and a celebration of all things TimeLine unlike anything you've seen from us before! On Friday, March 12 at 7pm (CST), tune in LIVE on YouTube as we relive memorable moments and game changers, explore the artistry and camaraderie on stage and back stage, and remember the programs and stories that made a difference—even as we look ahead to new adventures. Hosted by TimeLine Company Member Wardell Julius Clark, this fun, fast-paced program will include interviews with artists, clips of past productions, behind-the-scenes footage, live appearances, interactive opportunities, music performances, and much more! You can watch from the comfort of your home for FREE plus there are several ways to support TimeLine—and enjoy additional perks—before and during the event.
---
UPDATE: January 17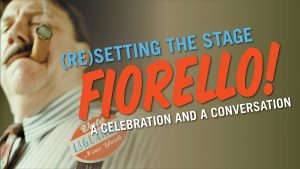 In case you missed it! Today we dug into the TimeLine archives for a special live online event: (Re)Setting the Stage: FIORELLO! Featuring spectacular clips from our 2006 and 2008 productions, funny and touching recollections from cast and production team, and an engaging discussion moderated by Carol Ann Tan and featuring director Nick Bowling; former Illinois State Senator, current Senior Advisor to the Governor on Cannabis Control, and TimeLine Board Member Toi Hutchinson; and Fiorello LaGuardia biographer Mason B. Williams (author of City of Ambition: FDR, LaGuardia, and the Making of Modern New York), it's an incredible trip down memory lane. Learn more here and watch a recording of the full event on our YouTube channel here.
---
UPDATE: January 15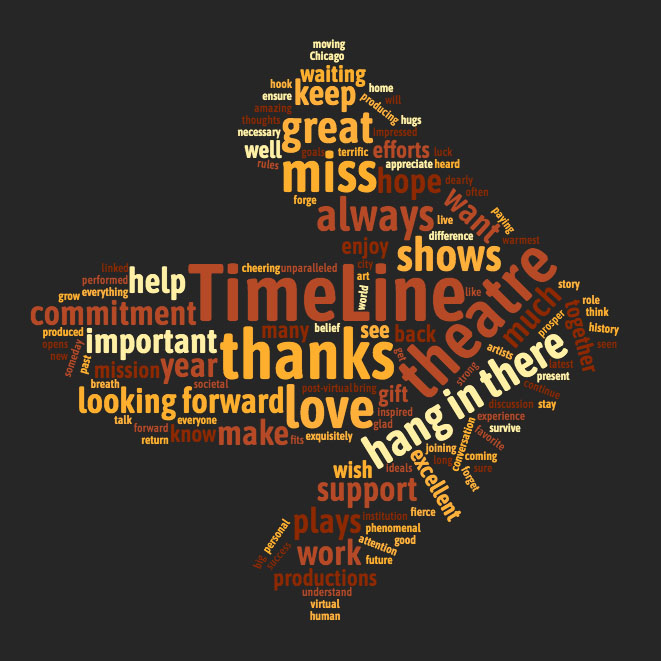 At this halfway mark of our 2020-21 "season" and the start of a new calendar year, all of us at TimeLine feel immense gratitude for the community of artists, administrators, fans, patrons, donors, and well-wishers helping us to make it through. Today on the blog we're sharing a report on the subscriber generosity, community action, online public programs, and words of support that have powered our past few months. And you'll read the results (thus far) of our "Today, Tomorrow, Together" fundraising campaign (spoiler alert: your response has blown us away)!
We've already said it a lot, but we honestly don't think it can be said enough these days: THANK YOU.
---
UPDATE: November 13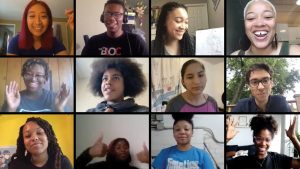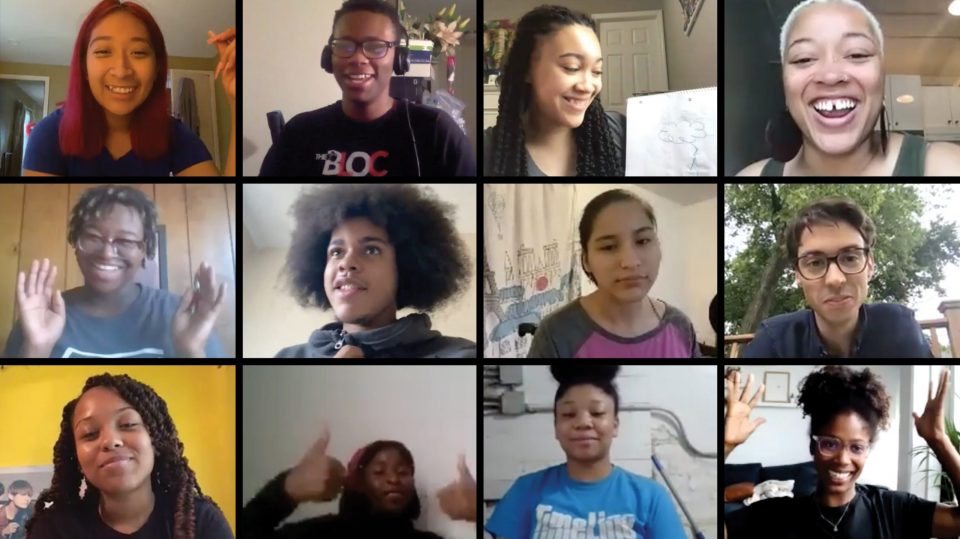 As with many of our programs this year in the wake of the pandemic, we've had to ask: When we're not producing full plays, how do we keep our Living History Education Program going? How can we engage high school students when they can't gather in our theatre? And how can we provide CPS students with essential arts education when they're doing their classes from home? Today we're sharing some behind-the-scenes insight into what's been going on with Living History—how our staff and teaching artists are working to build community, engage curiosity, inspire action, and maybe most importantly, be a vehicle for healing and centering wellness, during this time.

---
UPDATE: November 10
Today, we're sharing more about one of the primary goals of TimeLine's 2020-21 Strategic Plan, "Everyone's History." Diversity, inclusion, and community-focused programming have been woven throughout our strategic plans for many years. Over time, Everyone's History has evolved from the desire to be a "diverse" organization toward concrete, intentional actions and programs that push us to become an antiracist, multicultural arts organization. We can never truly tackle today's political and social issues on our stages—truly reflect and inspire our community's past, present, and future—without that transformation.
---
UPDATE: October 6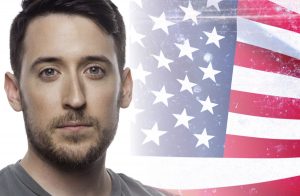 The conversation continues! Today we announced online public programs and related virtual content inspired by our production of Campaigns, Inc. by Will Allan. Developed through TimeLine's Playwrights Collective, Campaigns, Inc. had been scheduled to receive its world premiere as the opener to our 2020-21 season this fall, directed by Nick Bowling, but was postponed due to the pandemic. Campaigns, Inc. is a political story that goes behind-the-scenes of a 1934 campaign, revealing a notable early example of "fake news" and how it has come to impact our political arena now.
Campaigns, Inc. virtual events will include a one-night-only online discussion event (streamed live on YouTube) entitled "The Journey from The Jungle to 'The Swamp'", a Beyond the 'Line class with dramaturgs Maren Robinson and Katie Jacobsen, and a Take Home Wine Tasting with our Lakeview East neighborhood partner BottlesUp! Our celebration will also include web and social media content further exploring the shows themes plus voter education and get-out-the-vote messages in advance of the November 3 election. Visit us at Facebook, Twitter, or Instagram to follow along!
---
UPDATE: October 2
A new landlord at 615 W. Wellington Avenue. In early September, the property that TimeLine rents on Wellington Avenue was sold by the Wellington Avenue United Church of Christ to Chabad of Lakeview. We are tremendously grateful for the 21 years of support shown to us by the Wellington Avenue Church (we've rented there since 1999); their hospitality and many kindnesses and accommodations have been a foundation of TimeLine's ability to succeed for nearly our entire history. We will miss them and wish them the best!
This change in landlords does not alter TimeLine's operations or our intention to continue producing at Wellington Avenue before our new Uptown home is ready. Our lease remains in effect through June 2023, and we look forward to working with Chabad of Lakeview during the years to come!
---
UPDATE: September 15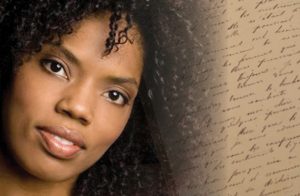 Our productions may be delayed, but we can start the conversation! Today we announced online public programs and related virtual content inspired by our production of Relentless by Tyla Abercrumbie. Developed through TimeLine's Playwrights Collective, Relentless had been scheduled to receive its world premiere at TimeLine in May, directed by Ron OJ Parson, but was postponed due to the pandemic. Relentless explores the journey of a Black American family 100 years ago, illuminating issues of racial equity and justice that resonate with the Black Lives Matter movement today.
Relentless virtual events will include a one-night-only online discussion event (streamed live on YouTube) entitled "The Journey from the Black Victorian to Black Lives Matter," a Beyond the 'Line class with Tyla, and a Take Home Wine Tasting with our Lakeview East neighborhood partner BottlesUp! Our celebration will also include web and social media content further exploring the shows themes. Visit us at Facebook, Twitter, or Instagram to follow along!
---
UPDATE: September 4
Today, we're sharing our newest strategic plan, a one-year plan to help shape TimeLine's response to our community's needs; deepen previous commitments to anti-racism, inclusion, and accessibility; focus on adapting to a new virtual landscape; and more. We're glad to be looking forward, together.
---
UPDATE: August 7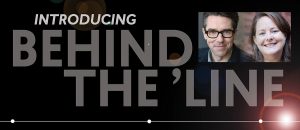 In the months since our stage went dark, TimeLine has been doing some strategic planning—revitalizing our values, reorganizing our priorities, and recommitting to our mission. Throughout our lively discussions, words like "transparency," "communication," and "dialogue" kept floating to the top of the list. It was clear that all the voices in the room (well, Zoom) were devoted to being open, honest, and forthcoming with the public, with our patrons, and with ourselves—throughout this crisis, and beyond.
So we're launching regular updates from behind the scenes as TimeLine navigates the times ahead. First up: recapping what we know so far about changes to our 2020-21 season, plus sharing budget realities, staffing updates, and more.
---
UPDATE: July 27
As TimeLine launched our new fiscal year this month in the midst of this current crisis, we are redoubling our efforts to live by our core values, including managing financial resources responsibly and effectively. This will not be a regular year, and we are planning accordingly.
Over the past few months, TimeLine developed a one-year Strategic Plan to guide our decision-making throughout the 2020-21 season. We've set a goal of maintaining TimeLine's fiscal health and ensuring that we have adequate resources for the uncertain times ahead. We've resolved to continue our project to develop property at 5035 N. Broadway as TimeLine's future new home. And we've developed a reduced annual operating budget that anticipates significant loss of earned revenue, but which keeps our organization largely intact.
However, we want to be transparent about the fact that one aspect of our 2020-21 season budget involves reductions in staff costs for the year. We have eliminated several part-time audience services, administrative, and production support staff positions, and reduced the hours of remaining part-time employees. The budget maintains TimeLine's full-time staff through salary adjustments and selected temporary furloughs that achieve a 19% reduction in permanent-full-time staff salary costs over the course of the year. You may have experienced disruption in reaching out to TimeLine staff in July, as seven of our 12 full-time staff members have been on furlough. We anticipate all full-time staff being back and working by August 10.
We are hopeful that we will be able to produce an adjusted schedule of plays this season and meet our reduced revenue and expense projections, and that the tough decisions made so far will allow TimeLine to continue to fulfill our mission and make progress on our many strategic goals as an organization. We are aware that the landscape may change as we move through the year, which we will monitor closely, and we will continue to share updates with you throughout.
We can't thank you enough for your continued care and support!
---
UPDATE: June 26
TimeLine is making some changes to our 2020-21 Season! While we cannot wait to open our theatre again, knowing we must ensure the health and well-being of our audience, artists, and staff means that we still aren't sure when that day will arrive. Due to their size and scale, we're postponing many of the previously announced plays to a time when they can be fully realized. And our Company Members and staff are hard at work on revisions to the season that will deliver new theatrical moments amidst our changed landscape. We're grateful for your patience, your support, and your compassionate curiosity about TimeLine's well-being, and we look forward to sharing further updates about our programming plans soon!
---
UPDATE: May 5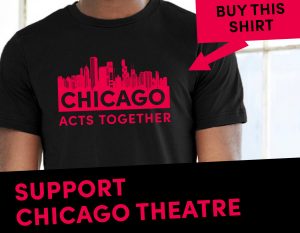 With COVID-19 presenting a massive threat to the well-being of the entire Chicago arts ecosystem, we knew that we must meet this challenge as a united front.
So, we have rallied with 87 other local theatre companies to promote a limited edition "Chicago Acts Together" t-shirt featuring the names of all participating companies—an incredible showcase of Chicago's robust and diverse theater community. 100% of the proceeds from sales will go to The Chicago Theatre Workers Relief Fund, a League of Chicago Theatres initiative that directly assists theatre workers who have lost work as a result of COVID-19 and are facing financial uncertainty.
NOTE: T-shirt sales have ended. Thanks to your support, this initiative raised more than $70,000 for The Chicago Theatre Workers Relief Fund!
---
UPDATE: May 4
While we were unable to move forward with our scheduled world premiere of Tyla Abercrumbie's Relentless, which had been planned for May 6 – June 27, we are pleased to announce a remote view remount of William Brown and Doug Frew's To Master the Art. This charming production recalls the adventure and romance of Julia and Paul Child's journey of discovery to Paris during the 1950s and will be streaming online May 12 – June 7.
To Master the Art received its world premiere at TimeLine in 2010, selling out within days and receiving more than 20 rave reviews and five Jeff Award nominations, including New Work and Production. The production was remounted in 2013 for an extended run at the Broadway Playhouse.
Learn more about how to purchase tickets to this unique experience and get yours today. Buy for a specific date and time and have one week from that date to complete your viewing!
---
UPDATE: April 7
Thanks for your patience as we continue to evaluate and make plans for the spring and beyond. At this time, we wanted to let you know that TimeLine will be unable to move forward with our scheduled world premiere of Tyla Abercrumbie's Relentless, which had been planned for May 6 – June 27. We hope to still produce Relentless sooner rather than later, but alternate plans are not yet confirmed.
---
UPDATE: March 28

We are grateful that through the incredible cooperation of artist unions, Dramatists Play Service, and playwright James Ijames, TimeLine can now offer a limited number of opportunities to see KILL MOVE PARADISE from the comfort of your home through online video streaming of a previously filmed performance. After the sadness of closing early on March 12, it's an honor to have this chance to continue to share the beauty and impact of this powerful show and the artistry of the cast and production team with our community of subscribers and theatre lovers! Tickets are available for remote view performances starting April 1 through April 19. Ticket holders will have one week to complete their viewing.

---
UPDATE: March 25
"The theatre can, I believe, be a necessary home for human talk … a place where human beings talk about their worries, confusions, fears, and loves." – Playwright Richard Nelson, excerpted from his Author's Note for The Apple Family Plays
We're reaching out to say hello! As TimeLine navigates our new circumstances and adjusts to work from home and away from our theatre, we invite you to take a few moments to watch this update from Artistic Director PJ Powers—a reflection on our new "normal'" and the need and desire to continue providing artistic experiences that unite us in these strange times, with some inspiring words from The Apple Family Plays playwright Richard Nelson.
We will be in touch with more news and updates via this page and our social media as they arise. We greatly appreciate your patience and support as we organize next steps.
We plan to continue to be an employer, an educator, and a community leader, supporting our staff, artists, and all of the folks who make TimeLine what it is. We hope that you will stand with us and our community and if you are able to make a contribution at this time, we thank you.
Make a Donation Today
---
UPDATE: March 13
As we know you are aware, world events are moving very quickly in recent days, and TimeLine has closely monitored the news and remained mindful of all health precautions.
Yesterday morning, we made the decision to not hold our planned gala fundraiser that was scheduled for March 13 at The Ritz-Carlton, Chicago. (If you would like to participate "virtually" tonight and this weekend in the event—all are welcome—visit our event website to register and receive updates!)
And now, we want to let you know that in response to strong recommendations made by the City of Chicago and the State of Illinois, and in consultation with our peers in Chicago's theatre industry, we are following suit with other organizations and canceling all remaining performances of Kill Move Paradise, effective immediately. While much in the news is about restricting gatherings at venues/events of 250 people or more, we are focused on doing everything we can to support the health and safety of all of our patrons. We feel we have an obligation to public health and to our audiences, staff, and artists to take this step.
We are deeply sorry to not be able to share Kill Move Paradise with more of Chicago. At this time, we hope that the schedule for our upcoming world premiere production of Relentless will be undisturbed. However, we will continue to monitor any developments with the COVID-19 pandemic and should any developments affect future production dates, we will let you know.
In the meantime, we wanted to share the special message above with you, including a video we had planned to premiere at Step Into Time on March 13—a look at what TimeLine does, why we do it, and how our work tries to provide a bit of perspective.
In these difficult and uncertain times, we depend upon and are so grateful for your continued support. Stay healthy. Stay safe. We cannot wait to share our space with you again soon.