The Latest from TimeLine Theatre
As the COVID-19 pandemic continues to create a new normal for Chicagoans and people across the United States and the world, we at TimeLine are working hard to provide you with artistic experiences that unite us in these strange times. Check back here for updates about programming adjustments and additions we are making in response to this pandemic, as details become available. In the meantime, we hope you stay safe, stay healthy, and we cannot wait to see you soon.
---
UPDATE: May 5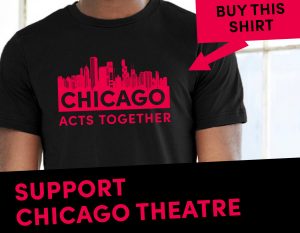 With COVID-19 presenting a massive threat to the well-being of the entire Chicago arts ecosystem, we knew that we must meet this challenge as a united front.
So, we have rallied with 87 other local theatre companies to promote a limited edition "Chicago Acts Together" t-shirt featuring the names of all participating companies—an incredible showcase of Chicago's robust and diverse theater community. 100% of the proceeds from sales will go to The Chicago Theatre Workers Relief Fund, a League of Chicago Theatres initiative that directly assists theatre workers who have lost work as a result of COVID-19 and are facing financial uncertainty.
Purchase a t-shirt and support this incredible cause
---
UPDATE: May 4
While we were unable to move forward with our scheduled world premiere of Tyla Abercrumbie's Relentless, which had been planned for May 6 – June 27, we are pleased to announce a remote view remount of William Brown and Doug Frew's To Master the Art. This charming production recalls the adventure and romance of Julia and Paul Child's journey of discovery to Paris during the 1950s and will be streaming online May 12 – June 7.
To Master the Art received its world premiere at TimeLine in 2010, selling out within days and receiving more than 20 rave reviews and five Jeff Award nominations, including New Work and Production. The production was remounted in 2013 for an extended run at the Broadway Playhouse.
Learn more about how to purchase tickets to this unique experience and get yours today. Buy for a specific date and time and have one week from that date to complete your viewing!
---
UPDATE: April 7
Thanks for your patience as we continue to evaluate and make plans for the spring and beyond. At this time, we wanted to let you know that TimeLine will be unable to move forward with our scheduled world premiere of Tyla Abercrumbie's Relentless, which had been planned for May 6 – June 27. We hope to still produce Relentless sooner rather than later, but alternate plans are not yet confirmed.
---
UPDATE: March 28

We are grateful that through the incredible cooperation of artist unions, Dramatists Play Service, and playwright James Ijames, TimeLine can now offer a limited number of opportunities to see KILL MOVE PARADISE from the comfort of your home through online video streaming of a previously filmed performance. After the sadness of closing early on March 12, it's an honor to have this chance to continue to share the beauty and impact of this powerful show and the artistry of the cast and production team with our community of subscribers and theatre lovers! Tickets are available for remote view performances starting April 1 through April 19. Ticket holders will have one week to complete their viewing.

---
UPDATE: March 25
"The theatre can, I believe, be a necessary home for human talk … a place where human beings talk about their worries, confusions, fears, and loves." – Playwright Richard Nelson, excerpted from his Author's Note for The Apple Family Plays
We're reaching out to say hello! As TimeLine navigates our new circumstances and adjusts to work from home and away from our theatre, we invite you to take a few moments to watch this update from Artistic Director PJ Powers—a reflection on our new "normal'" and the need and desire to continue providing artistic experiences that unite us in these strange times, with some inspiring words from The Apple Family Plays playwright Richard Nelson.
We will be in touch with more news and updates via this page and our social media as they arise. We greatly appreciate your patience and support as we organize next steps.
We plan to continue to be an employer, an educator, and a community leader, supporting our staff, artists, and all of the folks who make TimeLine what it is. We hope that you will stand with us and our community and if you are able to make a contribution at this time, we thank you.
Make a Donation Today
---
UPDATE: March 13
As we know you are aware, world events are moving very quickly in recent days, and TimeLine has closely monitored the news and remained mindful of all health precautions.
Yesterday morning, we made the decision to not hold our planned gala fundraiser that was scheduled for March 13 at The Ritz-Carlton, Chicago. (If you would like to participate "virtually" tonight and this weekend in the event—all are welcome—visit our event website to register and receive updates!)
And now, we want to let you know that in response to strong recommendations made by the City of Chicago and the State of Illinois, and in consultation with our peers in Chicago's theatre industry, we are following suit with other organizations and canceling all remaining performances of Kill Move Paradise, effective immediately. While much in the news is about restricting gatherings at venues/events of 250 people or more, we are focused on doing everything we can to support the health and safety of all of our patrons. We feel we have an obligation to public health and to our audiences, staff, and artists to take this step.
We are deeply sorry to not be able to share Kill Move Paradise with more of Chicago. At this time, we hope that the schedule for our upcoming world premiere production of Relentless will be undisturbed. However, we will continue to monitor any developments with the COVID-19 pandemic and should any developments affect future production dates, we will let you know.
In the meantime, we wanted to share the special message above with you, including a video we had planned to premiere at Step Into Time on March 13—a look at what TimeLine does, why we do it, and how our work tries to provide a bit of perspective.
In these difficult and uncertain times, we depend upon and are so grateful for your continued support. Stay healthy. Stay safe. We cannot wait to share our space with you again soon.